New Products
High-speed CCD; Attenuator; Display measurement system; MORE...
Apr 1st, 2004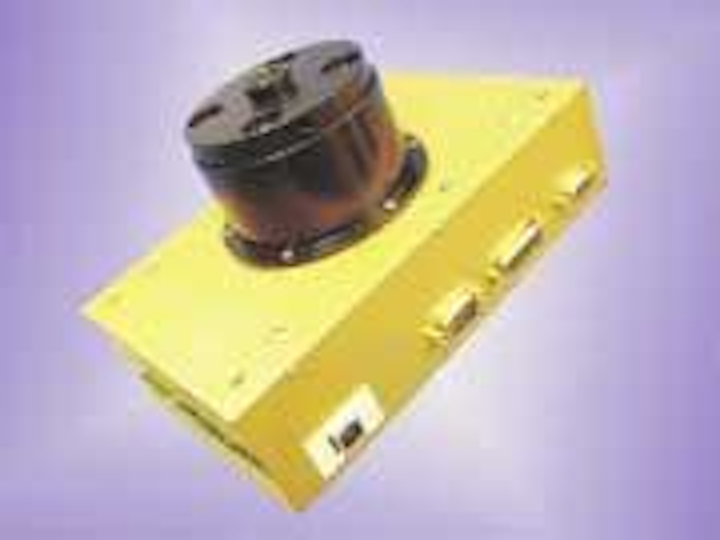 High-speed CCD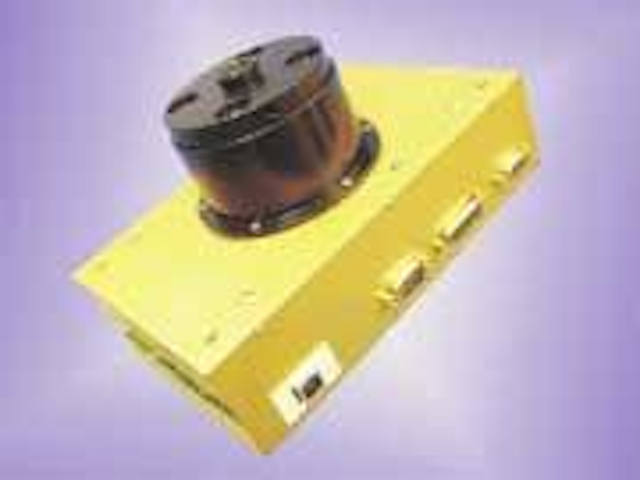 Click here to enlarge image
A 12-bit, OEM camera uses a 754 × 488-pixel frame-transfer CCD to acquire full images at faster than three frames per second. A two-stage cooler unit provides low noise and high linearity. It comes with a USB-port interface and is designed to fit into a customer's instrument. Other size CCD chips will be available.
Jobin Yvon, Stanmore, Middlesex, England
Attenuator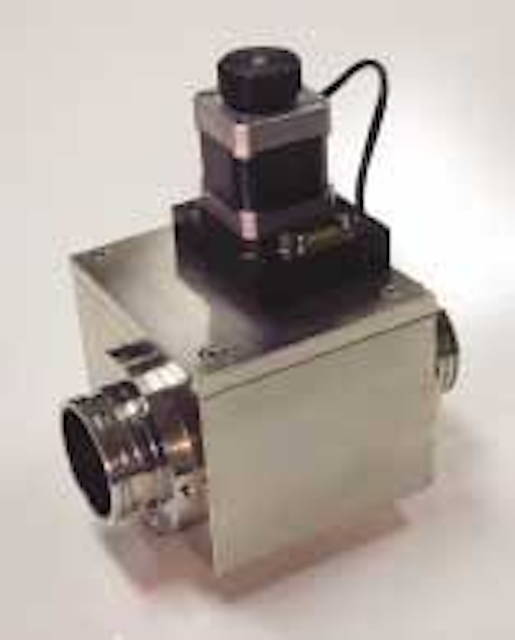 Click here to enlarge image
The UM-VAM variable beam attenuator is a cross-roller, high-precision variable-aperture motorized attenuator model for use with high-power excimer lasers. It has a stepper motor resolution of 1 µm and can be operated by the company's or another system's software.
Typical dynamic range is less than 2% to more than 94% with 100% transmission. A 20 mm2 completely open aperture reduces to 0 when completely closed.
JPSA Laser, Hollis, NH
Display measurement system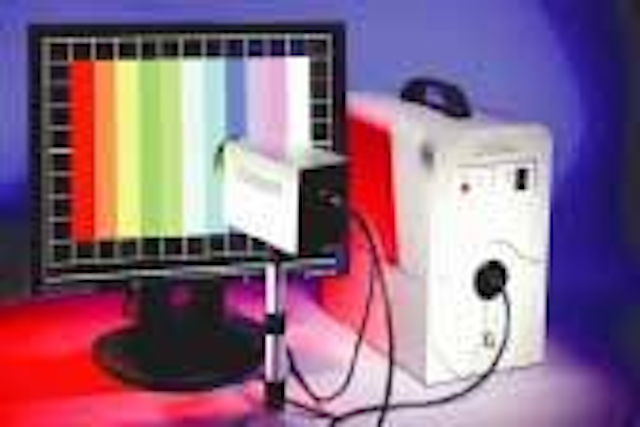 Click here to enlarge image
The OL 770-DMS display measurement system combines a high-speed test and measurement system with a CCD imaging telescope. It is available in wavelength ranges from the UV to the near-IR and is capable of 25+ spectral scans/s. It has a USB interface and Windows-based software. The telescope has a wavelength range from 360 to 1100 nm and is available with 0.5° and 1.0° fields of view.
Optronic Laboratories, Orlando, FL
Stitching interferometer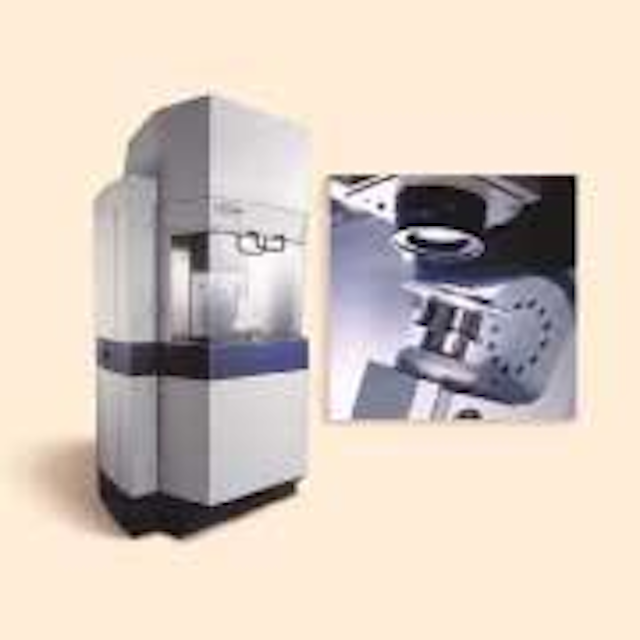 Click here to enlarge image
A subaperture stitching interferometer provides interferometric measurement of large, clear-aperture and high-numerical-aperture surfaces. It can measure high-NA components with NA up to 1, and automatically controls positioning, nulling, and stitching. It allows for large convex, concave, and flat testing in vertical configuration. It has a precision motion system for set up and alignment of test parts and provides automated, inline calibration of systematic errors.
QED Technologies, Rochester, NY
Laser diodes
Three new laser diodes offer single longitudinal and fundamental transverse-mode performance with CW powers of 100 mW (DL-LS2032) and 150 mW (DL-LS2031, DL-LS2052) at a lasting wavelength of 808 nm. The diodes are useful as excitation sources for solid-state YAG lasers to generate 532-nm green laser outputs. Other applications include free-space communications, therapeutic medical equipment, and scientific equipment.
Photonic Products, Essex, Englnd
Eye-safe laser
The DS Series Nd:YLF-based optical parametric oscillator (OPO) incorporates a patented frequency-conversion technology, which enables it to produce a high-efficiency, high-pulse-rate laser source at the eye-safe wavelength of 1.516 µm. The laser has a repetition rate of 10 kHz in Q-switched mode. The system produces 3 mJ per pulse at 1 kHz and greater than 3 W at 2.5 kHz at the 1.516-µm wavelength. Applications include rangefinders, environmental sensing, military target, and security illumination.
Photonics Industries International, Bohemia, NY
Violet laser module
The new temperature-controlled instrument-quality (IQ) module emits 50 mW of violet output at 405+10 nm. The IQ measures 1.50 in. in diameter and 6.20 in. in length. The unit has an adjustable focus, glass optics, optional beam-expanding optics, and is available with a circularized beam or with standard elliptical output. It is available with CW or modulated output.
Power Technology, Little Rock, AR
Servo-amplifier motion interface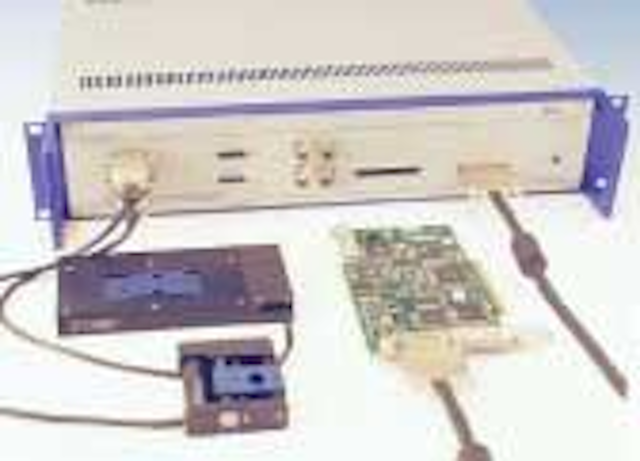 Click here to enlarge image
The C-809.40 servo-amplifier motion interface provides four axes of amplification, conditioning, and analog/PWM conversion to drive open- and closed-loop DC servomotor stages. It is compatible with piezo motors, National Instruments (NI) motion controllers, uses standard 68-pin NI connection cables, and has a 37-pin I/O interface. Applications include nanopositioning, micromanipulation, and semiconductor and data-storage test equipment.
Polytec PI, Auburn, MA
Off-axis paraboloids
Off-axis paraboloids are available with diameters up to 600 mm, surface accuracy of up to l/20, and off-axis angles up to 25°. The company uses proprietary production tools to directly generate off-axis parabolic profiles, reducing lead times. Off-axis paraboloids are suited for broadband or multiple wavelength applications due to their completely achromatic performance. A wide range of coatings is available.
Optical Surfaces, Surrey, England
Universal lens mounts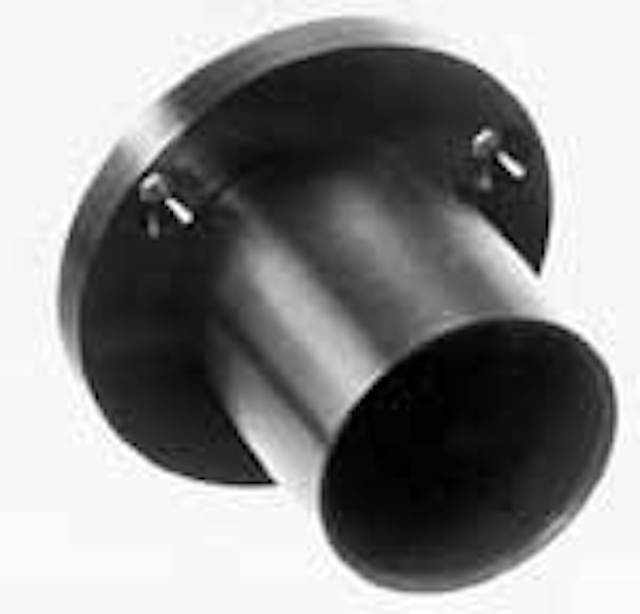 Click here to enlarge image
All-aluminum universal lens mounts hold stock lenses from 20 to 75 mm in diameter simply by threading a stop ring inside the lens mount to the desired depth, then inserting the lens and fixing it in place with the retaining ring and a spanner wrench. More than one lens can be mounted in the cylinder. In addition, the cylinders can be threaded into one another to provide a wide variety of possibilities.
Rolyn Optics, Covina, CA
Synchronized ID imaging system
The 20Z704USB camera is coupled with an LED flash system in a single, integrated, USB-controlled ID-badging, and imaging package. This eliminates the need for frame grabbers required by video-based systems. Twain interfaceable software allows for seamless integration with any commercial software.
Videology Imaging Solutions, Greenville, RI
Kinematic mirror mounts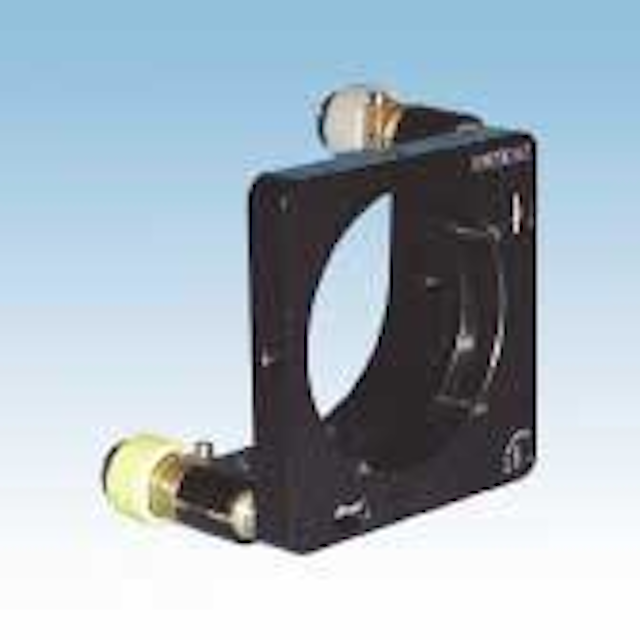 Click here to enlarge image
The IXM-series mirror mounts feature a Kinematic design with a patented spring-loaded pivot and a full 5/8-in.-thick backing plate for maximum stability. Three mounting configurations for 1/2-, 1- and 2-in. mirror diameters, as well as right- and left-handed versions of the Open Quadrant version are available.
Siskiyou Design Instruments, Grants Pass, OR
Solid-state laser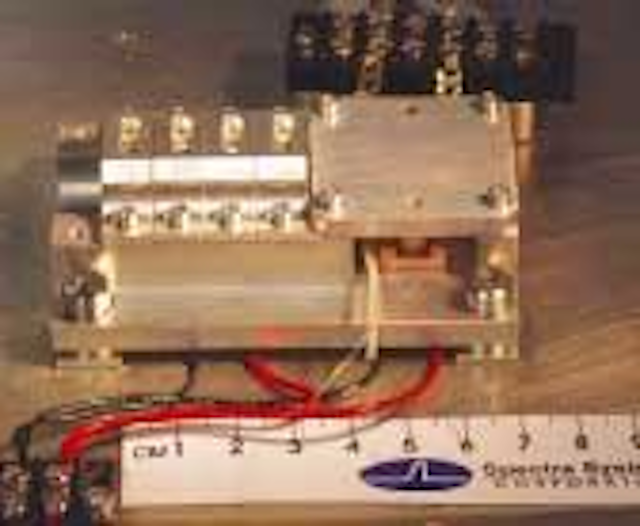 Click here to enlarge image
A new solid-state laser consists of an Nd:YAG with an integrated passive Q-switch. It produces a 4-mJ, 3-ns pulse at 1064 nm with repetition rates of up to 125 Hz. The laser can be configured to utilize a KTP frequency doubler to produce 532-nm pulses at greater than 2-mJ pulse energy. The laser includes an integrated control module and power supply with a packaging footprint of 20 × 7.5 × 10 cm and 1.2 kg.
Spectra Systems, East Providence, RI
Thin-disk laser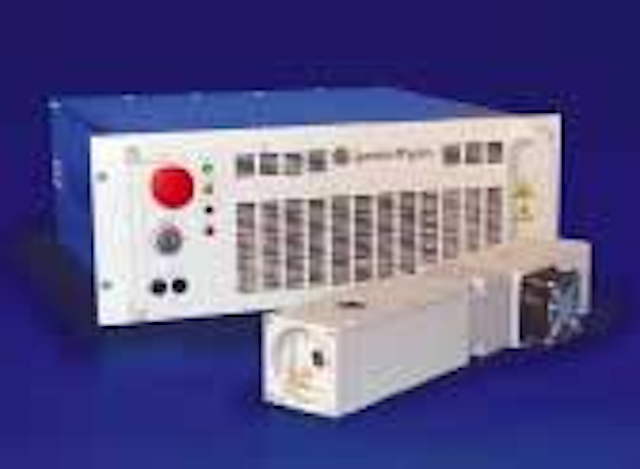 Click here to enlarge image
The DisQ-Mark is a Q-switched, thin-disk laser designed for industrial marking and precision machining applications. The diode-pumped Nd:YAG laser generates up to 8 W of NIR output, with a beam quality M2 >4, and pulse repetition rates of up to 50 kHz. The laser can create surface marks on many organic materials, including most plastics, and many metals, including aluminum and anodized aluminum.
Spectra-Physics, Mountain View, CA
Signal-processing camera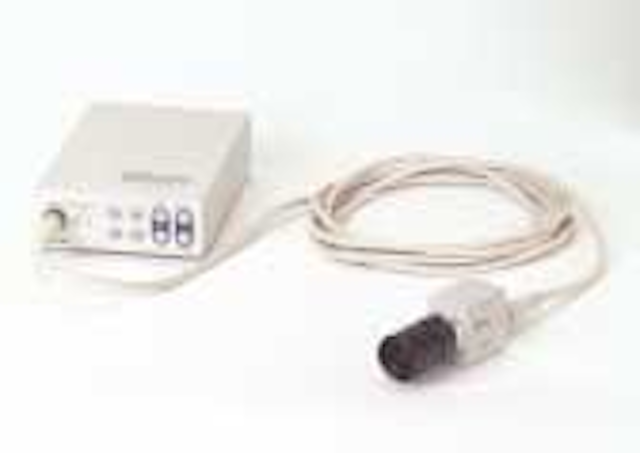 Click here to enlarge image
The IK-TU51 3 CCD, 10-bit digital signal-processing camera is designed for ..machine vision, microscopy, and broadcast applications. The camera provides digital and RGB output and has interchangeable 1/2- or 1/3-in. remote heads. New features include IT Exwave HAD CCD technology, 800-line resolution, six-vector color-enhancement circuitry, and one- or two-pulse triggers.
Toshiba, Irvine, CA
IR transceiver
The new TFBS4711 serial-infrared (SIR) transceiver measures 1.9 mm high × 3.1 mm deep and 6.0 mm long. The 115-kb/s device allows design engineers to add short-range IR connectivity to smaller and thinner handheld systems, enabling mobile phones and PDAs to transfer digital images and data files or to pay for goods using the new IR Point and Pay application.
Vishay Semiconductors, Malvern, PA
Power meter
The Q8230 optical power meter provides measurement of blue-violet lasers in the 400-nm region. It can be combined with the Q82312 optical sensor. It has a 0.001-dB resolution level and a 5.5-digit display, and can adjust the wavelength setting in increments of 1 nm. It has analog output and a USB interface.
Advantest, Tokyo, Japan
Optical engines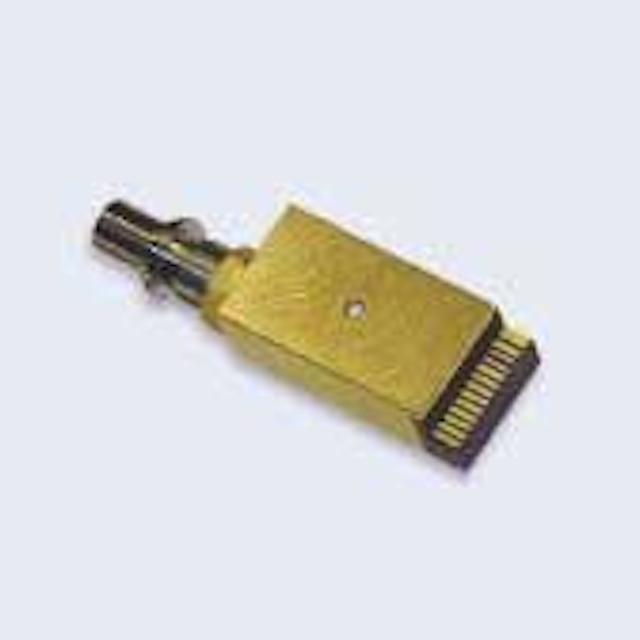 Click here to enlarge image
New Qubes optical engines are designed to power any multisourced-agreement (MSA) optical-module form factor at 2.5 and 10 Gbit/s, including 300-pin transponders, XFP, SFF, SFP, and GBIC. The engines can simplify the design process and reduce costs by offering a single standard engine used at high volumes across multiple module solutions. The engine products are based on a proprietary planar packaging technology.
TriQuint Semiconductor, Hillsboro, OR
Vertical translation stages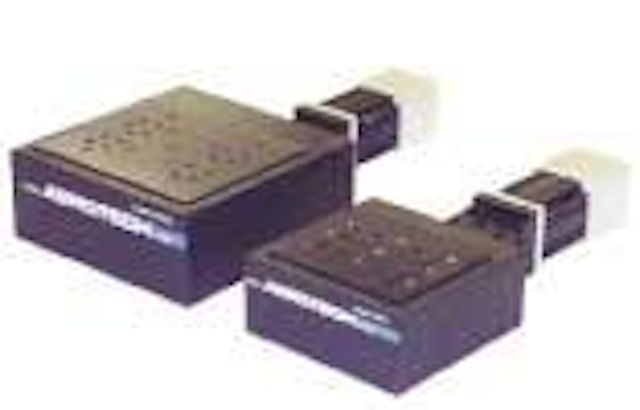 Click here to enlarge image
The AVS100 series of vertical translation stages have submicron closed-..loop positioning. Models offer 6, 13, and 25 mm of travel and versions with integral motors are available. They use a precision-ground ball screw, with integral limit switches and mechanical hard stops. They are designed for both laboratory and industrial applications.
Aerotech, Pittsburgh, PA
Tunable waveplates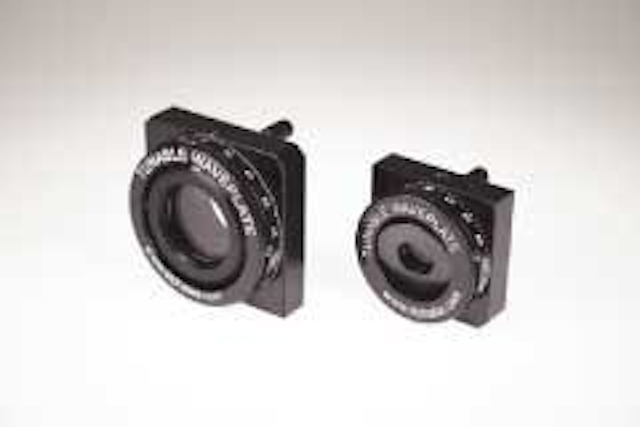 Click here to enlarge image
Tunable zero-order waveplates for femtosecond lasers and OPOs can be adjusted for any wavelength from 150 to 7000 nm. The bandwidth varies from 100 to 300 nm, depending on wavelength. The devices are available as either quarter- or half-wave phase retarders. They can also be used for general polarization measurement and control, laser research, spectroscopy, and nonlinear optics.
ALPHALAS, Goettingen, Germany
Galvanometer scanner
The 6215H galvanometer-based optical scanner is designed for high-frequency raster scanning in 1- to 6-mm-aperture applications such as imaging, OCT, microscopy, display, and inspection. The 60-W, 54-mm-tall scanner can achieve speeds of 2 kHz and laser projection at 60 kp/s.
Cambridge Technology, Cambridge, MA
Digital CCD camera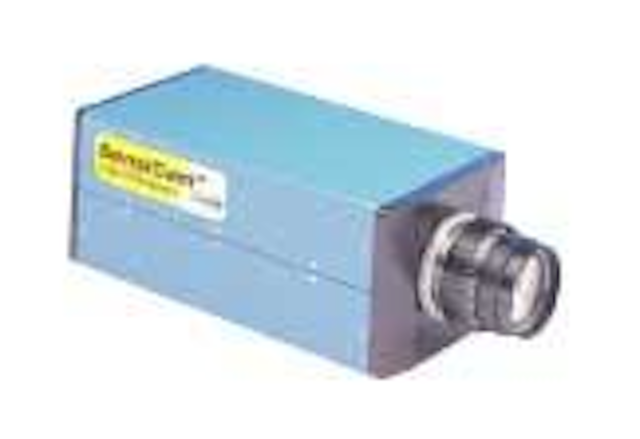 Click here to enlarge image
The SensiCamQE cooled digital CCD camera has resolution of 1376 × 1040 pixels, 4e system noise, quantum efficiency of 65%, and 12-bit dynamic range. It is designed for low-light-level quantitative imaging applications such as fluorescence microscopy, cell imaging, semiconductor inspection, and hyperspectral imaging. It connects to an optical microscope or lens via an adjustable C-mount.
Cooke, Auburn Hills, MI
Inverter kit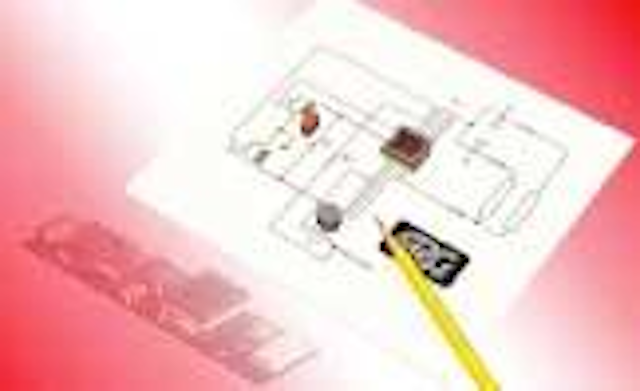 Click here to enlarge image
A low-profile 8m Class inverter is available in kit form to provide an LCD designer with packaging freedom. The inverter is 8 mm high with up to 5 W of output power and is designed for users of one- or two-lamp LCD modules. The company supplies circuit design, magnetic components, and layout validation.
Endicott Research Group, Endicott, NY
Superluminescent LEDs
The EXS8305-8800 superluminescent LED has typical output power of 1 mW with 22-nm bandwidth at 830 nm. It comes in a TO-56 housing with different fiber pigtails, including multimode and polarization-maintaining fiber. Others have up to 40-nm FWHM and up to 20-mW ex-facet power output.
Exalos, Zurich, Switzerland
Switcher adapters
The DA 16 series of wall-mount external switching power supplies from Astec Power can deliver 12 VDC at 16 W with 20 ms of hold-up time. The devices take universal AC input from 90 to 264 V at 47 to 63 Hz and provide output voltage regulated to ± 2% of nominal, with 75% efficiency at 120 VAC.
Emerson Network Power, Carlsbad, CA
X-ray inspection system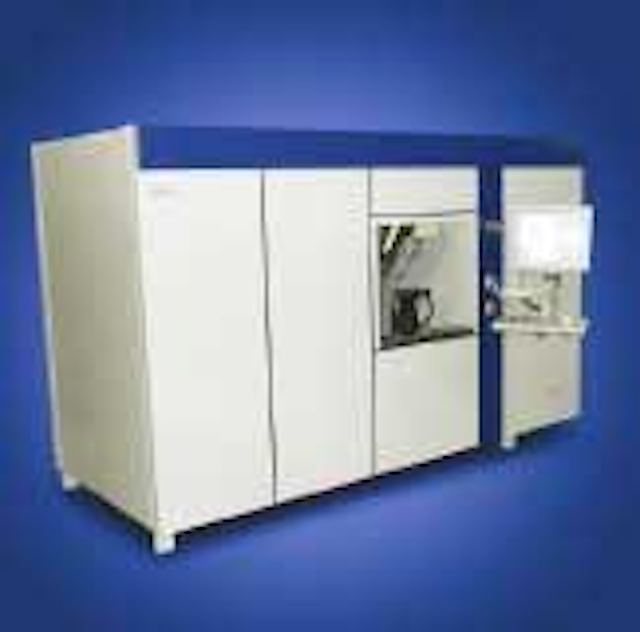 Click here to enlarge image
The µCT-50 x-ray inspection system combines 2-D x-ray technology with 3-D computer tomography techniques and volume-rendering software. It depicts cracks, voids, and other anomalies in their actual 3-D position for nondestructive testing and the inspection of complex electromechanical components. A 225-kV directional tube provides two x-ray modes.
Feinfocus, Garbsen, Germany
Component characterization
The Optical S-Parameter Analyzer is a platform for characterization of passive optical devices such as fiber Bragg gratings, interference filters, arrayed waveguides, dispersion compensators, and multiplexers and demultiplexers. It measures parameters including phase, time delay, chromatic dispersion, reflectivity, transmission, and bandwidth. It operates in the S-, C-, and L-bands and offers automated operation and a Windows-based interface.
FiberWork Optical Communications, Campinas, Brazil
Integrating sphere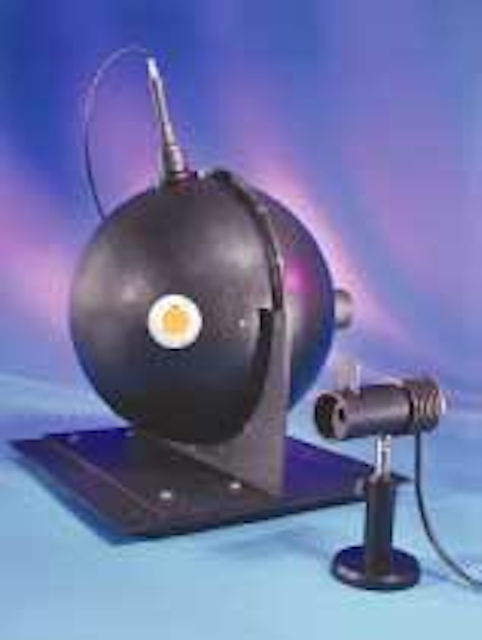 Click here to enlarge image
The GS-IS12-TLS integrating sphere is designed to measure total luminous flux and radiant flux of miniature and subminiature LEDs and lamps that emit between 190 and 2700 nm. It uses baffles at NIST-recommended angles at the input and output ports. It is available with two reflective coatings with slightly different characteristics and a variety of optional lamp sockets.
Gamma Scientific, San Diego, CA
Color sensor module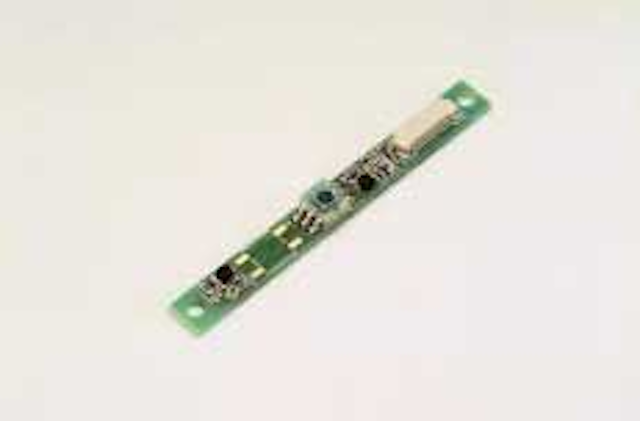 Click here to enlarge image
The C9303 color-sensor module is designed for use with the power monitor of RGB LEDs. It has typical photosensitivity of –14 V/mW at 620 nm, –20 V/mW at 540 nm, and –18 V/mW at 460 nm. It has three-channel current-to-voltage amplifiers to simultaneously output a three-channel RGB signal. It has rise time of 22 µs and 16-kHz cut-off frequency.
Hamamatsu, Bridgewater, NJ
Light engines
The LumiBright line of LED light engine packages allow the coupling of LEDs into fiber or illuminate a defined area. They can direct three times more light into a usable cone than conventional packages. The standard cone angles are 20° and 41°, and custom output powers and cone angles are available.
Innovations in Optics, Woburn, MA
White LEDs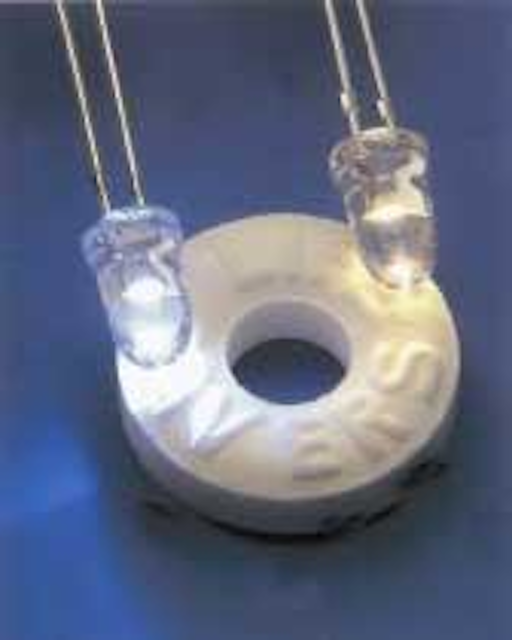 Click here to enlarge image
A line of cool and warm white LEDs are designed for lighting applications. They include cool blue and warm off-white that can be used separately or together for various lighting options. They come in 5-mm, 3-mm, and SMT sizes and narrow and wide angles. They require 3.5 VDC and provide 6400 mcd at 20-mA luminous intensity.
Gilway Technical Lamp, Woburn, MA
Hazard radiometer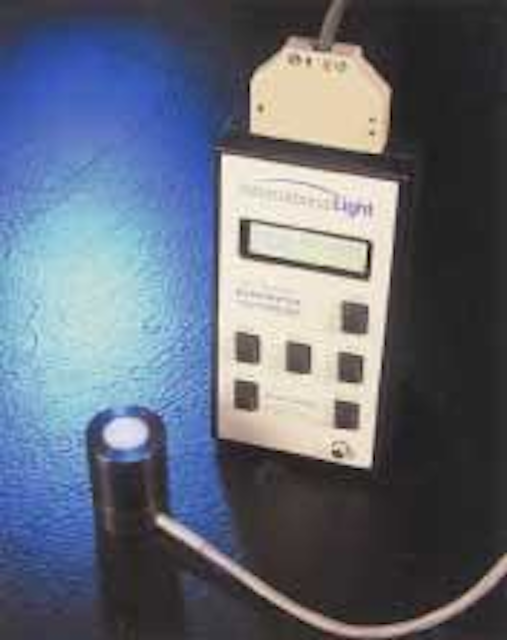 Click here to enlarge image
A fully portable, NIST-traceable radiometer for making UV hazard measurements in low ambient light, the IL1430 UV actinic radiometer has a backlit LCD display. It displays measurements in effective mW/cm2 and mJ/cm2 with a spectral range on 200 to 400 nm (274-nm peak). It can obtain average dose/hour and total doses/day at UVA, UVB, and UVC, depending on the detector.
International Light, Newburyport, MA
Multimode combiners
The All-Fiber line of multimode combiners are designed for use in laser-diode combiners, fiber lasers, and fiber amplifiers. They come in standard configurations of 7 × 1, 19 × 1, and (6 + 1) × 1. They are designed to couple power from several diodes for use in industrial, medical, military, and telecommunications applications.
ITF Optical Technologies, Saint-Laurent, Quebec, Canada
Optical test instrument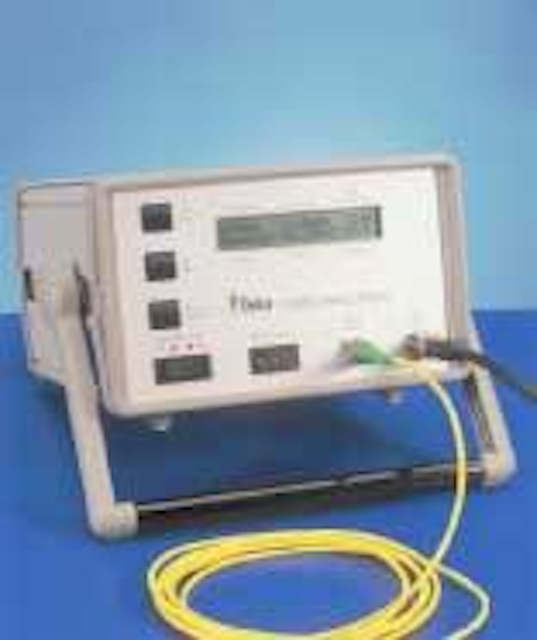 Click here to enlarge image
The FOS-860A optical receiver monitors the optical-modulation index of an optical carrier to simplify setup and maintenance. It measures the index in percent, per channel, or total for CATV, CCTV, and multichannel optical-communications networks. It measures optical power in mW or dBmW in the 1310- and 1550-nm ranges.
M2 Optics, San Marcos, CA
Fluorescent source
The Model 4 CFVI industrial-grade fluorescent lighting system is powered by a 25-kHz driver. It provides bright, flicker-free illumination for applications such as imaging, process inspection, assembly, microscopy, and other machine vision. Standard lamps have a 101.6-mm inside diameter and are available in 5100K and UV options.
StockerYale, Salem, NH
Epoxy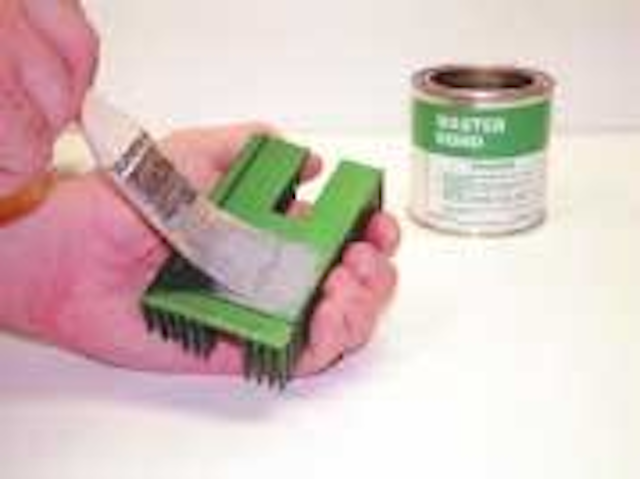 Click here to enlarge image
EP21AO is a two-component, thermally conductive, electrically isolating epoxy with a 1 to 1 mix ratio by weight or volume. It has thermal conductivity of 10 BTU/in./ft2/hr/°F and a dielectric strengths of greater than 400 V/mil. Operating temperature range is –60°F to 250°F. It has a low coefficient of expansion and adheres to a variety of substrates.
Master Bond, Hackensack, NJ
Yellow DPSS lasers
The 85 YCA series of diode-pumped, solid-state lasers operates at 561 nm and produces single-frequency output with less than 3% peak-to-peak noise. They are available with output powers up to 10 mW. The beam has an aspect ratio of less than 1.1:1, is linearly polarized, and has an M2 factor of less than 1.2.
Melles Griot Laser Group, Carlsbad, CA
Laser windows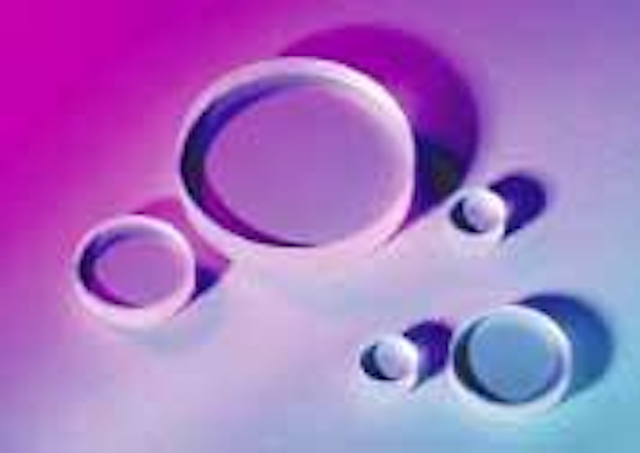 Click here to enlarge image
A line of laser-grade windows has a surface flatness of l/20, scratch and dig of 10-5, and parallelism less than 30 arcs. They are available in BK-7 glass and UV-grade fused silica. Standard diameters are from 0.5 to 2 in., which a choice of thickness of 0.24 or 0.39 in. They are intended for use in research laboratories.
Newport, Irvine, CA