Laser-based breathalyzer screens for TB in minutes
A laser-based breathalyzer system may make painful, under-the-skin testing for tuberculosis (TB) a relic of the past.
Apr 1st, 2004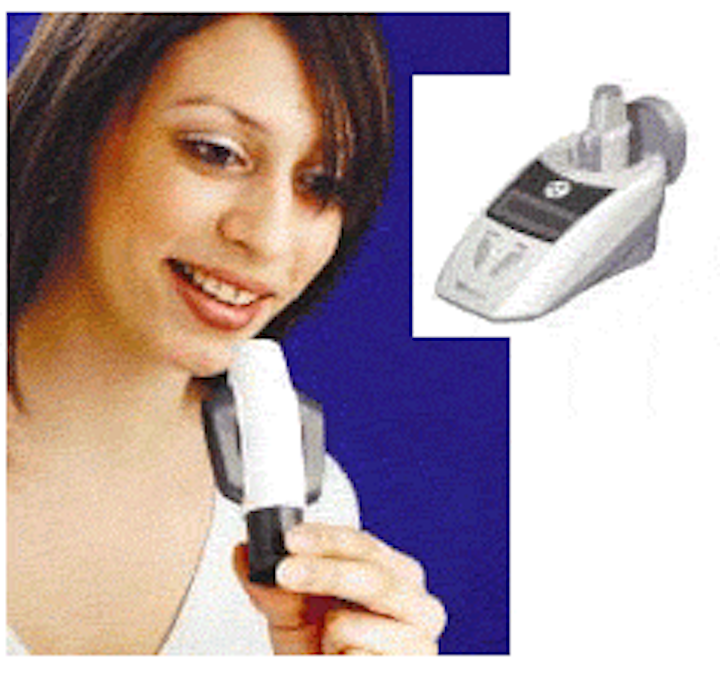 A laser-based breathalyzer system may make painful, under-the-skin testing for tuberculosis (TB) a relic of the past. Population migration and modern transportation are causing the re-emergence of numerous infectious diseases that scientists thought they had eradicated. The World Health Organization (WHO) is especially concerned about TB, describing it as a global epidemic.
"Any tools developed to speed up the isolation of potentially infected people will minimize the risk of spreading TB before treatment can be administered," explains Dennis Camilleri, cofounder and chief executive officer of Rapid Biosensor Systems (RBS; Cambridge, England).
Engineers at RBS have designed a point-of-care breathalyzer-style device for the rapid, sensitive, noninvasive screening of infectious diseases. The complete system consists of a disposable sample collection device and a small hand-held portable optical reader to detect a pathogen (see figure). For TB screening, the patient provides a cough sample into the disposable collection device, a tube measuring 10 by 3.5 cm. The sputum/aerosol sample is automatically collected within the tube onto a prism-based bio-optical sensor, which has a biochemical coating optimized for use with the TB bacteria.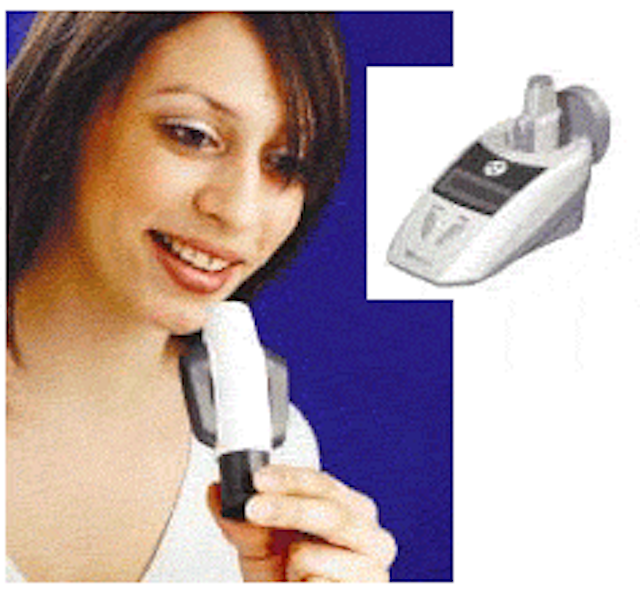 A patient is about to deposit a sputum/aerosol sample into a disposable collection device. The sample collector is then inserted into an optical reader to check for pathogens such as tuberculosis bacteria (inset).
Click here to enlarge image
The sample collection tube is then inserted into the optical reader/fluorimeter and the TB measurement is taken. A laser-diode beam hits the prism coating and patient sample and produces a fluorescence signal from the sample. The signal is produced by an optical evanescent wave produced at the surface of the prism and cough sample. The fluorescence light is incident onto a photomultiplier tube within the reader, which produces a positive or negative "yes" or "no" reading on the reader display after about 10 minutes (current methods for screening and testing TB can take up to two weeks). The cough sample tube is then removed and destroyed and the reader reused for the next sample.
The next stage for RBS, now that it has secured government awards and private funding, will be mass testing in a variety of institutions. In addition to considerable interest from the WHO, the company is also in negotiations to license the technology to a global health company that hopes to bring it to market within a year. While WHO anticipates that the product will screen for tuberculosis, it can also be used to screen for other diseases, such as influenza and pneumonia. The company has already shown that this technology can detect Escherichia coli bacteria.
ILENE SCHNEIDER is a freelance writier living in Irvine, CA; e-mail: ischnei440@aol.com.