Optics business model grows beyond a cottage industry
As the photonics industry matures, manufacturers are adjusting their focus from individual innovation and craftsmanship to a more highly competitive model based on service, quality, and price.
Jun 1st, 2004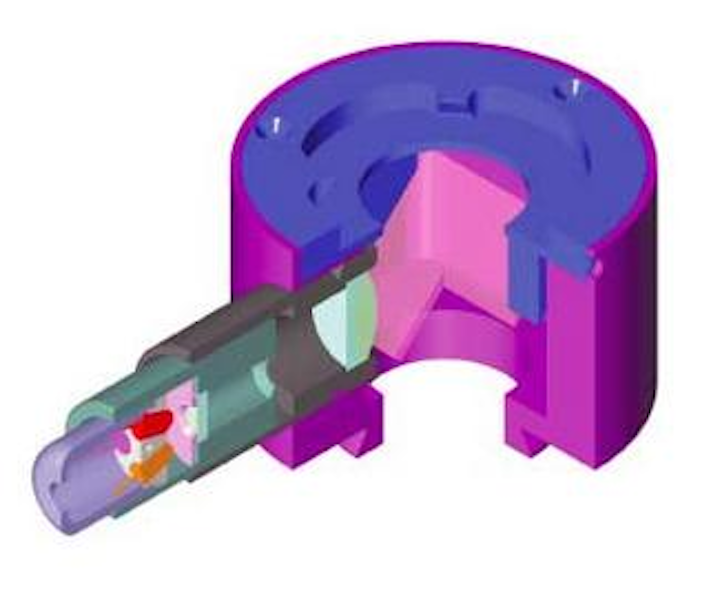 As the photonics industry matures, manufacturers are adjusting their focus from individual innovation and craftsmanship to a more highly competitive model based on service, quality, and price.
One sign that the young upstart optics industry is actually beginning to mature, according to EM4 (Bedford, MA) CEO Basil Garabet, is an increasing realization that the net worth of a company lies much more in factors such as R&D, intellectual property (IP), and branding than in manufacturing. The idea is still a bit unusual in optics, but it already is decades old in the automotive and semiconductor industries, said Garabet, whose "pure play" design services company has just added a third shift and quadrupled the size of its clean-room facilities.
The descriptive term "pure play" did not come from Garabet, however, but from David Ruxton, CEO of Optocap (Livingston, Scotland), a design services firm newly launched by Scottish Development International (also in Livingston) with an initial focus on moving promising optoelectronic ideas from academic laboratories into commercial markets. Unlike established optics companies that offer design services in addition to established product lines, Ruxton said, both EM4 and Optocap limit their businesses strictly to design services and do not sell any products.
Other companies providing similar services include Optimum Technologies (Sturbridge, MA), which specializes in product design services for biomedical optics firms, and Optimax Systems (Ontario, NY), which is focused on fast turnaround design and prototyping of precision optics. While the term "outsourcing" is often associated with low-cost services from relatively low-cost "offshore" labor markets, the focus of these companies is primarily on providing "onshore" outsourcing services with competitiveness based more on high-value services for specific market niches than on commodity pricing enabled by offshore labor.
EM4 was originally incorporated in November of 2000, with the intention of providing design, prototyping, and small-to-medium-level manufacturing services for telecommunications applications. The company had to rapidly expand its focus as the telecom market melted down, however, to a current market dominated by telecom, broadband, and cable TV applications, followed by defense and homeland security applications, and then by newly developing markets in automotive and life-science applications.
The EM4 niche is in providing high-level automation services with throughputs and yields high enough to keep manufacturing costs low for relatively expensive, active optoelectronic devices. There are already numerous outsource manufacturers for passive devices overseas, Garabet said. But unlike relatively inexpensive passive devices, the material costs for active devices amount to about 80% of device cost. Pointing to a cable-TV laser that EM4 manufactures in the U.S. and ships to China, Garabet joked that at least his company is doing what it can to reverse the outsourcing imbalance.
Optimum Technologies, in business since 1994, focuses on market analysis, product design, engineering, industrial design, prototyping, validation, regulatory consulting, and contract manufacturing in biomedical optics, according to CEO Randal Chinnock (see figure).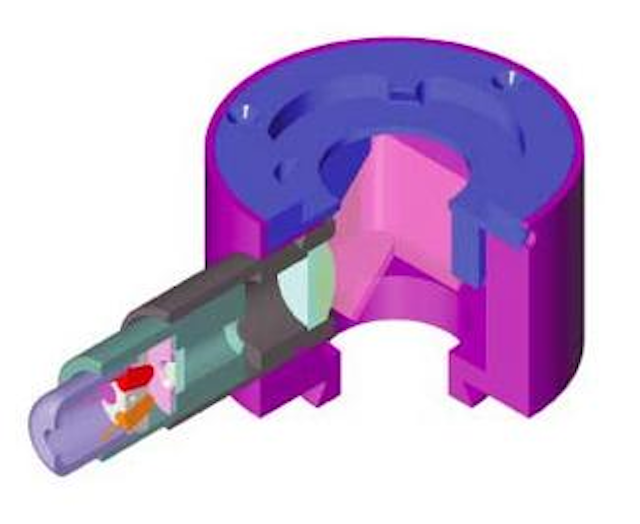 A typical design-services-firm project, such as this projection assembly—which consists of multicolored light sources, a display device, projection lens, aperture, beamsplitter, and precision bayonet mounts top and bottom—requires a combination of design inputs from optical, mechanical, and electronic engineering perspectives.
Click here to enlarge image
"We have developed products in areas including endoscopy, microscopy, spectroscopy, optical cancer detection, fiberoptic sensors, medical video, optical curing (dental impressions, wound closure), OCT, and illumination systems," Chinnock said. "On the manufacturing side, we produce optical devices for the life sciences in low-medium volume and medium-high unit price. We bring the most value when there is a significant optical value-add, when there is specialized testing involved, or where our focused experience in the life sciences contributes to ongoing design improvements that are valuable to the customer. We have also done higher-volume disposables (for example, a disposable optical sheath for an optical cancer-detection system) under certain circumstances."
"We can be more responsive to short-run jobs and rapid customization than offshore suppliers," he said. "We are an FDA-registered medical-device manufacturer, with an FDA/ISO-compliant quality system. We also have an established network of optical component suppliers, mostly domestic, but some offshore. We leverage these suppliers to provide rapid optical solutions. We do a lot of plastic optics design, and have a close relationship with a plastic optical-molding partner."
Low-to-medium volume also characterizes the contract manufacturing operations of Photonic Solutions (Ontario, NY) founded at the beginning of this year as a wholly owned subsidiary and contract-manufacturing arm of Optimax Systems. Optimax, founded in 1991, has traditionally focused on the rapid manufacture of prototype optical components, but Photonic Solutions was spun out this year to provide medium-volume contract manufacturing services of those components for OEM customers, according to Jim Hoey, vice president and general manager.
Photonic Solutions shares space and resources with its parent company, as well as the focus on high-precision as opposed to commodity optics, and has already begun to accumulate customers in the queue, Hoey said. In terms remarkably similar to those used by other executives interviewed for this article, Hoey, described two types of customers for optical prototype and design services: those with sophisticated internal optical design capabilities who are specifically seeking manufacturing services for optical components and assembly; and customers with limited optics resources who actually need a design firm to come in, work with them, understand their needs and find a way to meet their requirements. "There are many more companies in the second category than in the first," Hoey said.
Competitive demands
In general, optics seems to be moving away from a traditional "cottage industry" approach focused primarily on individual innovation and craftsmanship and more toward highly competitive demands for service, quality, and price that one finds in large established industries. For instance, customers in the auto industry expect price to continually go down and quality to continually go up, Hoey said. And in such a competitive environment, simple labels such as offshore and onshore can begin to blur as companies seek the most effective, rather than just the least expensive, ways to provide a service.
"We are getting more inquiries and business from companies in many other countries, and we are sometimes competing with service providers in other countries," said Chinnock at Optimum Technologies. "These service businesses go both ways. We respond to these trends by continually refining our own business model, by focusing our efforts on the kinds of clients and projects that have already been successful for us, especially with clients who recognize the particular values that we bring. We have also established a relationship with an optical design group abroad that provides us a lower-cost design and engineering option."
Chinnock said that, while most customers realize there is a unique set of talents offered by each firm, some prospects view contract manufacturing as a commodity business. "We don't want to be a commodity supplier, so we disqualify those prospects early in the process," he said. "We focus on contract manufacturing opportunities in which our value-add is really understood by the client."