New Products
A high-power pulsed laser source for the green, red, and IR wavelength range includes a pulsed seed-laser and tapered amplifier in a master-oscillator power-amplifier configuration.
Nov 1st, 2004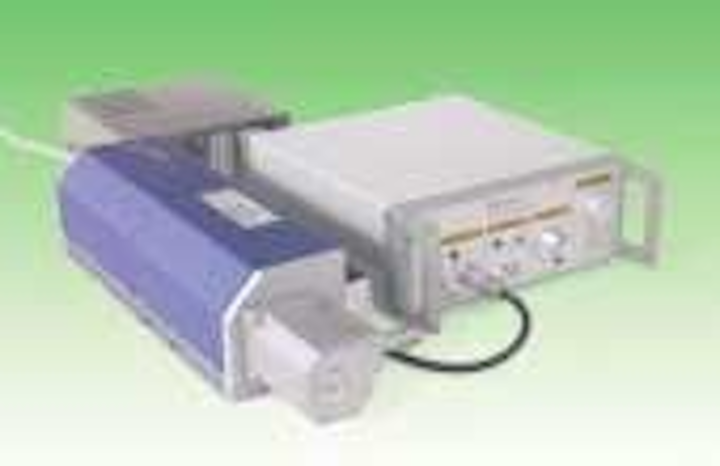 Laser-diode system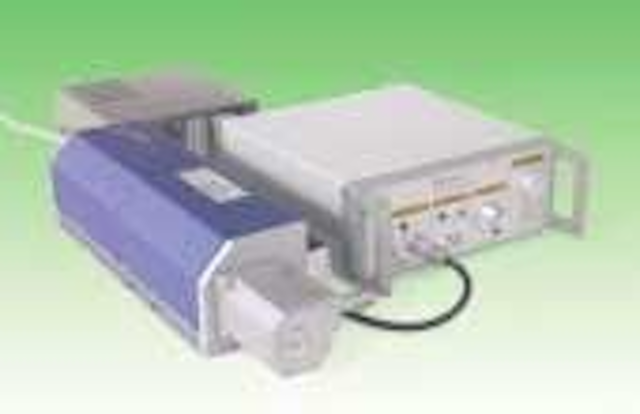 Click here to enlarge image
A high-power pulsed laser source for the green, red, and IR wavelength range includes a pulsed seed-laser and tapered amplifier in a master-oscillator power-amplifier configuration. It produces light pulses down to 100 ps at an adjustable repetition rate up to 80 MHz. Systems are available at 530, 780, and 1060 nm.
PicoQuant and Toptica Photonics, Berlin, Germany
Galvanometer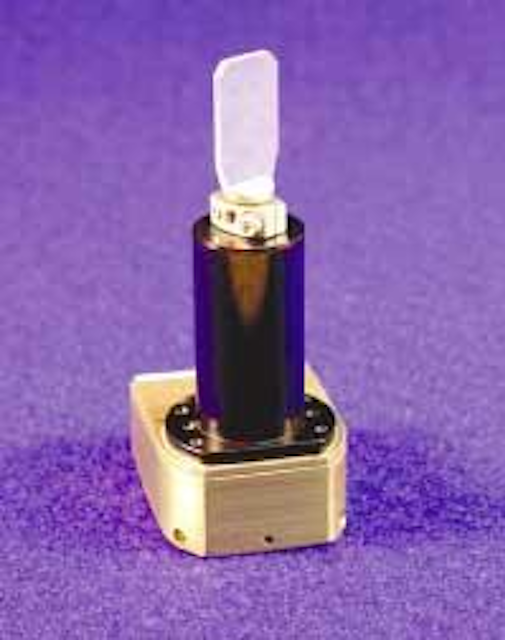 Click here to enlarge image
The QuantumScan-7 (QS-7) galvanometer is designed for scanning 7- and 10-mm-aperture mirrors. The model offers a 30 % increase in scanning speed and optimized thermal characteristics. Specially designed ceramic output shafts provide lower inertia and higher stiffness than steel, for increased bandwidth and speed. Rear-adjustable mirror stops and hybrid ceramic bearings are also included.
Nutfield Technologies, Windham, NH
Quasi-CW UV laser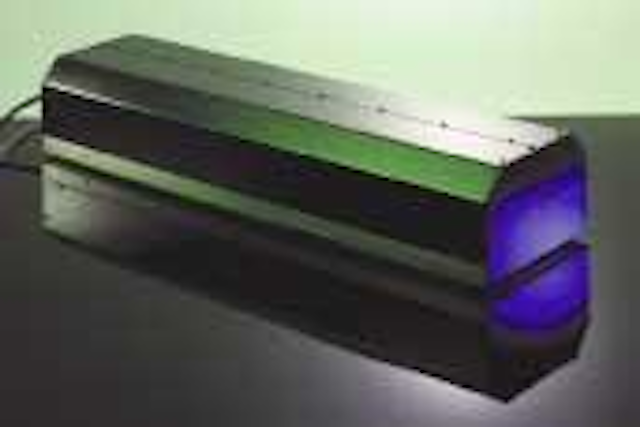 Click here to enlarge image
The Paladin 355-8000 is a commercial, quasi-CW laser that delivers 8 W of output at 355 nm. The laser is designed for applications such as laser direct imaging of PC boards and computer-to-plate production in reprographics. The laser is made using a patented Permalign manufacturing technology to deliver a robust, contamination-free, hermetically sealed package. It uses AAA (aluminum-free active area) pump diodes that are fiber-coupled at the power supply.
Coherent, Santa Clara, CA
Spectrofluorometer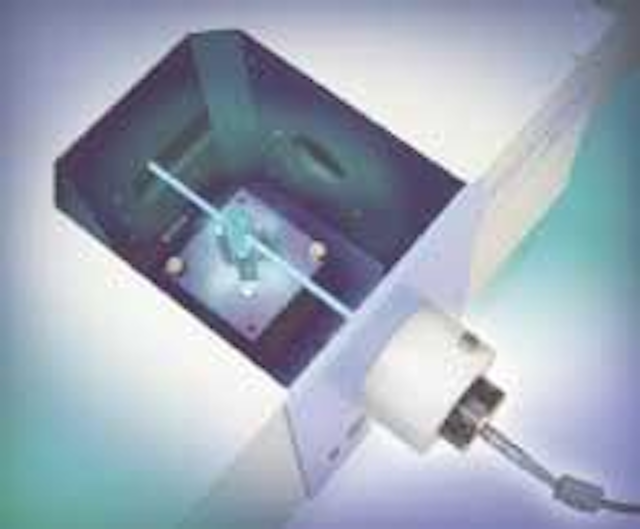 Click here to enlarge image
Time-correlated single-­­photon-counting (TCSPC) capabilities have been added to the ­Fluorolog-3 spectrofluorometer. The instrument offers a choice of flashlamps for ­excitation or the use of an LED from a NanoLED source. TCSPC is the most sensitive time-domain method, allowing the user to examine the entire decay curve with digital precision.
Jobin Yvon, Edison, NJ
Nanopositioner
The new TRITOR 200/20 is a piezoelectric-driven stage based on the stiction/friction-free flexure hinges design. The three-axis system allows each axis to be measured and controlled independently. An integrated feedback sensor overcomes the effects of hysteresis and drift. Designed for microscopy applications, the system has a linear travel range of 235 x 235 x 30 µm.
Piezosystem Jena, Jena, Germany
IR readers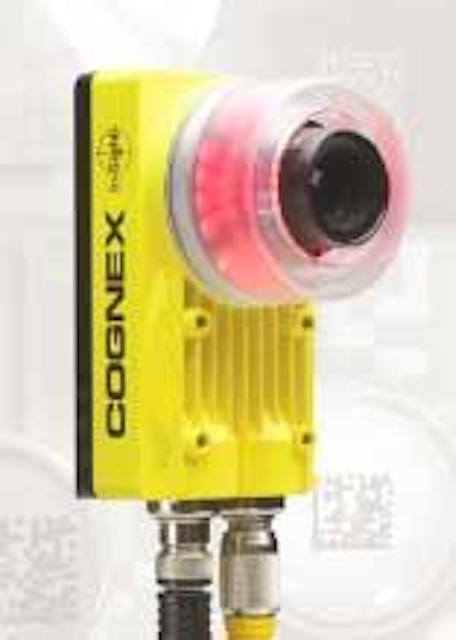 Click here to enlarge image
The DataMan 6400 and DataMan 6500 hand-held readers and the In-Sight 5110 fixed-mount reader run IDMax data-matrix reading software, based on patented technology. The readers combine high-speed processing with optimized lighting, optics, and software for decoding 1-D and 2-D codes in part-level traceability applications.
Cognex, Natick, MA
Servo controller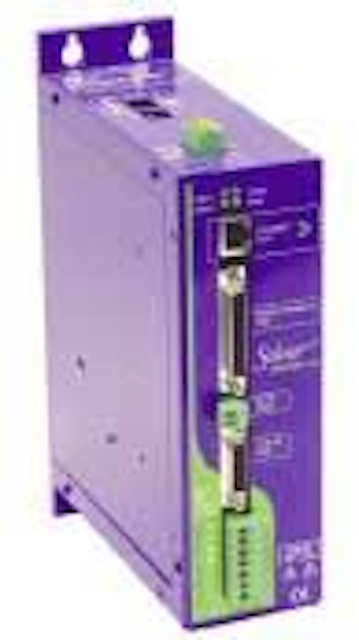 Click here to enlarge image
The Soloist is a single-axis servo controller that combines a power supply, amplifier, and position controller in a single package. The controller can control up to four tasks simultaneously, as well as handle variables and manage I/O. High-speed position latch inputs and advanced logging capabilities make it suitable for laboratory, test, and industrial applications.
Aerotech, Pittsburgh, PA
Polarization-monitoring system
A monitoring system allows researchers, engineers, and technicians to monitor polarization-induced transmission impairments in fiber­optic communication networks. The system, which includes an internal automatic-trigger capability, analyzes polarization changes as short as a few microseconds and can foreshadow transmission failures. This helps protect communication systems against transmission failures induced by polarization-mode dispersion and polarization-dependent loss.
Adaptif Photonics, Hamburg, Germany
Power supplies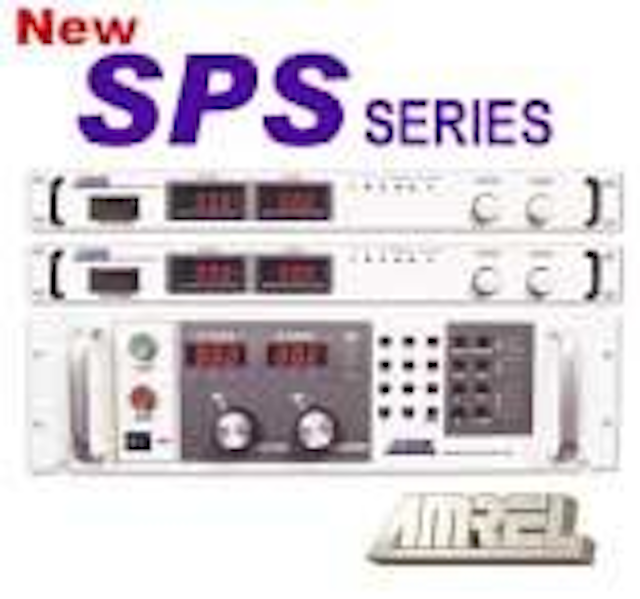 Click here to enlarge image
The expanded SPS line of programmable switching power supplies range from 1.2 to 30.0 kW, up to 800‑VDC/2700/ADC and is now available with a built-in Ethernet interface. The Ethernet option provides an alternative to traditional GPID ­systems and delivers an efficient transmission method for large blocks of data, with unlimited device connection and scalability.
Amrel, Arcadia, CA
Yield module
A new module has been added to the OlympIOs planar-waveguide design and simulation platform. The module allows for the calculation of device yields for specified performance criteria and statistical process data. The module's simulation engine uses existing proprietary numerical (optical) simulation engines, combined with Monte Carlo methods and fitting procedures to minimize the simulation time required.
C2V, Enschede, The Netherlands
Ultrafast photodetectors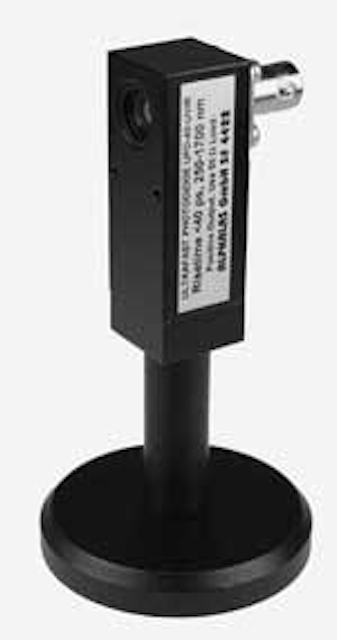 Click here to enlarge image
The UPD series of photodetectors covers the 190- to 1800-nm ­spectral range. Specifications include rise times below 40‑ps with high sensitivity. The compact device can be powered by both a battery and an external power supply. Applications include light-pulse-form and pulse-duration measurements, as well as precise synchronization.
Alphalas, Goettingen, Germany
Image-acquisition board
The X64-LVDS is a 64-bit image-acquisition board for parallel-output digital area and linescan cameras. The unit is compatible with 8-, 10-, and 12-bit LVDS and RS-422 digital-area or linescan monochrome or RGB ­cameras and supports up to eight taps of eight bits each. It offers image-­acquisition rates of up to 600 MByte/s, image transfer to host memory at 528‑MByte/s and provides up to 32‑MByte of local buffer memory.
Coreco, Montreal, Quebec, Canada
Nylon cartridges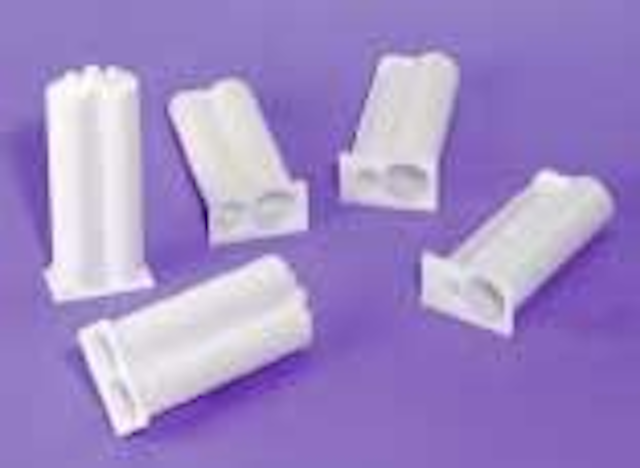 Click here to enlarge image
Nylon cartridges are now available for the MIXPAC hand-held cartridge dispensing system for two-component adhesives. These cartridges have been designed for use with chemistries that are incompatible with traditional polypropylene cartridges. The nylon cartridges are available in a 50 ml capacity to dispense adhesives in ratios of 1:1, 2:1, 4:1, and 10:1 as well as a 200 ml capacity with a 1:1 volumetric dispensing ratio and a 400‑ml system with ratios of 1:1 and 10:1.
ConProTec, Salem, NH
XY deflection heads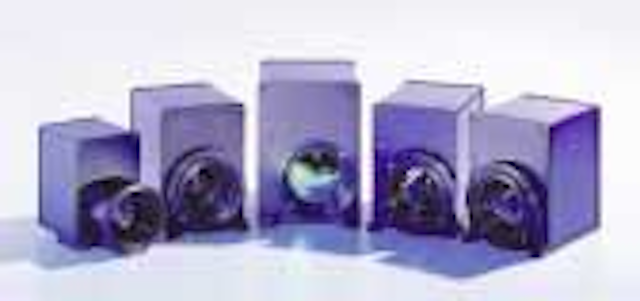 Click here to enlarge image
The Superscan family includes XY deflection heads with apertures of 7, 10, 15, and 20‑mm. The 7-mm head is suited for high-speed applications while the 20-mm head is designed to achieve a very fine spot for increased power density at the target. Each deflection head is designed to ­optimize the relationship between aperture and speed in its specific application area.
Raylase, Wessling, Germany
Faraday optical isolator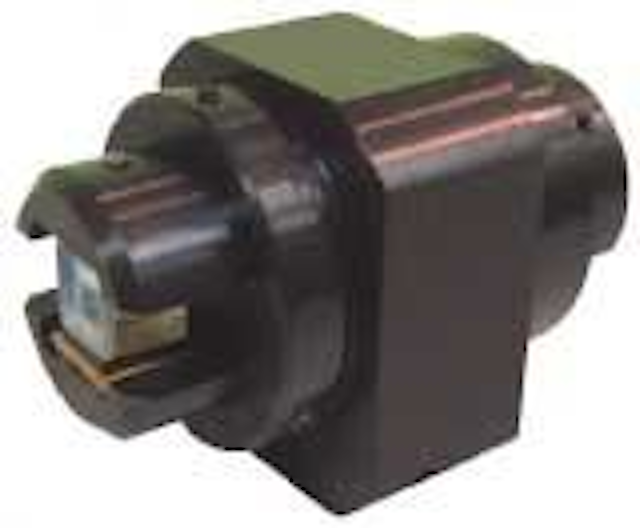 Click here to enlarge image
A new Faraday optical isolator acts as an optical diode, allowing propagation of linearly polarized light in one direction, but blocking light in the reverse direction. It consists of a Faraday rotator, two polarizers and a body to house the parts. The isolators are factory aligned for a central wavelength of 800‑nm. Total transmittance is 80%, with models offered with reverse ­isolation of 38 or 60 dB.
Del Mar Ventures, San Diego, CA
Superluminescent LEDs
New superluminescent LEDs (SLEDs) provide 120 mW output at 1550 nm. They can be used for 100-mW-class semiconductor broadband light-source solutions. These chip-based high-power SLEDs deliver a broadband spectrum through direct ­quantum processes within the ­semiconductor device. They provide long-wavelength IR-range coverage and are available in all O, E, C, and L bands via the chip design.
DenseLight Semiconductors, Singapore
Bare-fiber testing device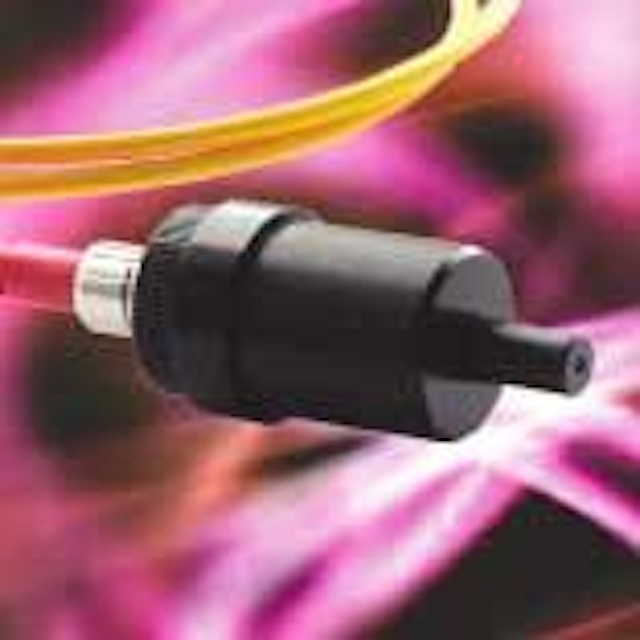 Click here to enlarge image
The Divot bare-fiber testing device is designed to quickly connect bare (unterminated) fiber to test, measurement, and communication equipment with results similar to a standard terminated piece of fiber. Features include acceptance of a noncleaved fiber, repeatable, reusable, low insertion loss, and low back reflection. The module utilizes a patent-pending custom ferrule with a replaceable cartridge filled with optical coupling compound.
Fiber Plus International, Milford, PA
Laser diodes
Discrete Mode (single wavelength) transmitter lasers now feature low astigmatic emission patterns for ­coupling to waveguides and fibers using lower-cost lenses. The uncooled lasers operate to more than 90ºC and utilize proprietary mode engineering technology. They provide side-mode suppression, single wavelength laser emission for optical communication applications at transmission rates from 155 Mbit/s to 2.5 Gbit/s.
Eblana Photonics, Dublin, Ireland
Laser-diode mounting fixture
The new LDM-4982M mini-DIL laser-diode mounting fixture is designed specifically for 8-pin mini-DIL packaged laser modules. A zero-insertion-force socket is accessible from the top. A built-in TEC allows stable temperature control and testing over a wide temperature range.
ILX Lightwave, Bozeman, MT
Laser-line filters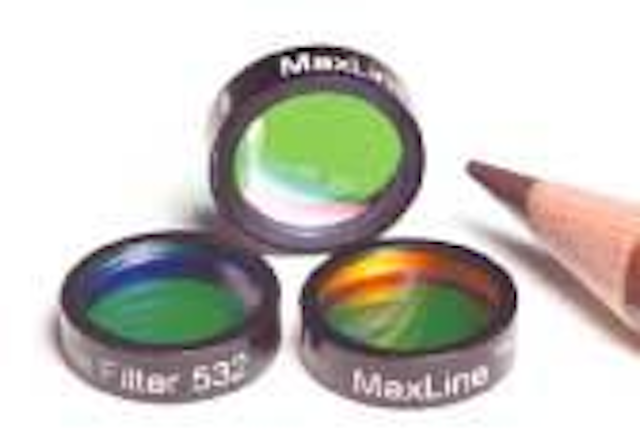 Click here to enlarge image
MaxLine laser-line filters have transmission greater than 90% at the laser line while rolling off to an optical ­density greater than 5 at wavelengths only 1% different from the laser wavelength. They are available for 532-, 632.8-, and 785-nm lasers. They measure 12.5 mm in diameter and have no adhesives in the optical path.
Semrock, Rochester, NY
Laser stencil system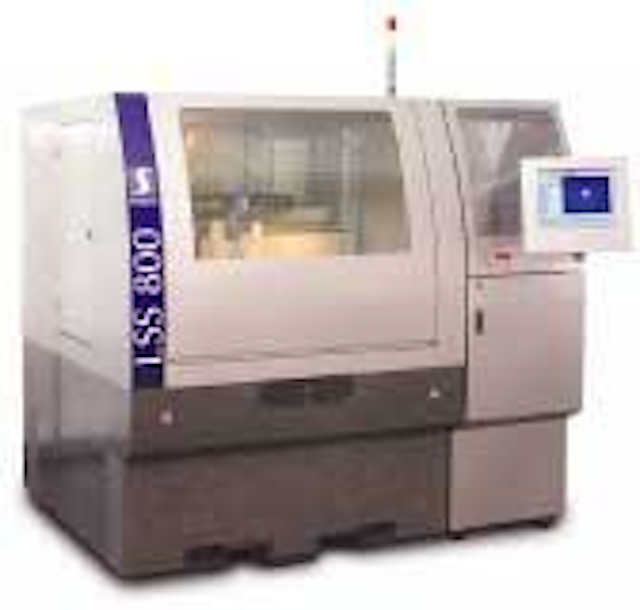 Click here to enlarge image
A laser stencil system for stencil and metal mask manufacturers cuts up to 20 holes per second without heat damage, burrs, or oxidation. It ­provides working areas up to 800 × 1000‑mm and can accommodate a second laser head to double throughput. It has mechanical precision below ±5 µm.
Synova, Ecublens, Switzerland
Acoustic enclosures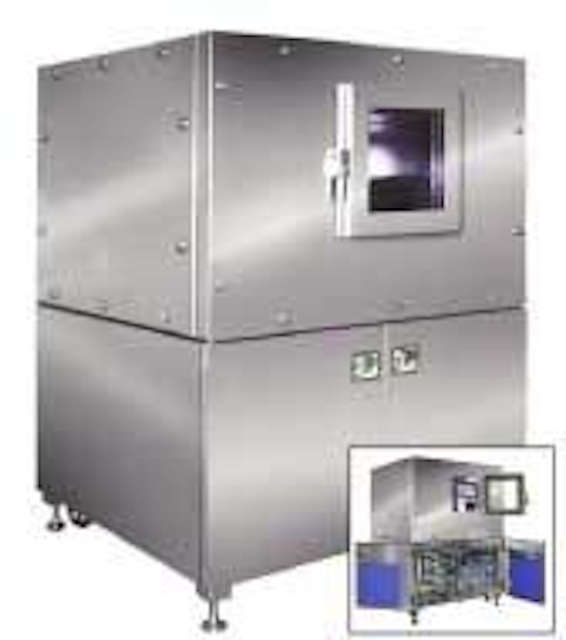 Click here to enlarge image
Custom enclosures can be designed to protect sensitive equipment from ambient acoustic noise. The enclosures can be used in OEM applications such as scanning-probe microscopes, interferometers, and other sensitive metrology equipment. They are designed to provide maximum attenuation in the 5- to 50-Hz frequency range.
Technical Manufacturing, Peabody, MA
IR emitters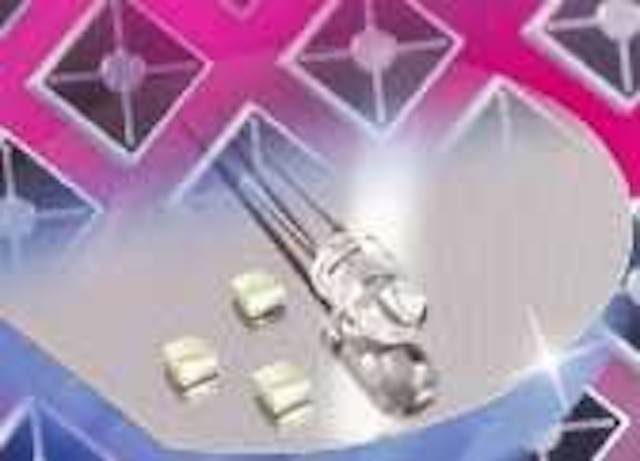 Click here to enlarge image
Two infrared emitters are designed for CMOS cameras and high-speed IR data transmission. They are optimized at 850‑nm and based on GaAlAs double-hetero technology. The lead-free devices have a 20-ns rise time and 1.8-V maximum forward voltage. The TSHG6200 provides a ±10° angle and TSMG3700 a ±60° angle of half intensity.
Vishay Intertechnology, Malver, PA
Weatherproof detectors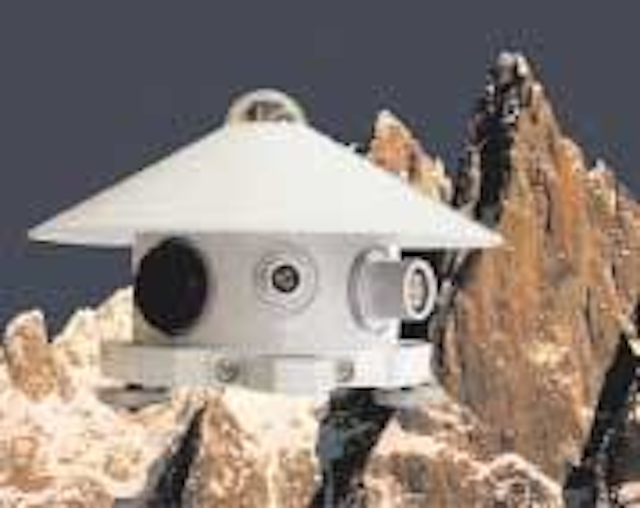 Click here to enlarge image
The WPD series weatherproof detectors are designed for year-round outdoor light measurement in solar and solar-simulated optical radiation-­monitoring applications. The entire light sensor is shielded in a rugged metal housing with the front input optic enclosed and sealed under a quartz dome. The photodiode, filter and diffuser are temperature stabilized to +25°C (stable to ±1°C) by means of a Peltier cooler. The detector operating temperature range is −20°C to 50°C.
Gigahertz-Optik, Newburyport, MA
Vibration isolator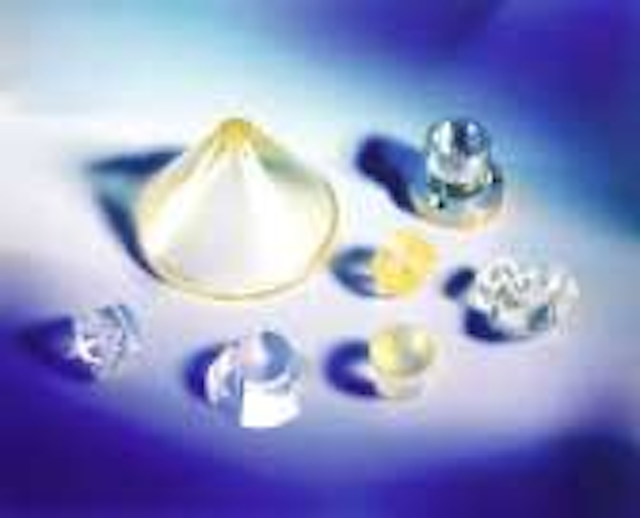 Click here to enlarge image
The ND60 NewDamp isolator provides vibration isolation support for low-load applications, such as breadboards, optical rails, laser systems, and the company's workstations. The isolator is made from U-16 polyurethane and is designed for testing and manufacturing applications that do not require the low-frequency bandwidth of pneumatic or active systems.
Newport, Irvine, CA
DC/DC converter
The LT1933 is a current-mode PWM step-down DC/DC converter with an internal 0.75 A power switch, packaged in a small, 6-lead SOT-23. It has an input range of 3.6 to 36 V, an operating frequency of 500 kHz and a VCESAT switch of 370 mV at 400 mA. The converter can regulate power from sources including automotive power systems, 24 V industrial supplies, and unregulated wall adapters.
Linear Technology, Milpitas, CA
Reflectometer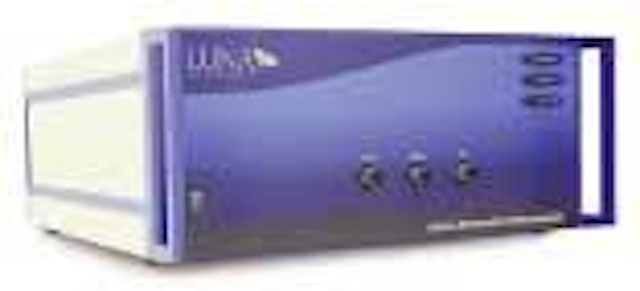 Click here to enlarge image
The Optical Backscatter Reflectometer (OBR) can measure minute reflections with 125-dB sensitivity, 60-dB dynamic range and 40-µm spatial resolution for up to 30 m of optical length with zero dead zone. Data-acquisition rates are more than 5 million points/s. This ­failure-analysis tool is designed for use by manufacturers of fiberoptic components and assemblies.
Luna Technologies, Blacksburg, VA
Two-way tester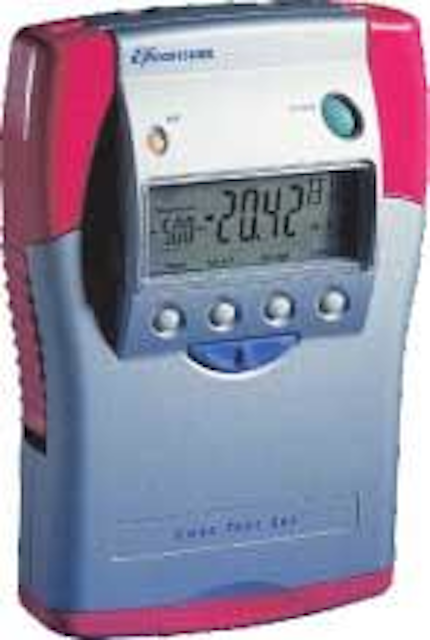 Click here to enlarge image
The upgraded KI 7340A Series CWDM two-way tester provides automated testing of optical loss, optical return loss, and optical power levels in all high-fiber-count LAN and FTTH applications. The hand-held instrument tests optical attenuation and return loss in two directions and up to four wavelengths in real time, using CWDM-compliant lasers. The power-meter section is calibrated to 2% accuracy at all CWDM wavelengths.
Kingfisher International, Victoria, Australia
Vibration-isolation platform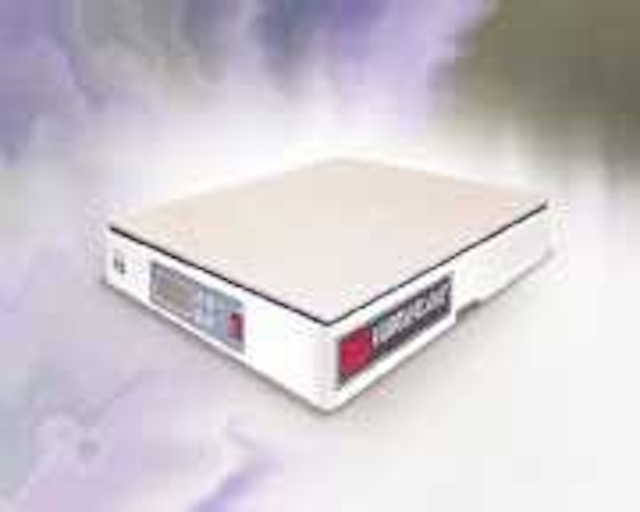 Click here to enlarge image
The 8001 Series active electronic vibration-isolation platform is designed for isolating instruments such as interferometers, SPM, and photo-imaging microscopes. It dynamically isolates all six translational and rotational vibration modes. Available in four sizes, this portable tabletop unit uses active feedback to damp vibrations from 1.0 to 1000 Hz.
Kinetic Systems, Boston, MA
Microcameras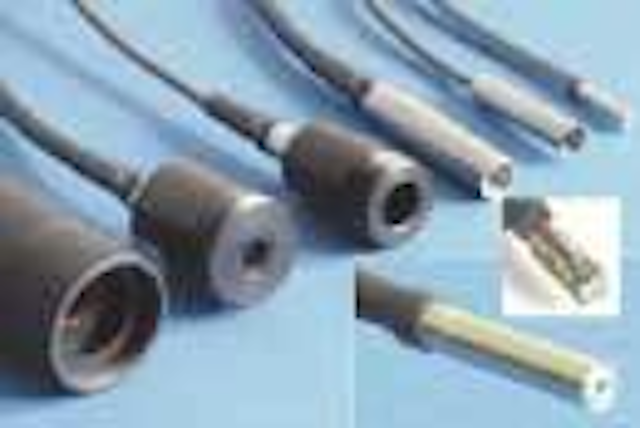 Click here to enlarge image
The micro-camera family features separated heads. The 1/10-in. model has a 4-mm diameter and an overall length of 7 mm. The cameras are suited for robotics, assembly and mounting devices or manipulators, undercover surveillance and as ­special-effects cameras. Typical ­applications are industrial endoscopy and minimally invasive surgery for fixed or flexible endoscopes.
Kappa Opto-electronics, Gleichen, Germany
Optical simulator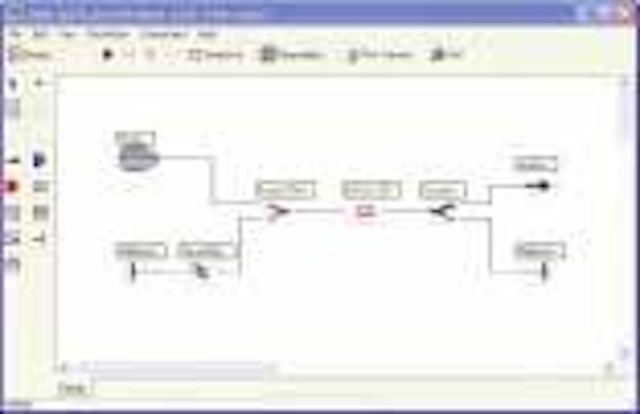 Click here to enlarge image
The Leikki Application Designer is a new simulation environment for EDFAs, ASE light sources, and fiber lasers. The simulator uses proprietary algorithms for fast, accurate calculations including the real reflection of the system. Version 1.0 includes models for erbium single-mode and erbium double-clad fibers. Version 2.0 will include models for ytterbium-doped fibers.
Liekki Oy, Lohja, Finland
Excimer lasers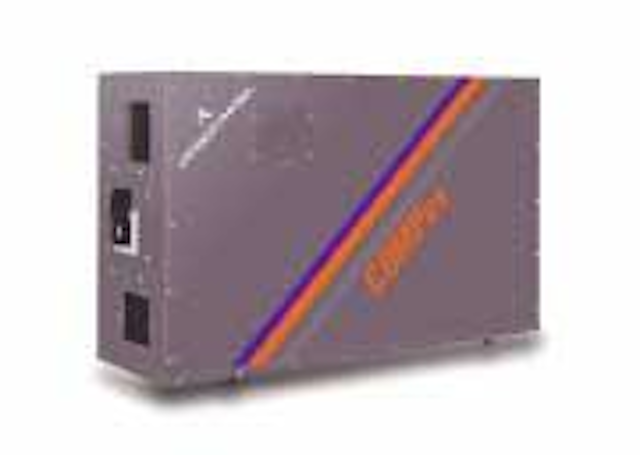 Click here to enlarge image
The COMPex 100- and 200-UV excimer lasers feature a small footprint, single-phase power supply, and integrated energy stabilization. They deliver stable, homogenous output with pulse repetition rates of up to 100‑Hz and pulse energies of up to 600 mJ. New features include an internal gas-­purification system and proprietary smooth ceramic preionization.
Lambda Physik, Goettingen, Germany
Vacuum chambers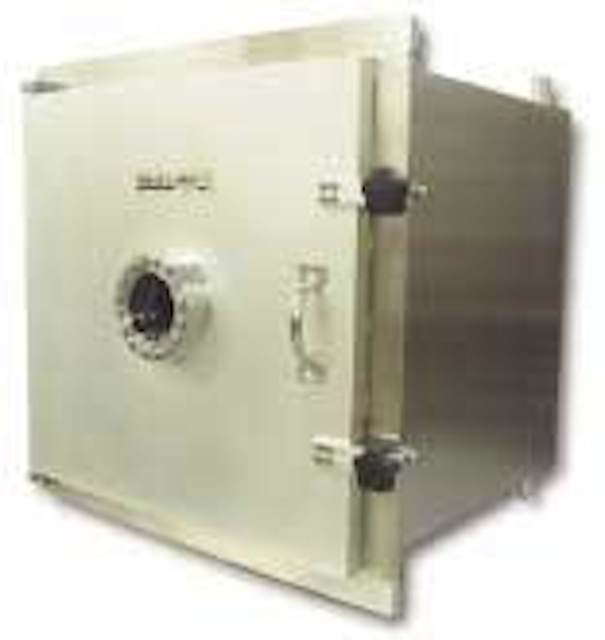 Click here to enlarge image
An expanded line of standard vacuum chambers includes several new box and spherical designs. The spheres measure 12 and 18 in. and the boxes measure 12 × 12 × 24 in. and 24 × 24 × 24 in. The chambers are constructed of 304L stainless steel and/or 6061 aluminum. Three-dimensional models of the chamber designs can be viewed and manipulated on the company's website.
Kurt J. Lesker, Clairton, PA
MEMS dynamic channel equalizer
The MEMS-based DCE50 is a 50-GHz dynamic channel equalizer that can dynamically control the power or block up to 100 optical channels in one compact, hermetic module. It eliminates the need for multiple discrete components. The module meets Telcordia qualifications, undergoing stress tests over temperature, damp heat, and atmospheric pressure, as well as newly developed tests measuring real-time optical performance during large-amplitude shock and vibration.
Lightconnect, Newark, CA
Tunable-filter modules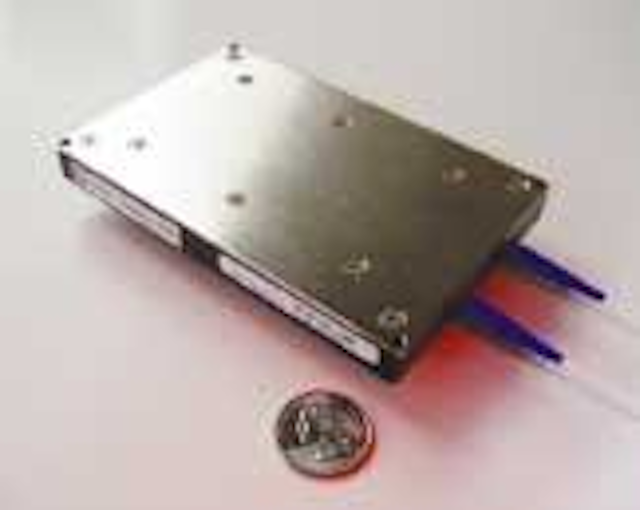 Click here to enlarge image
Low-profile tunable-filter modules are designed for integration into circuit packs or rack-mounted enclosures. The tunable-filter PLC chip is based on proprietary microring resonators. The device requires no free-space optics or moving parts. The module provides flat-topped filter shapes with high roll-off characteristics, making them suitable for DWDM applications.
Little Optics, Annapolis Junction, MD
Monochrometer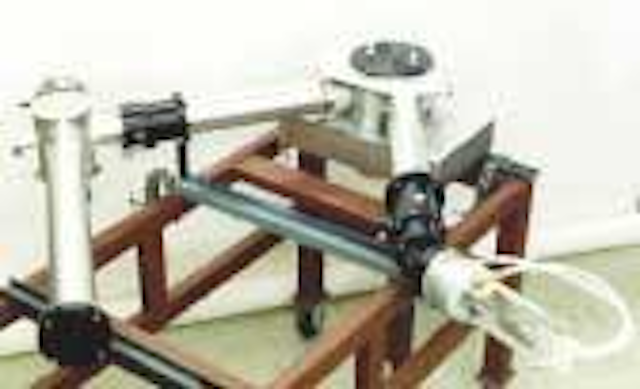 Click here to enlarge image
The enhanced Model 231 1-m-focal-length Seya Namioka vacuum UV monochrometer is now available. The new design uses aberration-corrected gratings and smaller beam shape around the focus point. The optical geometry is suited for work from approximately 30 nm to the VIS. The optical system uses a single refractive element to disperse and focus.
McPherson, Chelmsford, MA
Tunable filters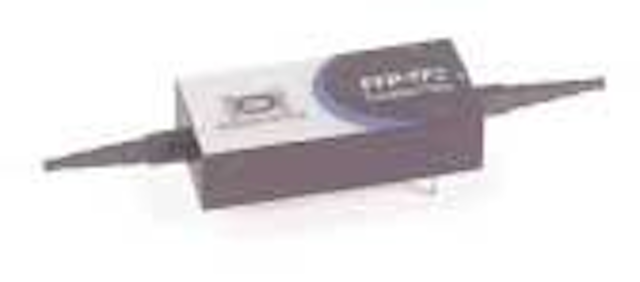 Click here to enlarge image
Model FFP-TF2 Fabry-Perot tunable filters provide improved etalon alignment for stable, long-term, Telcordia-qualified performance. Custom multiband configurations are also available for special uses, including sensing, biotech, and scientific applications. Options include full-band tuning from 1260 to 1620 nm, along with a finesse range from finesse 10 to 16,000.
Micron Optics, Atlanta, Georgia
Ceramic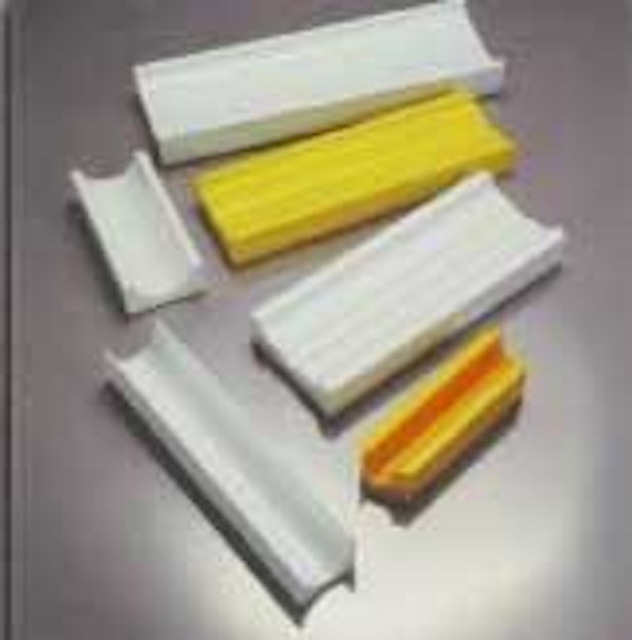 Click here to enlarge image
Sintox AL is a high-purity ceramic suited for Nd:YAG pumping chambers, including low-to-high power, single-or multiple-lamp designs, and laser reflectors used in medical applications. The material is sintered at a high temperature to achieve a controlled porosity for increased light reflectance. Reflectance efficiencies are better than 96% across wavelengths from 500 to 2000 nm and are 97.8% at 1000 nm.
Morgan Advanced Ceramics, Fairfield, NJ
Ambient-light sensor
The LX1972 ambient-light detector is based on architecture that emulates the human eye's spectral response and largely ignores both UV and IR wavelengths that often confuse conventional light sensors. The sensor is packaged in a simple 2-pin 1206 Standard carrier measuring 3.25 mm long × 1.6 mm wide × 1.0 mm high. The design is optimized for controlling backlighting displays in portable consumer products.
Microsemi, Irvine, CA
Reflectometer/loss meter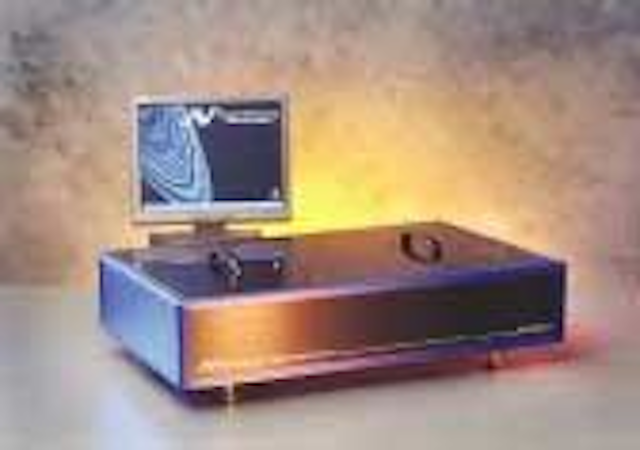 Click here to enlarge image
The LossPro optical reflectometer/loss meter is a precision metrology instrument that determines loss, ranging from 0.01 to 0.000005, at user-­specified wavelengths and angles. The instrument uses a self-calibrating ringdown technique to determine the performance of high reflectors, AR coatings, and substrate materials and crystals with sub-ppm precision.
NovaWave Technologies, Redwood Shores, CA
EMF laser module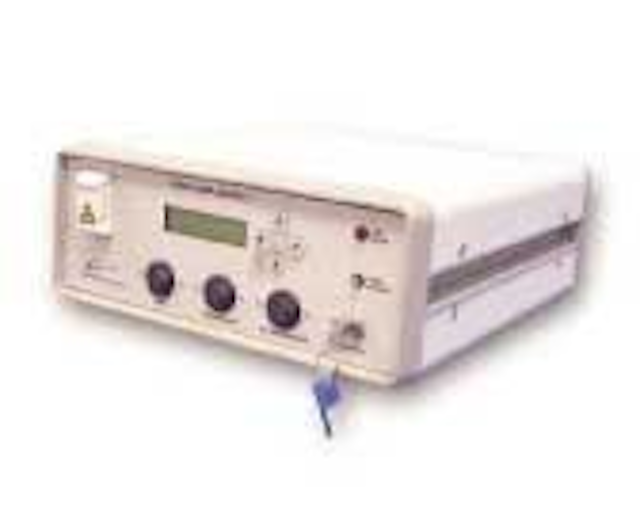 Click here to enlarge image
An improved benchtop version of the Scorpion erbium-microfiber (EMF) laser module measures less than half the size of the previous unit. The self-contained Scorpion Benchtop features front-panel controls, an LCD display, and an RS-232 interface. The system provides up to 150 mW of power for any wavelength in the C-band (1530 to 1565 nm) and any wavelength in the 1-µm (1030 to 1080 nm) band.
NP Photonics, Tucson, AZ
Beam profiler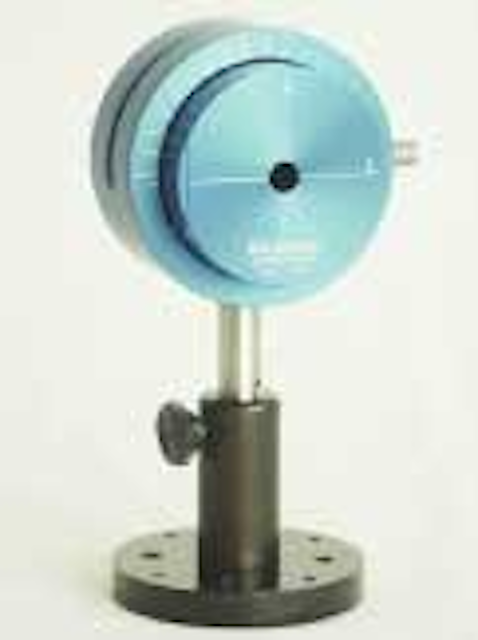 Click here to enlarge image
Pulsed-laser measurement capabilities have been added to the NanoScan Beam Profiler. This allows a wider variety of lasers to be characterized, including pulsed lasers at a 1-kHz or higher repetition rate. Users with a variety of different lasers to characterize can now use a single profiling tool.
Photon, San Jose, CA
RGB laser
A new pigtailed RGB laser (red, green, and blue) provides single-mode or multimode output for three fundamental colors. Based on proprietary technology, the laser has a coupling efficiency of up to 80% for single-mode fiber and 90% for multimode fiber from blue and green lasers. It has a fiber-end collimator or connector and is designed for compact laser display and instrumentation systems.
Photop, Fuzhou Fujian, China
Thermal-imaging lens
The Thermal-Eye 3500S thermal-imaging core with advanced image-processing technology can differentiate heat levels in different colors. It features a new 30-µm detector with better than 50-mK sensitivity for increased scene detail. A new ROIC has a dynamic range of more than 1100°F to allow firefighters to see more detail in hot fires. The cores will soon be offered in SFF designs that can be integrated into hands-free and hand-held systems.
Raytheon Infrared, Dallas, TX
Transient-absorption pump/probe system
TAPPS (transient-absorption pump/probe system) can acquire a complete wavelength (450 to 900 nm) and time (0.1600 ps) absorbance file in 30 minutes. The transient-absorption data collected tells the user what ­happens to a photoexcited molecular system on the time scale of zero to 1.6‑ns with a resolution of about 150‑fs. Applications of this spectroscopic technique range from the study of energy and electron transfer processes in chemistry and biology to the design of logic gates in molecular electronics.
Clark-MXR, Dexter, MI
Low-profile lens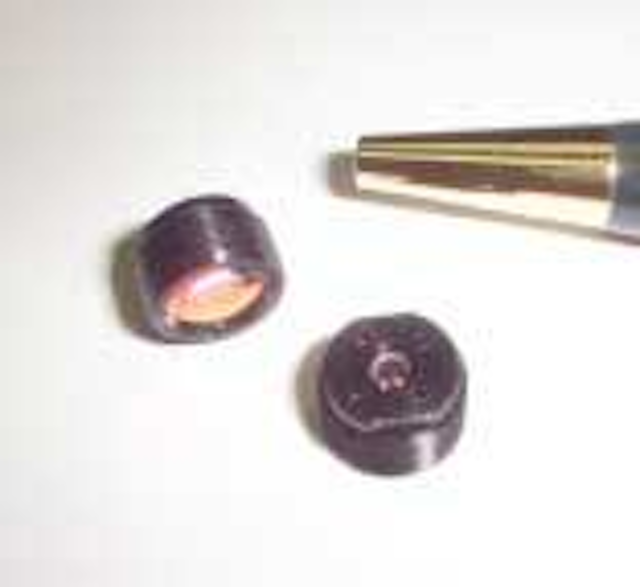 Click here to enlarge image
The DSL951 low-profile 2M lens is designed for compact camera modules using CCD/CMOS imagers with up to a 1/2.7-in. format. The lens operates at f/2.8, has a diagonal field of view of 60°, and a total track of 7.0‑mm. The geometric distortion is better than −1% and an IR cutoff filter is incorporated into the lens design.
Sunex, Carlsbad, CA
Scanning vibrometer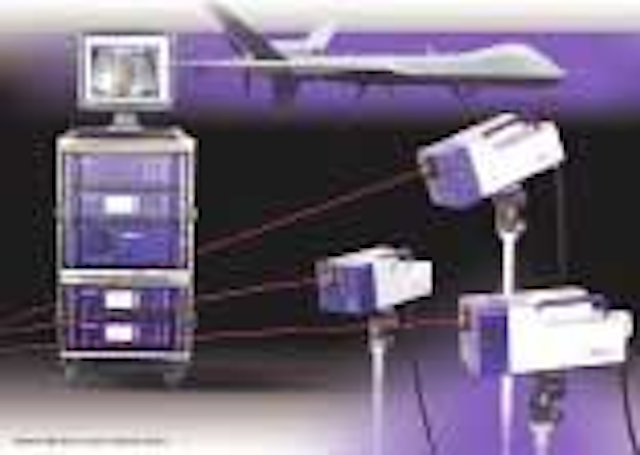 Click here to enlarge image
The PSV-400-3D is a three-dimensional scanning vibrometer that measures vibration characteristics of unmanned aerial vehicles (UAV) and other aerospace and vehicular structures. The tool utilizes the Doppler frequency shift of back-scattered light to determine the instantaneous velocity and displacement of a point on the vibrating structure. Three independent sensor heads allow simultaneous noncontact vibration mapping.
Polytec, Tustin, CA
UV mirrors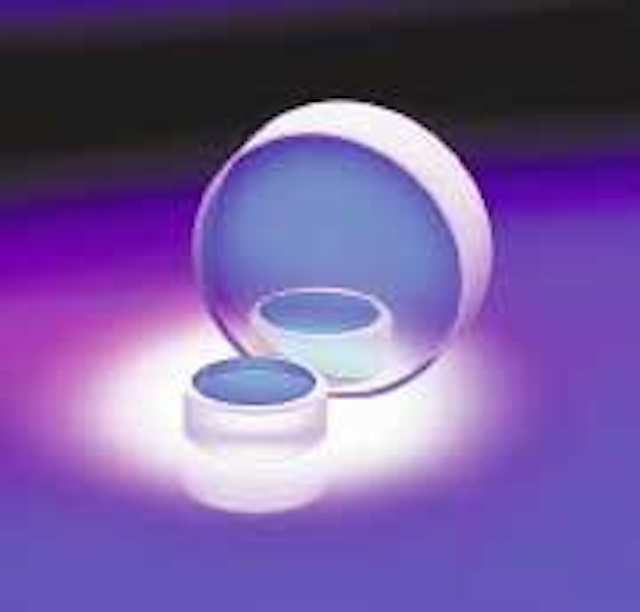 Click here to enlarge image
The Tech Spec laser-line mirrors are designed for UV applications. Designed for a 45° angle of incidence, the reflectance varies minimally for different polarization states when used in the appropriate wavelength range. These 355-nm reflectors can be used for steering Nd:YAG laser beams and are suitable for CW lasers up to 1 MW/cm2. The mirrors offer greater than 99% reflectance at the design wavelengths.
Edmund Industrial Optics, Barrington, NJ
Spectrofluorometer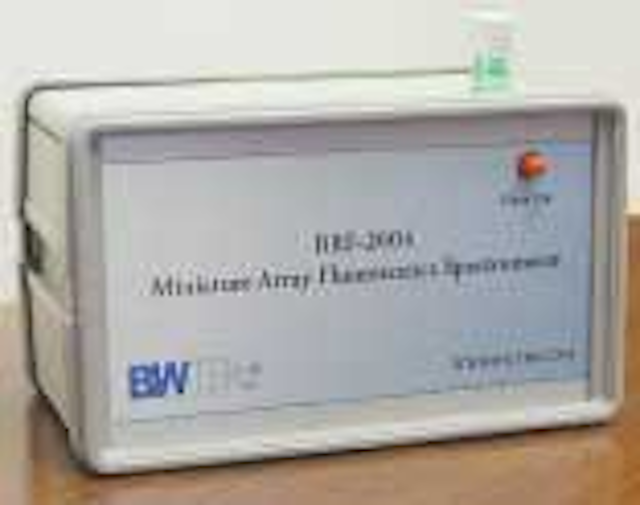 Click here to enlarge image
The BRF-2004 miniature array spectro­fluorometer is a preconfigured spectrometer for fluorescence applications from 200 to 1100 nm. An aspherical lens collects the fluorescence signals from the sample. The software allows customers to input specific gating parameters for gated phosphorescence detection. The instrument is designed to measure fluorophores in liquids and powders, as well as life-science applications.
B&W Tek, Newark, DE
Synthetic-sapphire components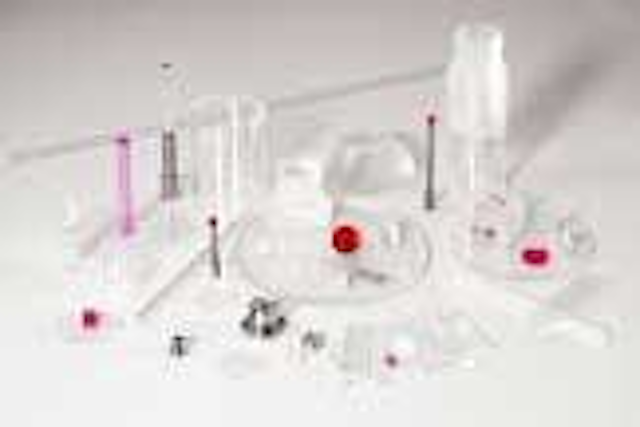 Click here to enlarge image
Synthetic-sapphire components offer properties including high hardness (1800 Vickers), resistance to acids and alkalis, stability at temperatures to 2000°C, good electrical insulation and optical transmission in the VIS, UV, and IR. Industrial applications include windows, lenses, and balls for optics and ultra-high-vacuum, high-pressure, and medical devices. Tubes, cylinders, rods, precision bearings, and pivots are also available.
Rubis Precis, Charquemont, France
Beam expanders
A line of large output-beam expanders offers 100-mm diffraction-limited clear apertures, adjustable focus for ­collimation at various wavelengths, diffraction-limited (Galilean) design, and broadband AR coatings. The four models offer expansion rates of 5×, 10×, 20×, and 40× for the spectral range of 400 to 1650 nm.
Special Optics, Wharton, NJ
Temperature controller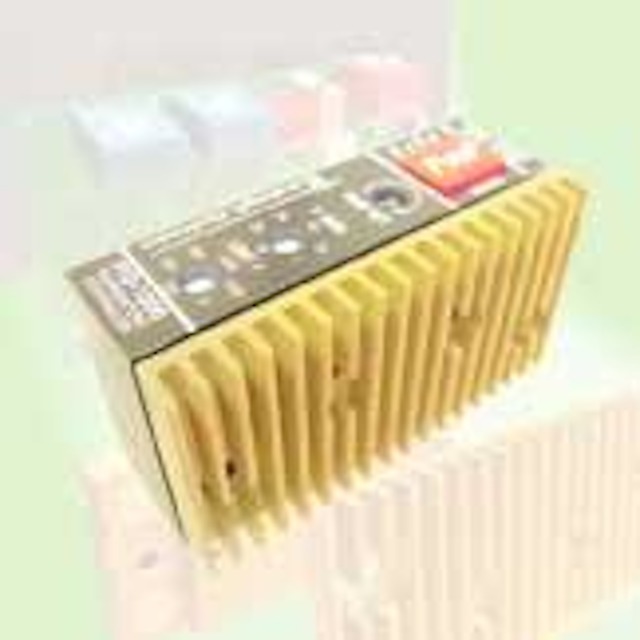 Click here to enlarge image
The PID 1500 temperature controller includes onboard controls and integrated heatsinking for operation of any ­thermoelectric or resistive heater. The controller offers 0.005°C temperature stability for laser diodes, detectors, or optics. It is designed for system integration as well as research applications.
Wavelength Electronics, Bozeman, MT
Power supply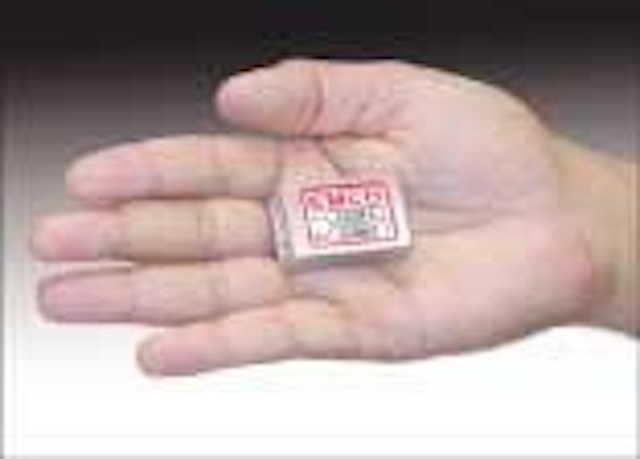 Click here to enlarge image
A new 5-V input power supply is designed for the miniature EMCO CA Series. This will allow designers with 5-V circuits to eliminate the need for a secondary 12- or 24-V output power source. Features include ripple as low as 5 ppm (peak to peak), temperature coefficient less than 25‑ppm/°C, an on board reference and an output-voltage monitor. The supply occupies 1 cubic inch of volume and weighs less than 1.5 oz.
EMCO High Voltage, Sutter Creek, CA
Certification software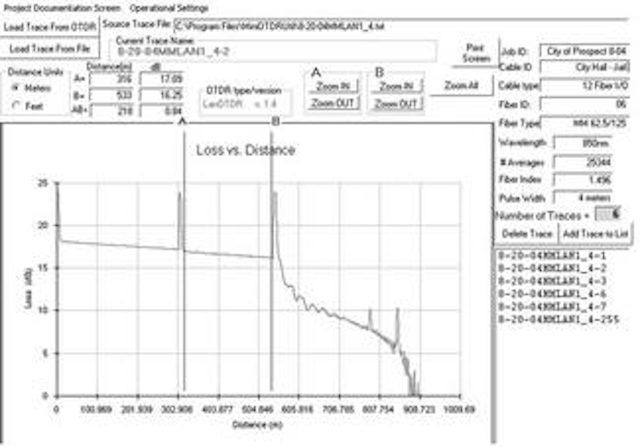 Click here to enlarge image
New certification software is designed specifically for the FIS Mini-OTDR. The software enables fiberoptic installers to interface the OTDR with a PC. In turn, they can provide their customers with printouts and electronic documentation of the required trace results.
Fiber Instrument Sales, Oriskany, NY
Backside die-marking system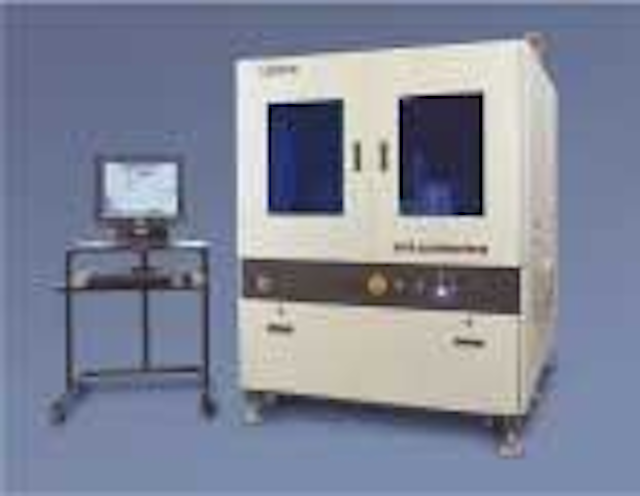 Click here to enlarge image
The WaferMark CSP200 backside die-marking system uses laser technology to mark orientation and traceability information on each die, while in wafer form, on silicon wafers up to 200 mm. The system can mark die on a variety of wafer surface types, as small as 0.5 mm in size. The system is used in the production of portable consumer electronics devices.
GSI Lumonics, Wilmington, MA
Micromolding system
Customizable, fully integrated, turnkey micromolding equipment systems are now available. These systems produce delicate, precision micromolded components. They allow OEMs to quickly produce complex microscopic parts or microscopic design features on larger parts. Applications include medical devices such as catheters, microfluidic nozzles and chips, MEMS and microsensors, electronics, and tiny industrial pumping mechanisms.
Miniature Tool & Die, Charlton, MA
Diode light source
The Super Luminescent Diode (SLD) light source is designed for in‑vivo optical-coherence tomography (OCT). The diodes simultaneously provide a wide optical bandwidth with a spatial output of 50 mW and a ­single-mode coupled output of 30‑mW. Mounted in a 14-pin butterfly package, the diode has integrated temperature-control functions. A central emission wavelength of 1310‑nm is the region where water and hemoglobin exhibit greatest light absorption.
NTT Electronics, Tokyo, Japan