ULTRAFAST LASERS
Researchers of the Abteilung Quantenelektronik und Lasertechnik, Technische Universität (Vienna, Austria) have generated 1-MW peak-power, 7.5-fs pulses from a CW modelocked Ti:sapphire laser for the first time. Mode locked output power is 640 mW at a pulse-repetition rate of 80 MHz. When these pulses are extra cavity frequency doubled, the resulting violet-blue (390-nm) pulses have an average power of 120 mW and a bandwidth of 14 nm (see Fig. 1). The spectrum is sufficient to support gener
Nov 1st, 1996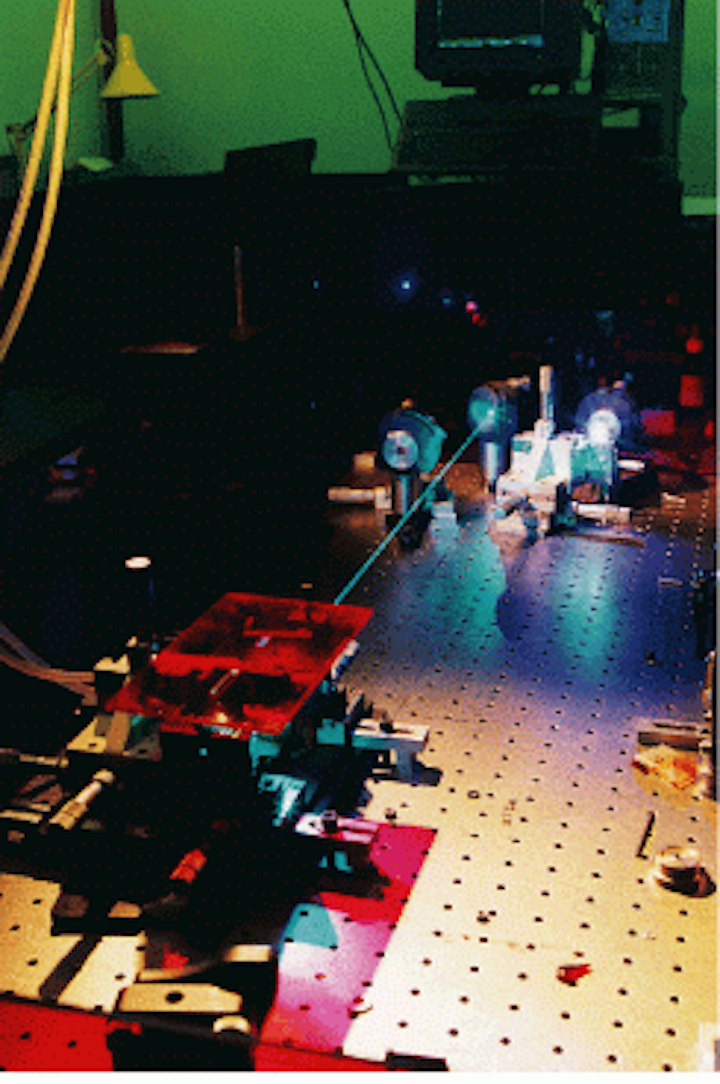 ULTRAFAST LASERS
Chirped dielectric mirror yields high-energy femtosecond pulses
Rick DeMeis
Researchers of the Abteilung Quantenelektronik und Lasertechnik, Technische Universität (Vienna, Austria) have generated 1-MW peak-power, 7.5-fs pulses from a CW modelocked Ti:sapphire laser for the first time. Mode locked output power is 640 mW at a pulse-repetition rate of 80 MHz. When these pulses are extra cavity frequency doubled, the resulting violet-blue (390-nm) pulses have an average power of 120 mW and a bandwidth of 14 nm (see Fig. 1). The spectrum is sufficient to support generation of sub-15-fs blue pulses.
This performance is due to an improved cavity design for the chirped-dielectric-mirror dispersion-controlled oscillator (see Laser Focus World, Dec. 1995, p. 55). A thin-wedge output coupler and four broadband (two flat and two of 50-mm radius of curvature) chirped mirrors de signed and made by the Research Institute for Solid State Physics (Budapest, Hungary), form the oscillator (see Fig. 2). And a 30-mm focal-length lens re places a 40-mm lens used in previous versions. The pump beam is thus focused more tightly, and threshold pump power is lowered, producing 10% greater output power for the same pump power. Another key is a novel crystal geometry that provides significantly improved cooling efficiency, resulting in increased lifetime of the upper lasing energy level and reduced thermal lensing effect at high pump powers.
The high-transmission small-angle-prism output coupler broadens bandwidth, reducing excessive nonlinearities arising at high peak powers in the gain medium. The investigators found a 16% coupler to be optimum, because higher-transmission output couplers did not facilitate modelock starting due to lower intracavity power and weaker self-amplitude modulation. To suppress the CW background, the slit aperture was replaced with an elliptical one, closer to the beam profile. The result is improved self-amplitude modulation, which, along with en hanced cooling, eliminates CW background at very high pump powers.
In assessing beam quality, profile measurements made with a SensorPhysics (Oldsmar, FL) CCD camera show a more than 90% fit to a Gaussian shape in both horizontal and vertical directions. The beam profile M2 value is about 1.34.
For the extracavity frequency doubling, a broadband, chirped curved mirror focuses the pulse into a 300-µm-thick lithium borate crystal. Use of a mirror avoids pulse broadening from chromatic aberration in the lens. Power measured before the focusing mirror is approximately 580 mW, resulting in a conversion efficiency of more than 20% to the 120-mW violet-blue output.
A commercial 0.4-MW version of the device is now available. The investigators see ultrafast applications in high-resolution time-resolved spectroscopy and as seed oscillators for 10-fs-range high-power laser systems.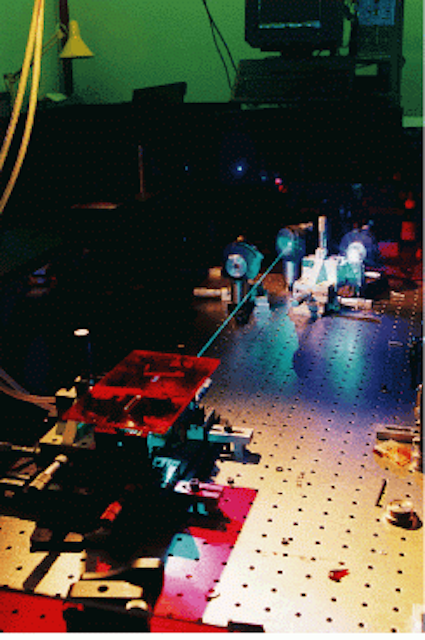 Click here to enlarge image
FIGURE 1. Improved Ti:sapphire oscillator produces 120-mW second-harmonic violet-blue pulses, seen by their glow on the screen behind the optical table on which is mounted a Coherent (Santa Clara, CA) argon-ion laser pump.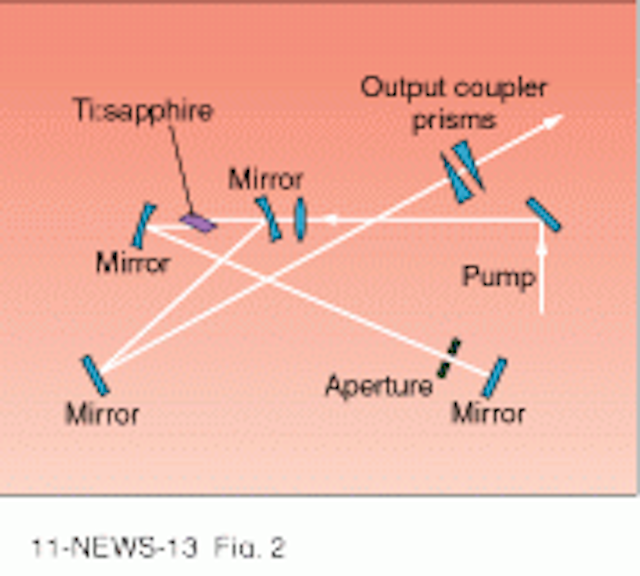 Click here to enlarge image
FIGURE 2. Thin small-angle output coupler prisms reduce material dispersion in the 1-MW oscillator beam path and kee¥spurious reflections from the backside of the coupler substrate from returning colinearly into the oscillator.