Nonlinear Optical Materials: 3D Dirac semimetal to ignite mid-IR ultrafast photonics
Mid-infrared (mid-IR) short-pulsed lasers are key enabling components for numerous applications, including free-space communications, imaging, biomedical sensing, and spectroscopy.
Mar 10th, 2017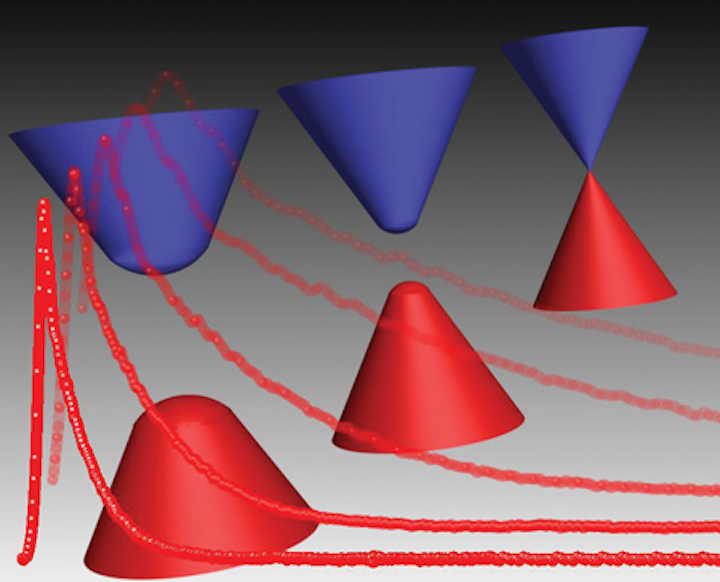 Mid-infrared (mid-IR) short-pulsed lasers are key enabling components for numerous applications, including free-space communications, imaging, biomedical sensing, and spectroscopy. And while quantum-cascade lasers (QCLs) have been successfully developed to meet some of the technical needs for mid-IR applications, the realization of ultrashort-pulsed operation in this span remains a challenge—largely because of the absence of functional ultrafast optical switches (or saturable absorbers) in the mid-IR region.
Semiconductor saturable-absorber mirrors (SESAMs)—a technological breakthrough in ultrafast photonics in the 1990s—are widely used to generate ultrafast laser pulses. A compelling advantage of SESAMs is that key optical parameters can be flexibly customized through precise engineering of material compositions or device structures. However, most SESAMs operate only in the near-IR window.
Building on initial research in the development of graphene saturable absorbers operating at around 2 μm, researchers at Nanjing University (Nanjing, China) are now looking to three-dimensional (3D) Dirac semimetals to enable ultrafast lasers operating at 3 μm and even up to 6 μm wavelengths.1
Beyond graphene
In the past decade, low-dimensional materials, including carbon nanotubes, graphene, and, more recently, narrow-bandgap two-dimensional materials such as black phosphorus, have been considered as low-cost and broadband alternatives for SESAMs. However, the defect-prone nature of these materials makes it difficult to tune their intrinsic nonlinear optical response, and also leads to poor repeatability and reliability.
"Graphene eventually reaches a bottleneck in that its nonlinear optical features are not easily altered or controlled to reach farther out in the mid-IR," says Fengqiu (Frank) Wang, part of the Cambridge University team that developed 2 μm graphene saturable absorbers and now a key researcher at Nanjing University whose team was the first to get graphene to mode-lock at 3 μm. "Unfortunately for graphene, its electron-hole recombination process [or switching time] makes wide tunability difficult—a drawback that led us to explore alternative nonlinear materials."
It turns out that a 3D Dirac semimetal—sometimes referred to as "3D graphene" because of the graphene-like Dirac cone in its band structure—has all the benefits of graphene, but also offers a switching time that is tunable over a range of 1 to 10 ps, which is highly relevant for developing mid-IR pulsed lasers.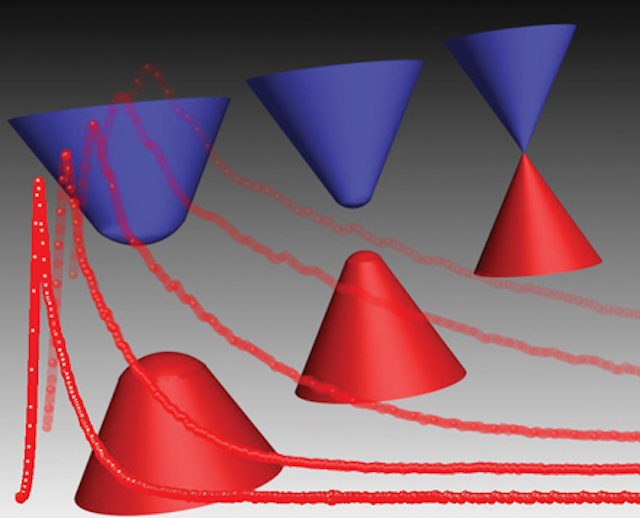 An image conceptually illustrates the switching-time tuning in Dirac semimetal Cd3As2; the doping-induced bandgap opening around the Dirac cones effectively shortens the carrier recombination time (denoted by red curves). (Image credit: Nanjing University)
More specifically, Wang and colleagues developed molecular beam epitaxy (MBE)-grown cadmium arsenide (Cd3As2), a 3D Dirac semimetal whereby flexible tuning of the photocarrier recovery time is achieved by a chromium (Cr) doping approach similar to highly adaptable near-IR SESAMs (see figure).
In proof-of-concept experiments using Cd3As2 films with different relaxation times as a result of different Cr doping levels, on-demand demonstration of different short-pulse regimes (mode-locked or Q-switched) was demonstrated in a mid-IR fluoride laser. The researchers say that this nonlinear Dirac semimetal paves the way for the realization of compact and efficient pulsed lasers, including passively mode-locked QCLs operating from 3 to 5 μm.
REFERENCE
1. C. Zhu et al., NatureCommun., 8, 14111 (2017); doi:10.1038/ncomms14111.