Nanoplasmonic device efficiently converts IR to green light
Generation of green light from a silicon-on-insulator nanoplasmonic waveguide using third-harmonic generation has been demonstrated.
Mar 18th, 2016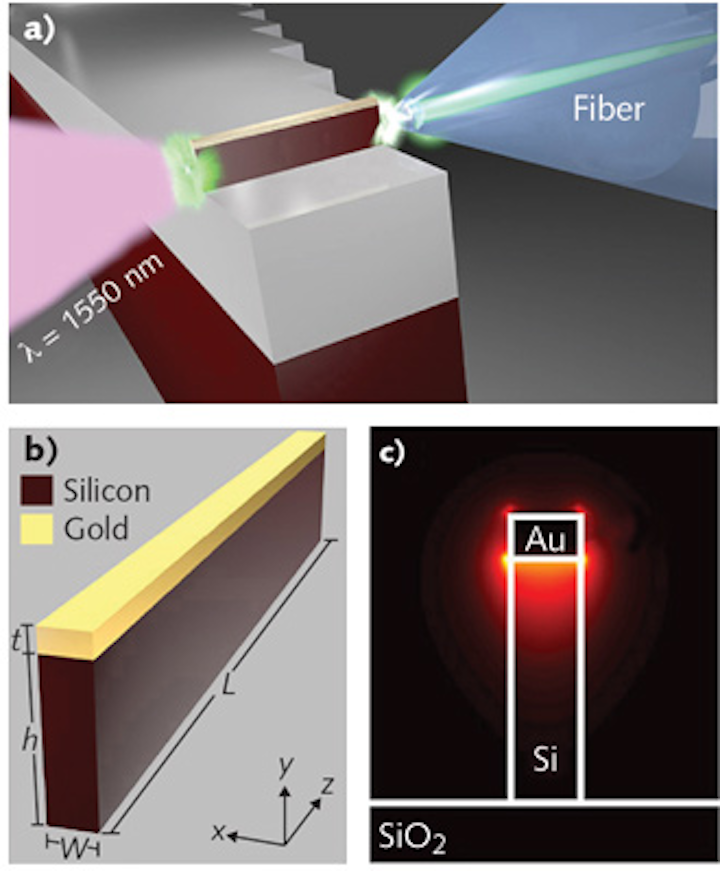 Research conducted at the University of Alberta (Edmonton, AB, Canada) has resulted in the successful demonstration of the generation of green light from a silicon-on-insulator (SOI) nanoplasmonic waveguide using third-harmonic generation (THG). This THG device is excited at its input by a 1550 nm laser input that is guided by a silicon waveguide 340 nm high and 95 nm wide with a 60-nm-thick layer of gold (Au) fabricated on a silicon-on-insulator (SOI) substrate, resulting in green emission at 517 nm at the output face.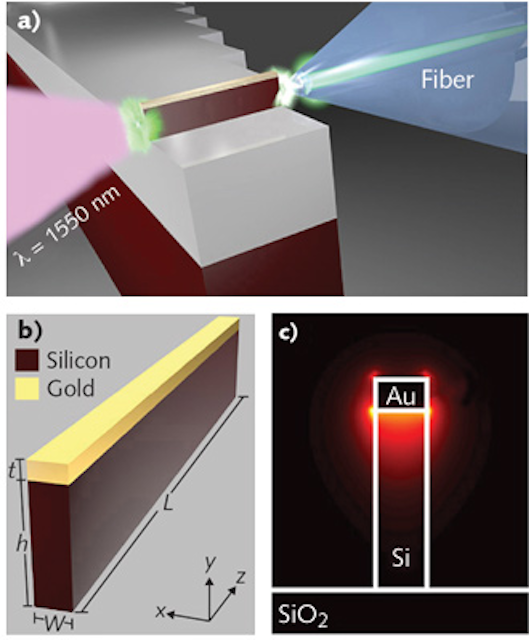 Understanding that silicon (Si) has the highest third-order nonlinear coefficient of all CMOS materials and the highest refractive index, visible light emission is normally difficult because of the indirect Si bandgap and strong absorption of any visible light that is generated. To combat these obstacles, the waveguide takes advantage of strong light-matter coupling from the surface-plasmon mode in the waveguide and strong confinement of the infrared electric field to enable efficient nonlinear optical mixing and THG over a short distance that is less than the absorption length of green light in Si (about 700 nm). The waveguide can also generate broadband visible light by ponderomotively accelerating the photoexcited electrons in the steep field gradient at the Si-Au interface and driving an electron avalanche multiplication and impact-ionization processes in the strong nanoplasmonic field. Reference: S. Sederberg and A. Y. Elezzabi, Phys. Rev. Lett., 114, 22, 227401 (Dec. 2015).