3D printing company Carbon seeks more funding for Digital Light Synthesis technology
The series E funding could bring the company valuation to $2.5 billion dollars.
May 18th, 2019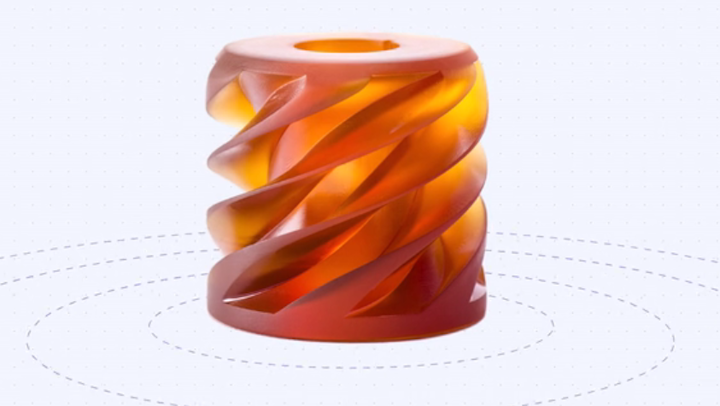 Carbon
IMAGE: A 3D printed component from Carbon uses Digital Light Synthesis technology, where photonic components are used to generate polymer designs with high-quality surfaces and complex shapes.
According to PitchBook, 3D printing startup Carbon (Redwood City, CA) is seeking to raise up to $300 million in Series E funding. The funding could value the company at up to $2.5 billion, per a PitchBook estimate, up from a $1.7 billion valuation the company attained with its prior round of VC backing. 
Founded in 2013, Carbon is a Bay Area business that manufactures 3D printers, develops related technology and makes other hardware and software for the 3D printing industry. The company is perhaps best known for pioneering Digital Light Synthesis technology as a successor to the traditional 3D printing process. A form of vat polymerization, Digital Light Synthesis uses light and heat to allow high-volume 3D printing that the company says is more consistently uniform and durable than traditional techniques; Adidas has used the process to create its Futurecraft 4D shoe line. 
Digital Light Synthesis technology, enabled by Carbon's proprietary CLIP process, uses digital light projection, oxygen permeable optics, and programmable liquid resins to produce parts with excellent mechanical properties, resolution, and surface finish.
The company has already brought in more than $400 million in prior backing from a list of investors that includes Sequoia, GV, Northgate Capital, and Nikon. Previous funding rounds include $11 million Series A at a $29 million valuation (March 2014), $31 million Series B at a $212.5 million valuation (August 2014), 181 million Series C at a $1.1 billion valuation (September 2016), and $200 million Series D at a $1.7 billion valuation (February 2018).
SOURCE: Pitchbook; https://pitchbook.com/news/articles/scoop-carbon-is-raising-up-to-300-million-for-3d-printing and Carbon; https://www.carbon3d.com/our-technology/