From SPIE Photonics West: Nuburu shows 150 W blue direct-diode laser for materials processing -- especially copper
The 450 nm wavelength of Nuburu's AO-150 laser enables process speed gains of 2-10x for a range of metals.
Feb 6th, 2018

(Image: Nuburu)
At this year's SPIE Photonics West (San Francisco, CA; 27 Jan. to 1 Feb. 2018), Nuburu (Centennial, CO) showed off its new blue (450 nm) direct-diode laser intended for materials processing and, in particular, welding of copper (Cu).
While most metals are quite reflective in the near-IR, many are more light-absorbing in the visible blue region: for example, Cu and gold have absorptances that are higher in the blue than the near-IR by 12 times and on the order of 100 times, respectively.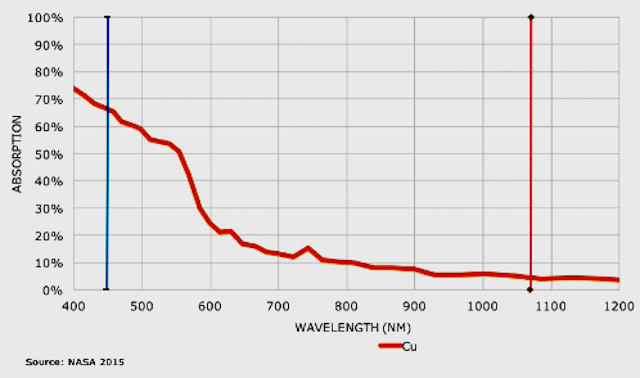 Absorptance of Cu between 400 and 1200 nm. (Image: Nuburu, from NASA)
Copper is widely used not only in electronics, but in the lithium-ion batteries used in vehicles and for large energy storage sites. In batteries, the Cu takes the form of narrow fins that must be welded together, says Jean-Michel Pelaprat, cofounder and chief marketing officer of Nuburu. (Pelaprat is well-known in the photonics community, as he has previously worked at Coherent, Novalux, and Vytran.)
At the show, Pelaprat had samples of cleanly welded Cu fins up to 20 layers deep, and also showed examples of welds of dissimilar metals including Cu/aluminum and Cu/stainless steel. Pelaprat says that the weak "intermetallic" zone that is formed when welding these metals together using near-IR is minimized when welding with blue light. In addition, same-metal welds other than Cu can take advantage of the higher absorptance at the blue wavelength, including gold, aluminum, nickel, and stainless steel.
The AO-150 laser is continuous-wave (CW), has a 10 nm bandwidth at 450 nm, emits 150 W from a 200-µm-core fiber with a 0.22 numerical aperture (NA), and has a power adjustment from 0 to 100%. Its beam parameter product is <22 mm-mrad.
For more info, see http://www.nuburu.net/products/.
Source: Nuburu