Intel invests in next-gen 3D nanowire LEDs from Aledia
Next-gen 3D LED manufacturer Aledia closed a Series C financing round with Intel Capital as a new investor.
Feb 4th, 2018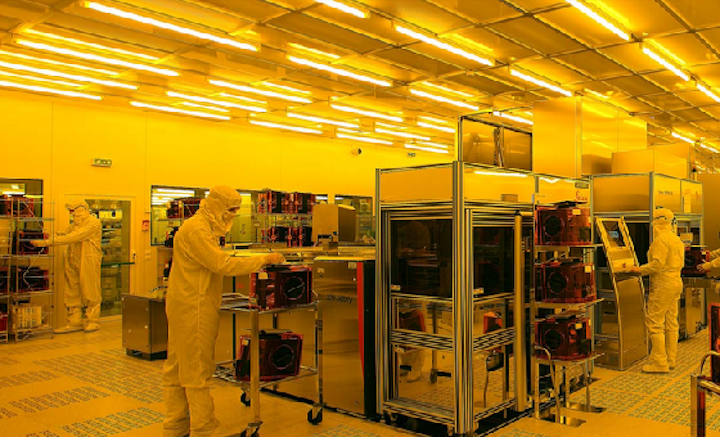 IMAGE: Intel Capital is investing in next-generation 3D LEDs using a nanowire-on-silicon platform that it says will dramatically reduce the cost of displays. (Image credit: Aledia)
Next-generation 3D LED manufacturer Aledia (Grenoble, France) closed a Series C financing round with Intel Capital as a new investor. In addition to Intel Capital, the majority of existing Aledia investors participated in the $37.3 million dollar (30 million euro) round, including Braemar Energy Ventures, Demeter, the Ecotechnologies Fund of Bpifrance, (the French national industrial bank), IKEA Group, the venture capital arm of IKEA, Sofinnova Partners, and Supernova Invest.
RELATED ARTICLE: Multicolor InGaN nanowire LED arrays span the visible spectrum
Aledia's LED displays are based on WireLED (trademarked) 3D nanowire technology, which allows manufacturing of 3D LEDs on 8-inch (200 mm) or larger silicon wafers in existing microelectronics foundries and straightforward integration with electronics. The company says the 3D GaN-nanowires-on-silicon technology delivers increased brightness and more energy-efficient displays at a cost point that is lower than that of conventional planar (2D) microLEDs.
"The opportunity for Aledia's breakthrough nanowire-LED display technology is huge," said Giorgio Anania, CEO, chairman and co-founder of Aledia. "Today more than 3 billion people interface to the Internet with mobile displays, and LED technology is expected to be used in a majority of these displays in the next few years. The unique advantages that 3D LED technology delivers position it as the driver of a once-in-a-generation shift.
"This financing round and collaboration with Intel reflect this potential and underscores the interest that our 3D nanowire-on-silicon technology is getting in the mobile-display market and from leading global technology-investment firms," said Anania.
Aledia is working on next-generation displays with several large industrial partners. The company also is developing large/existing displays (smart phones, laptops, tablets, etc.) as well as smaller, newer displays for VR/AR/MR and smartwatch applications, using its megapixel integrated silicon chips.
"Energy efficiency, display quality and cost are three critical characteristics of mobile consumer electronics displays, and we feel Aledia's 3D LED technology, based on large-area silicon fabrication, can impact this space," said Gregory M. Bryant, senior vice president and general manager of the Client Computing Group at Intel Corporation. "We're excited to work with Aledia to innovate display technologies across client platforms."
SOURCE: Aledia; http://www.aledia.com/en/news/nanowire-led-innovator-aledia-announces-30-million-euros-series-c-financing-10/