OLEDWorks using Corning Willow glass to create bendable OLED lighting
Bendoled is a flexible and conformable OLED lighting platform that uses Corning Willow glass.
Apr 6th, 2018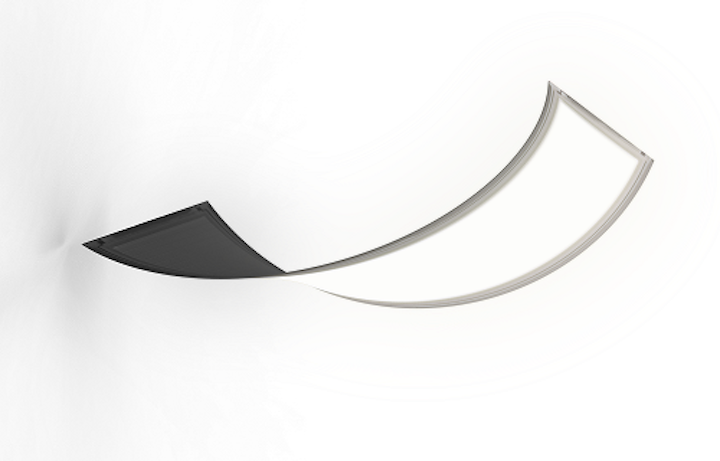 IMAGE:Bendoled uses Corning Willow glass to create bendable OLED lighting options. (Image credit: OLEDWorks)
OLEDWorks (Rochester, NY) has launched Bendoled, a flexible and conformable organic light-emitting diode (OLED) lighting platform. Using Corning (Corning, NY) Willow glass-based substrates, the company says that Bendoled marries feather-weight elegance with bold lighting functionality empowering exceptional designs from architectural lighting to transportation.
RELATED ARTICLE: Large-area OLED microdisplays miniaturize VR glasses
Willow Glass is a key component in this new lighting solution, enabling a thin and flexible hermetic barrier and substrate that helps protect sensitive components from damaging moisture and oxygen. It also acts as a structural barrier making it a supreme choice for encapsulating the organic light-emitting materials unique to OLED. Architects and lighting designers can look to use conformable OLED lighting solutions to make novel and aesthetically pleasing luminaires this October with a limited-edition sampling.
"OLEDWorks' unrivaled brightness is now available in a graceful form that truly inspires," said David DeJoy, OLEDWorks CEO. "Only microns in thickness and grams in weight, Bendoled delivers the superb light quality and excellent color rending that is uniquely achievable with OLED."
"We are excited to continue our collaboration with OLEDWorks by enabling the next generation of lighting solutions as Corning pursues a new market opportunity for Willow Glass," said Dipak Q. Chowdhury, division vice president and program director, Willow Innovative Substrates, Corning Incorporated. "Light no longer has to stay locked up in a bulb, but can be freed to flow and flex around corners, curves, and crevices making it much easier to integrate into architecture, furniture, and appliances."
OLED lighting continues to advance with improved performance, expanded formats and additional color temperatures. The companies say that the inherent hermetic barrier properties of Corning's Willow Glass unlock the potential for conformable surface lighting without compromising the durability and lifetime of the lighting panel. The addition of Bendoled brings a new element to the functionality of OLED lighting and provides even more possibilities for architects and lighting designers who are looking to explore new applications and solutions for lighting design.
Founded in 2010, OLEDWorks has built its production methodology on a novel system that delivers competitive and cost-effective OLED solid state lighting panels, while simultaneously offering flexibility and responsiveness. OLEDWorks says it is the only U.S.-based OLED lighting manufacturer.
SOURCE: OLEDWorks; https://www.oledworks.com/news/oledworks-announces-a-bendable-oled-lighting-platform-using-corning-willow-glass/