Fiber-laser maker SPI Lasers expands its manufacturing capability
Near-doubling of site footprint will boost production of CW and pulsed fiber lasers for industry.
Apr 26th, 2018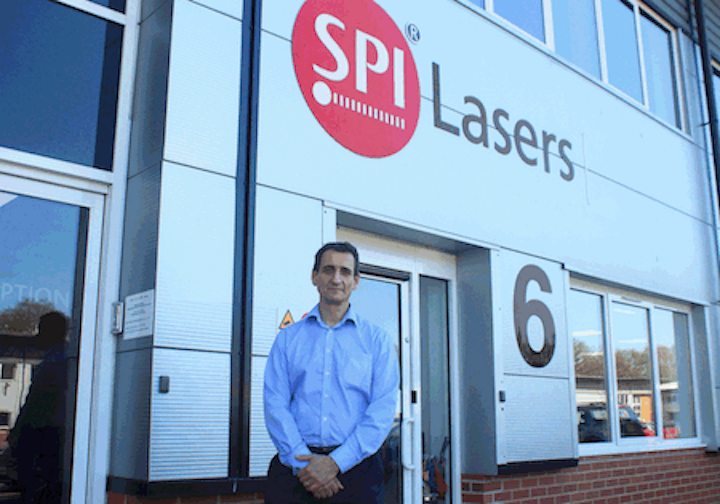 Mark Greenwood. (Image: SPI Lasers) Fiber-laser manufacturer SPI Lasers (Southampton, UK) has confirmed that, as of 4th July 2018, it will be expanding its manufacturing capability by taking over another property at its global headquarters site (which is in Wellington Park, Hedge End, UK). The addition will increase the company's manufacturing space by approximately 40,000 sq ft (3,716 m2) and its overall site footprint to more than 100,000 sq ft (9,290 m2). This expansion will allow the company to increase production of its pulsed and continuous-wave (CW) industrial manufacturing lasers and is aimed at aidin SPI Lasers in fulfilling growth targets particularly in the Asian and U.S. markets. SPI Lasers is owned by the Trumpf Group. In particular, the move will allow SPI Lasers to substantially increase the production capacity of its redENERGY pulsed and redPOWER CW fiber lasers, which the company says are used globally in the manufacture of many types of products from cars to smartphones. "This is a significant development for us and is a clear indication of our commitment to our strategy of continued investment," says Mark Greenwood, CEO of SPI Lasers. Earlier this week, SPI Lasers announced that it appointed Jim Cann as its U.S. national sales manager. Mann served most recently, he served as North American sales manager for Optomec and, prior to that, was with Rofin for 18 years, where he held several positions including national sales manager for high-power lasers. For more info, see www.spilasers.com.