Micro-LED market to nearly quadruple by 2022, says n-tech Research
The "Micro-LED Market Opportunities: 2018-2027" report forecasts rapid growth for the global micro-LED market.
Jul 20th, 2018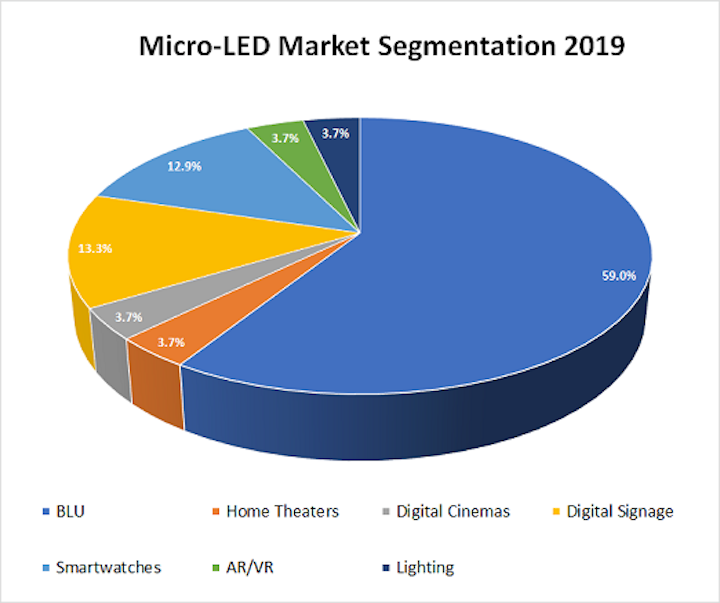 IMAGE: The micro-LED market is set to quadruple in 4 years, based on demand for a variety of applications. (Image credit: n-tech Research)
Industry analyst firm n-tech Research (Glen Allen, VA) has just published a new report titled, "Micro-LED Market Opportunities: 2018-2027" that forecasts the global micro-LED market will grow from $2.7 billion in revenues in 2019 to $10.7 billion in 2022. n-tech believes micro-LED technology is making substantial advances, which will produce substantial opportunities in the coming years. Additional details about the report including a full table of contents and sample are available at https://www.ntechresearch.com/market-reports/microled-market/.
RELATED ARTICLE: Thin quantum wells improve brightness and color in microLED displays
The n-tech report describes the following about the micro-LED market:
Micro-LED technology has already proven itself superior to LCDs and OLEDs through numerous working prototypes evaluations. Such superiority will be an immediate enabling factor in near-eye AR/VR projectors and automotive HUDs. Such applications require a combination of small form factor, low weight, super-high resolution and super-high brightness.
The smart watch market is another lucrative opportunity for micro-LEDs. Here, the combination of extremely low power consumption and very strong brightness make micro-LEDs an obvious choice for wearable displays. n-tech sees this segment as generating $1.6 billion in 2022.
Growth is expected in extra-large displays. Such displays are used in video walls, digital cinemas, digital signage and home theaters, where n-tech believes they will greatly benefit from the scalability of micro-LED technology to large areas (already demonstrated by Sony and Samsung). Micro-LEDs also offer the "giant screen" sector the possibility of hybridization with other functionalities, and compatibility with flexible and transparent display designs.
n-tech says that micro-LEDs are not for everyone: n-tech believes that there are still applications where micro-LEDs will have a hard time penetrating. These include smartphones, tablets and regular TV market, where LCD and OLED technologies will continue to do well. Benefits from micro-LEDs are just not very obvious in these markets although low power consumption could be something of a selling feature for tablets and smart phones.
SOURCE: n-tech Research; https://www.ntechresearch.com/news-posts/global-micro-led-market/