Trumpf & Novanta to keynote 2019 Lasers & Photonics Marketplace Seminar
The 2019 Lasers & Photonics Marketplace Seminar will feature keynotes from Trumpf's Laser GM and Novanta's CEO.
Dec 18th, 2018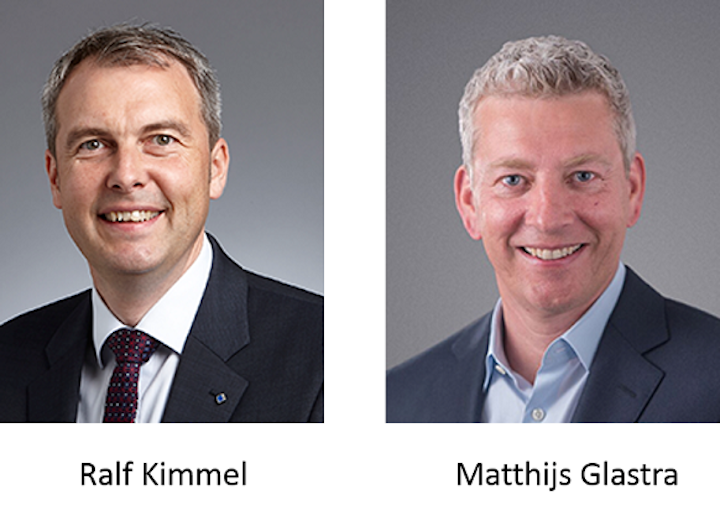 IMAGE: Ralf Kimmel, general manager of Trumpf Laser Technology, and Matthijs Glastra, CEO of Novanta, will give keynote presentations at the 2019 Lasers & Photonics Marketplace Seminar. (Image credit: Laser Focus World)
Held each year on the Monday during SPIE Photonics West, the 2019 Lasers & Photonics Marketplace Seminar (http://www.marketplaceseminar.com) will feature keynote presentations from the general manager of Trumpf Laser Technology and the CEO of Novanta--two of the most influential companies in the laser industry today.
The Seminar is the only laser marketing event of its kind, where laser industry professionals meet to hear the latest industry forecasts and trends, while networking with their peers and mentors. This year, the event will be held at the Marriott Marquis just adjacent to the Moscone Convention Center on 4 February 2019. Please register at http://www.marketplaceseminar.com as seating is limited.
In the morning keynote from 8:10 to 8:45 am, Trumpf Laser Technology general manager Ralf Kimmel will present "Solution-oriented integration as key for sustainable success in the laser business." Kimmel says that as laser sources for manufacturing applications have become standardized products, system integration remains the key to differentiating production solutions. This integration must be based on application and production requirements, and on the integration of optics, sensors, and beam delivery into turnkey installations. Connectivity and digitalization will drive further solutions to improve productivity, quality, and reliability. In his keynote talk, Ralf Kimmel will provide specific examples of how application requirements result in new turnkey solutions consisting of more than an ideal laser source. For example, remote welding as an interpolated process with robotic kinematics, additional laser beam shaping, or cloud-connected sensors for lasers and optics are all solutions that illustrate how end users have new expectations of laser manufacturers. Even laser source development based on direct application requirements--such as green lasers for copper welding--must be based on the same solution-driven approach. These end-user expectations are changing the business model of laser manufacturers toward a solution-oriented turnkey provider, meaning that, more than ever, applications-specific know-how is the key to sustainable success.
In the afternoon keynote discussion from 1:15 to 2:00 pm entitled "A conversation with Matthijs Glastra, Novanta," Novanta CEO Matthijs Glastra will talk with Laser Focus World editor-at-large Conard Holton about Novanta's broad portfolio of photonics, motion, and vision technology that serve applications across major medical and advanced industrial markets. The conversation will explore Glastra's views on the different applications that are now driving photonics markets, including industrial processing and life sciences, and will examine the competitive landscape for optics and laser manufacturers, and the opportunities for new technologies and products. They will also consider subjects such as Novanta's long-term growth strategy, including acquisitions and global markets.
These keynotes will highlight a full-day conference program that includes other focused presentations and panels on the business of lasers. We hope to see you at the Seminar and encourage your participation in the open forum opportunities. 2019 will prove to be a challenging macroeconomic environment for laser manufacturers. Come and learn how your company can prepare for what comes next.
SOURCE: Laser Focus World; http://www.marketplaceseminar.com