EOS opens new plant in Germany to expand 3D printing capacity
EOS expanded production capacity for laser 3D printing systems at a new plant in Maisach, Germany.

Feb 1st, 2018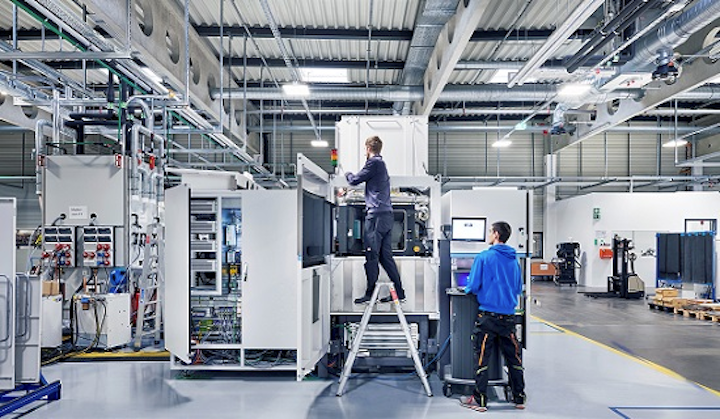 IMAGE: The new manufacturing site in Maisach, Germany will expand 3D printing system capacity. (Image credit: EOS)
Industrial laser 3D printing company EOS (Krailling, Germany) has expanded its production capacity and relocated its system manufacturing facilities to Maisach-Gerlinden, just west of Munich, and closer to its headquarters in Krailling, Germany. With the new 9000 square meter facility, EOS is boosting its production capacity in 2018 and is now capable of manufacturing up to approximately 1,000 systems per year. The move enables EOS to meet the growing demand for its systems, which it is now producing on an industrial scale. At the same time, its agile production processes and flexibly designed workplaces enable EOS to respond and adapt at short notice to the changing requirements of production, customers, and markets.
RELATED ARTICLE: EOS Academia program promotes 3D printing at universities and research institutions
Nikolai Zaepernick, senior VP Central Europe at EOS, adds, "Industrial 3D printing has arrived in manufacturing. We installed around 1,000 systems in the first ten years of our existence as a company, this number has increased significantly, particularly during the last two years. We now have an installed base of around 3,000 systems worldwide. Over the next few years we also expect to see a further significant demand for our technology. Within the scope of digital transformation, as industrial 3D printing is one of the main driving forces taking us towards the digital factory of the future." He continues, "Our technology is therefore one of the key factors to smart manufacturing scenarios of the future and that's why we recommend companies to get closely involved with additive technologies right now."
EOS says the quality of its materials, processes, and systems is a top priority--particularly in markets with high quality standards such as the aerospace, medical technology, or automotive sectors, where manufacturers depend on validated systems and processes. With these points in mind, EOS supports the qualification of the technology at its customers' premises. In turn, this helps shorten the time to market for additively manufactured products.
When a customer buys a system from EOS, factory acceptance tests (FATs) are carried out. At the new plant in Maisach, customers also have the opportunity to get involved in the acceptance tests of new systems. In addition to the machine qualification customarily performed by EOS, customers can request to have specific test jobs built of parts that they actually want to produce at a later date.
SOURCE: EOS; https://www.eos.info/press/eos-opens-new-plant-in-maisach