Trumpf acquires Amphos, manufacturer of ultrashort pulsed lasers
Amphos develops and produces ultrafast lasers based on InnoSlab technology.
Jan 26th, 2018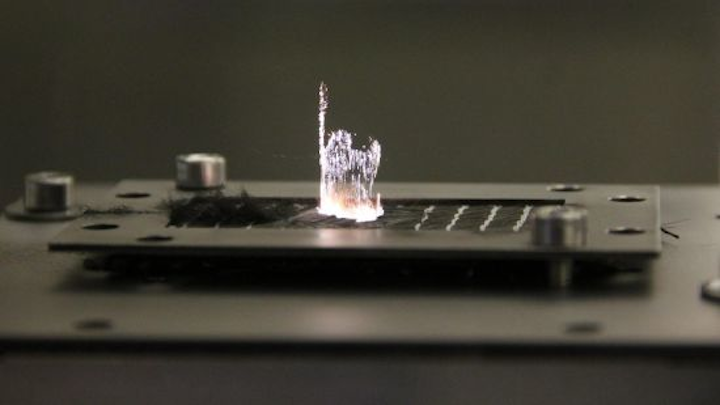 IMAGE. A 200-W ultrashort pulse laser from Amphos machines carbon fiber reinforced plastic. (Photo courtesy Trumpf)
Amphos (Aachen, Germany), a maker of ultrashort pulse lasers, has been acquired by Trumpf (Ditzingen, Germany). Amphos was founded in 2010 as a spin-off of RWTH Aachen and the Fraunhofer Institute for Laser Technology ILT (Aachen). It develops and produces ultrashort pulse (also known as ultrafast) lasers based on InnoSlab technology. The purchase price was not disclosed
InnoSlab technology was co-developed by the company's founders while still a part of ILT. Trumpf says it will open up an new range of parameters for its ultrashort pulsed lasers. Ultrashort pulsed lasers are especially important in electronics manufacturing, where they are used to produce items such as printed circuit boards, displays, and cover glass.
Related: Trumpf is riding the tiger, an interview with Peter Leibinger and Christian Schmitz of Trumpf
"Amphos is an innovative manufacturer of lasers and the market leader in this field, and its managers have been developing industrial lasers for over 15 years," says Christian Schmitz, head of the Laser Technology division.
Amphos develops ultrashort pulsed lasers with output power between 200 and 400 W. The company also offers high-power lasers for research applications that have an output as high as 1.5 kW. The three co-founders and managing directors of Amphos, Claus Schnitzler, Torsten Mans and Jan Dolkemeyer, stated that they look forward to exchanging know-how, tapping new sales opportunities, and advancing the technology in the near future.
Source: Trumpf