Lidar startup Luminar enters autonomous vehicle market
Luminar Technologies says its novel approach to lidar design will make autonomous vehicles both safe and scalable.
Apr 13th, 2017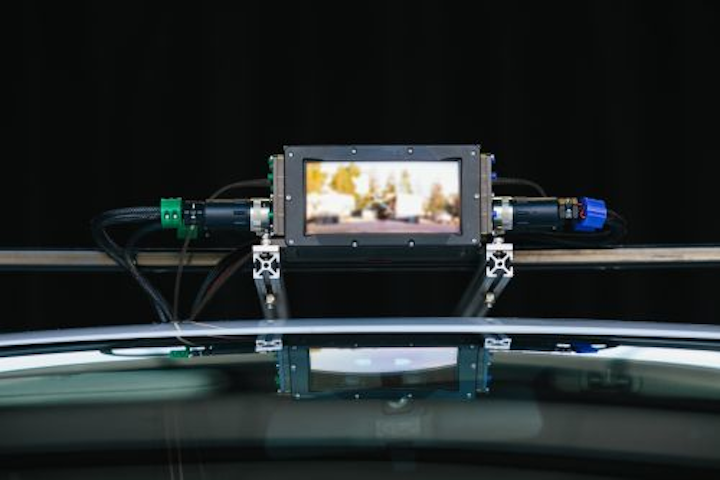 Image. New lidar system from Luminar Technologies incorporates InGaAs receiver and 1550-nm laser. Courtesy Luminar.
Luminar Technologies (Portola Valley, CA) has come out of stealth mode to announce that its novel approach to lidar design will make autonomous vehicles both safe and scalable. The company has been selected for testing by four major autonomous vehicle programs and is now in a 10,000-unit production run. With its new 50,000-sq-ft manufacturing facility in Orlando, FL, it expects to make deliveries to its strategic partners later this year.

To reach this mark, Luminar says it has made two acquisitions to scale the team to more than 150 people, and raised $36 million in seed capital from investors, including Canvas Ventures, GVA Capital, and 1517 Fund. The company's lidar technology uses a laser operating at a standard and eye-safe 1550 nm wavelength but incorporating an InGaAs-based receiver. Luminar says it has made a number of breakthroughs to lower the cost of the InGaAs-based receiver, which is usually considered too expensive for mass-market applications.
Luminar was founded by applied physicist Austin Russell and photonics scientist and entrepreneur Jason Eichenholz. "We had to find 2000 ways not to make a lidar system before we found the one way that finally delivers on what the industry needs," says Russell. "We made a breakthrough that will allow self-driving cars to be ubiquitous and, most importantly, safe."
The company has engineered and manufactured all major components of their system from the chip-level up, including lasers, receivers, scanners, and processing electronics. The result, according to Luminar, is the first lidar system to achieve the necessary range and resolution to drive autonomous vehicles safely and at full speed, meeting the needs of every major autonomous vehicle program.
Luminar says its lidar has the ability to see 50 times greater resolution and 10 times longer range than current systems, which means that at 200 meters, it can detect hard-to-see, low-reflectivity objects such as a black car or tire on the road, and offers a full seven seconds of reaction time at 75 miles per hour. The best currently deployed systems see such objects (assuming 10% reflectivity) at less than 35 meters, which at highway speeds offers less than one second of reaction time.
After founding Luminar in 2012, Russell became a Thiel Fellow to accelerate the company. In 2014, he tapped his mentor at the program, Jason Eichenholz, to join as CTO and co-founder with the goal of bringing the technology to production. In 2016, Luminar acquired Eichenholz's optics productization company, Open Photonics.
Source: Luminar Technologies, www.luminartech.com
Image. New Luminar lidar system resolves objects at 200 meters at high speed. Courtesy Luminar.