LIA gives Reinhart Poprawe leadership award, names Nathaniel Quick new director
During ICALEO), the Peter M. Baker Leadership Award was made to Reinhart Poprawe, and Nat Quick was named executive director.
Oct 25th, 2017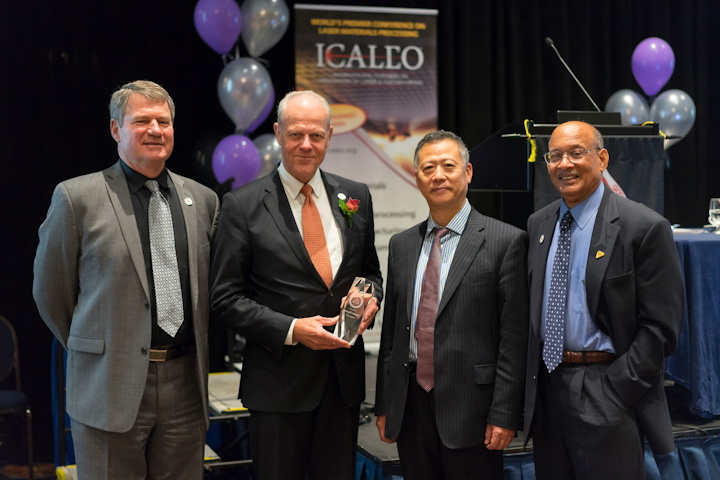 Image: In the LIA award session at ICALEO: President Paul Denney, awardee Reinhart Poprawe, past president Lin Li, executive director Nathaniel Quick (Copyright: Fraunhofer ILT, Aachen/ Lutz Du)
This week, during the Laser Institute of America's International Congress on Applications of Lasers & Electro-Optics (ICALEO), LIA past president Lin Li presented the Peter M. Baker Leadership Award to Reinhart Poprawe, director of the Fraunhofer Institute for Laser Technology ILT (Aachen, Germany). The LIA also announced that its new executive director is Nathaniel Quick, founder of AppliCote Associates and a past president of the LIA.
The Peter M. Baker Leadership Award to Reinhart Poprawe salutes his outstanding leadership and adds that he has significantly enriched the laser community as well as decisively participated in the technological advancement of photonics worldwide. It was awarded for the first time in 2016 and honored the namesake of the prize, outgoing executive director Peter Baker, for his special commitment in developing the structure of the Laser Institute of America.
"Reinhart is a true leader in the photonics community. His achievements on a national and international level are manifold and the award is more than deserved," Lin Li told Laser Focus World. "Reinhart Poprawe is known as a scientific leader in the community, as an influential voice in the global laser community, and, not least, as an impressive teacher."
After working in a management role at Thyssen Lasertechnik in Aachen, Poprawe [AT1] took over the leadership of the Fraunhofer Institute for Laser Technology ILT in 1996. Since then he has grown it into the largest facility for development and contract research in the field of laser technology in the world.
His recent focus has been on integrating Digital Photonic Production DPP into national and global macro trends such as Industry 4.0: the networking of the virtual world with real production processes.
At RWTH Aachen University, Germany's biggest technical university, Poprawe served as a vice president of research, structure and young academics. He co-founded the new RWTH Campus, a €2 billion investment in a 2.5 km² future technology research infrastructure. Within that campus he initiated the Cluster Photonics dedicated to Digital Photonic Production. The Cluster Photonics hosts more than 800 people from academia and industry already.
At the same time, Reinhart Poprawe holds the Chair for Laser Technology at RWTH. The RWTH Chairs for the Technology of Optical Systems, for Nonlinear Dynamics of Laser Processing, as well as for Digital Additive Production were developed on the basis of Poprawe's initiatives.
The professor's presence in lectures and the use of new formats such as the Flipped Classroom are a matter of course for him. It was not without reason that his students themselves often awarded him the teaching prize of the Faculty of Mechanical Engineering at RWTH Aachen University.
In addition to strengthening the photonics location in Aachen, Poprawe is also focusing on a global network. His work has been honored with, among others, the Arthur L. Schawlow Award by the LIA, whose presidency he held in 2012. He also received an honorary professorship at Tsinghua University in Beijing, in 2014.
Poprawe says he understands leadership as "creating the balance between strong individuals and their collaboration in the team so that they are enthusiastically committed to their institution."
Nat Quick becomes new Executive Director
ICALEO was also the place for an important announcement for LIA's organizational structure: Nathaniel Quick, will succeed Peter Baker as executive director of the society. Quick is founder of AppliCote Associates and a former LIA president.
"We are grateful for the 28 years Peter Baker gave us at LIA," said Paul Denney, LIA President. "And we are excited to grow LIA with Dr. Quick's extensive leadership and experience."