Apple invests $390 million in VCSEL maker Finisar
A 700,000-square-foot VCSEL manufacturing plant in Sherman, TX will enable 500 new skilled jobs.
Dec 13th, 2017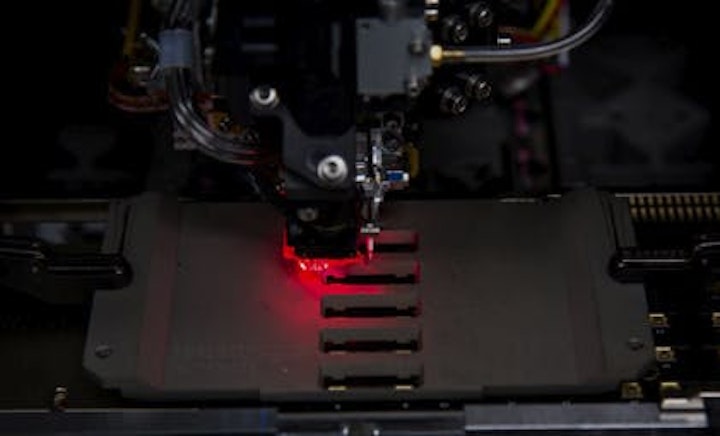 An assembly tool on the Finisar manufacturing floor. (Image: Apple)
Apple (Cupertino, CA) is drawing from its $1 billion Advanced Manufacturing Fund to award Finisar (Sunnyvale, CA), which makes vertical-cavity surface-emitting lasers (VCSELs) and other optical communications equipment, $390 million to create a 700,000-square-foot VCSEL manufacturing plant in Sherman, Texas. The money will allow Finisar to greatly increase its R&D spending and high-volume production of VCSELs for use in Apple's products.
VCSELs are at the heart of Apple's Face ID facial-recognition system for its smartphones; Apple also uses VCSELs for portrait-mode selfies with the iPhone X TrueDepth camera and for the proximity-sensing capabilities of AirPod wireless headphones.
RELATED: Fun with VCSELs and the iPhone 8
For mass-produced consumer equipment requiring a basic laser, VCSELs can be better performing and more compact and cost-efficient compared to traditional edge-emitting laser diodes. In the fourth quarter of 2017, Apple will purchase 10 times more VCSEL wafers than were previously manufactured worldwide over a similar time period.
Apple's award will create more than 500 high-skill jobs at the Sherman facility, including engineers, technicians and maintenance teams. When combined with the company's nearby plant in Allen, Texas, Finisar's payroll in Northern Texas is expected to be $65 million. Hiring, capital equipment planning, and infrastructure upgrades are already underway at the Sherman facility, which is expected to begin shipping in the second half of 2018. 100% of the VCSELs Apple buys from Finisar will be made in Texas.
Source: https://www.apple.com/newsroom/2017/12/apple-awards-finisar-390-million-from-its-advanced-manufacturing-fund/