Laser material deposition gets 100 times faster
A new laser material deposition method may offer an economical alternative to hard chrome plating.
Jun 1st, 2017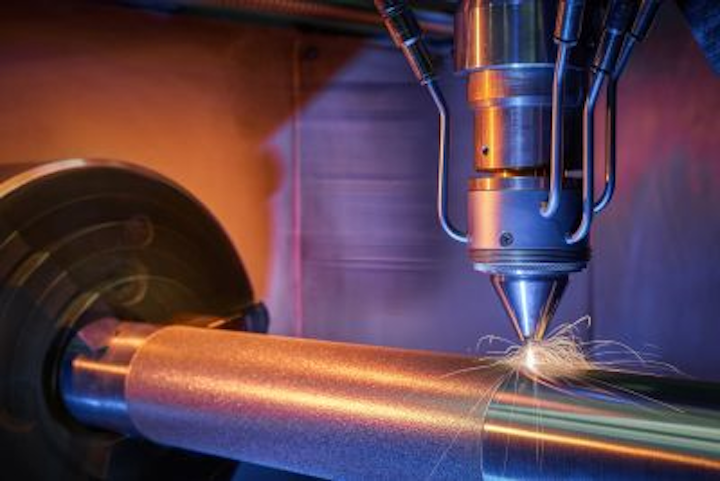 One of the most common processes for the application of corrosion and wear protective coatings is hard chrome plating. However, this consumes a lot of energy and chromium (VI) is poisonous. Within the European Union, it will be banned by September 2017 and usage will require a specific authorization.

A new laser material deposition method may offer an economical alternative. Researchers at Fraunhofer ILT and RWTH Aachen University in Aachen, Germany, have developed and patented an alternative process that is at least 100 times faster than conventional laser deposition processes. The process is dubbed EHLA, following the German wording for ultra-high-speed laser material deposition.
A team from Aachen, Germany, developed an ultra-high-speed laser material deposition procedure where the metal powder is molten before it hits the workpiece. (Copyright: Fraunhofer ILT, Aachen, Germany/Voker Lannert)
Dr. Andres Gasser, group manager at Fraunhofer ILT, explains the key element of the new process: "With EHLA, the laser melts the powder particles while they are above the melt pool." Since this means that drops of liquid material fall into the weld pool instead of solid powder particles, the layer becomes more homogenous. In addition, less base material needs to be melted: instead of up to a millimeter, now only a few micrometers suffice.

Faster process enables new applications
As a result, a component can be coated 100 to 250 times faster than with conventional laser material deposition, with minimal heating of the substrate. Thus, EHLA facilitates the coating of heat-sensitive components, which was impossible because of excessively high heat input up to now. Also, the new process can be used for completely new material combinations, such as coatings on aluminum base alloy or cast iron.

Its chemical-free application makes the process environmentally friendly. About 90% of the powder is used in the coating. The resulting layer is metallurgically bonded to the base material and, unlike hard chrome layers, does not delaminate. While hard chrome plating layers have pores and cracks, layers produced using EHLA are non-porous and, thus, offer more efficient long-term protection.

Honored with the Joseph von Fraunhofer Prize 2017
At the General Assembly Meeting of the German Fraunhofer Gesellschaft, held on May 30 in Dresden, Germany, Gasser, Thomas Schopphoven, and Gerhard Maria Backes received this year's Joseph von Fraunhofer prize, which carries a reward of 50,000 euros, in recognition of their work.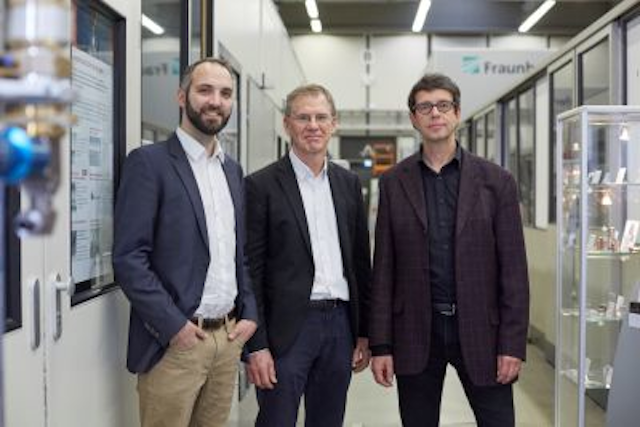 Thomas Schopphoven, Gerhard Backes, and Andreas Gasser (from left) received the Joseph von Fraunhofer Prize 2017 for their work on faster and more efficient laser material deposition. (Copyright: Piotr Banczerowski/Fraunhofer)
The Fraunhofer-Gesellschaft is a German organization for applied research, with 69 institutes and research units at locations throughout Germany. The society employs a staff of 24,500, who work with an annual research budget totaling 2.1 billion euros. Of this sum, 1.9 billion euros is generated through contract research. More than 70% of the Fraunhofer-Gesellschaft's contract research revenue is derived from contracts with industry and from publicly financed research projects.