Opton Laser International gets new ownership
Founder of the laser, optics, and equipment distributor passes company ownership to photonics sales and distribution expert.
Sep 7th, 2017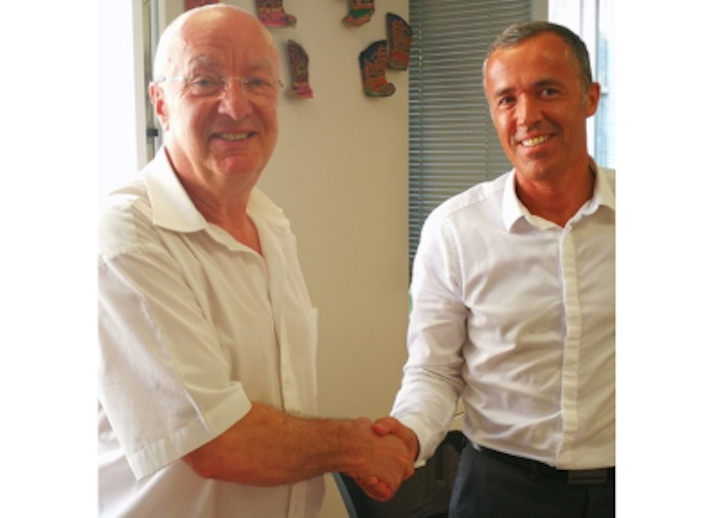 Costel Subran (left) and Jean-Claude Sanudo (right), the previous and new owners, respectively, of Opton Laser International. (Image: Opton)
Costel Subran, founder and ex-CEO of laser and photonics equipment distributor Opton Laser International (Orsay, France), and Jean-Claude Sanudo, the new CEO of the company, have signed a purchase agreement of 100% of Opton Laser International shares.
Opton was founded in March 1990 by Costel Subran to face a growing demand on the market for a new generation of technical distributors. Opton operates in the French photonics market, with a presence in lasers and spectroscopy as well as optomechanical components and optics and laser test equipment. Among numerous other items, Opton distributes picosecond and extended-cavity laser-diode modules and accessories, fiber lasers, and deep-UV lasers.
"Opton is one of the few independent players in the field and its success is based on its reactivity and flexibility," according to the company. The company is based in Orsay, at the heart of the "Optics Valley" and what will soon be the largest scientific campus in Europe. Opton notes that two thirds of its employees have a strong scientific background (PhDs, graduated engineers, etc.) and 80% are dedicated to customer support.
The founder, Costel Subran, has a science PhD and is president of the F2S (French Federation of Science Societies) and the National Committe Lumière & Société. He is also the French national representative for the UNESCO International Day of Light.
The new owner and CEO, Jean-Claude Sanudo, graduated in 1988 from the Ecole Supérieure d'Optique (now Institut d'Optique Graduate School). In his career, he has been successively a technical sales engineer, an export sales manager for a manufacturer of solid state ultrafast and tunable lasers, and a sales director for a French and lately a European photonics distributor.
For more info, see https://www.optonlaser.com.
Source: https://www.optonlaser.com/articles/nouveau-dirigeant-pour-opton-laser-international