Product Focus: Alpes Lasers commercially introduces frequency-comb quantum-cascade lasers
The mid-IR emitters have 100 or more comb teeth and up to 200 mW of optical power.
Nov 2nd, 2017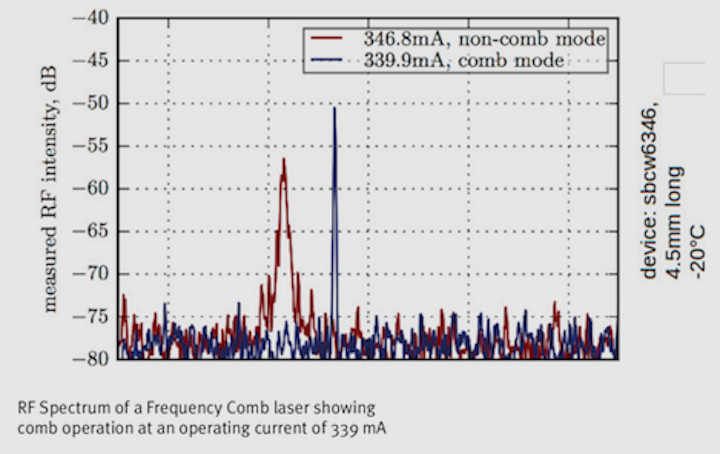 Overlapping optical spectra of two typical frequency-comb lasers. (Credit: Alpes Lasers)
Alpes Lasers (St-Blaise, Switzerland), which produces a variety of scientific and precision lasers, including quantum cascade lasers (QCLs), has now commercially introduced a line of frequency-comb QCLs. (Back in 1999, Alpes was the first company to offer QCLs to the commercial market.)
A frequency comb is a laser source whose spectrum consists of a series of discrete, equally spaced frequency lines. Originally developed at optical wavelengths, for which John L. Hall and Theodor W. Hänsch shared the 2005 Nobel Prize in physics, frequency combs can be used for fast, high-sensitivity and high-resolution spectroscopy. With up to 200 mW of power spread over more than 100 comb teeth, frequency-comb QCLs by Alpes Lasers cover the important mid-infrared "fingerprint" region useful for identification of a wide range of complex molecules such as organic molecules, pollutants, and/or explosives.
In development since 2012 in the Quantum Optoelectronics Group of Jérôme Faist at ETH Zürich, the Alpes Lasers frequency-comb QCL is the first commercially available laser of its type. Faist says he is "especially happy to see the quantum cascade laser comb come out from academia and become a commercial product, and in doing so help the development of broadband mid-IR spectroscopy."
For more information, see:
http://www.alpeslasers.ch/?a=28,126,191
http://www.alpeslasers.ch/fichier/brochures/al_factsheet1_combs_web.pdf
Source: Alpes Lasers