QinetiQ launches center for military and commercial high-energy laser applications
Dragonworks is a new center of excellence for the development and testing of laser directed energy weapons.
Nov 27th, 2017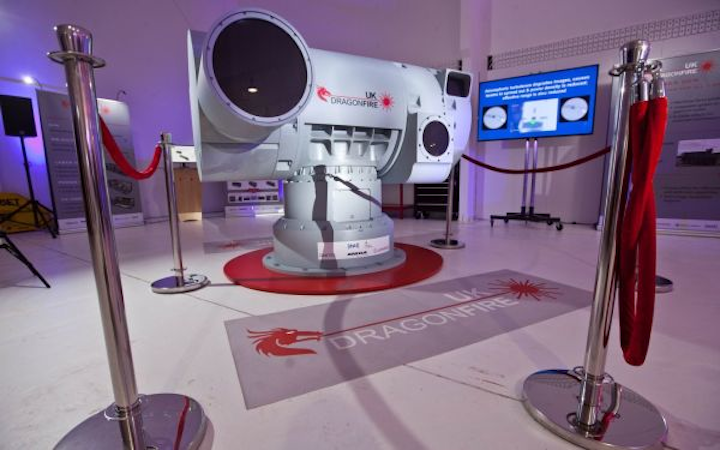 IMAGE. Full-scale model of the Dragonfire beam director at QinetiQ Dragonworks. (Credit: QinetiQ)
QinetiQ (Farnborough, England) has opened Dragonworks, a new "centre of excellence" for the development and testing of advanced laser technology. The facility will serve as a testbed for all technologies associated with high-energy lasers for military or commercial applications.
Dragonworks includes a cleanroom and the UK's only reflective hazard assessment tool (RHAT) designed to examine how laser energy is reflected from different surfaces. Further additions to the Farnborough building in the coming months will create an environment in which customers can conduct full-scale testing of high-energy lasers.
Related: As EU turns to investing in military research, photonics will attract funding
Related: Testing sets pace for solid-state laser weapons
The first project to be undertaken at Dragonworks will be the assembly and testing of the laser directed energy weapon (LDEW) currently in development by the UK's Dragonfire consortium, led by MBDA (Paris, France), an integrated missle systems company jointly owned by Airbus, BAE Systems, and Leonardo. Components will arrive in early 2018, when QinetiQ will begin building the weapon's laser source in the purpose-built cleanroom. Over the following months, the laser source will undergo a process of evaluation and adjustment before being integrated with Leonardo's beam director.
The project will culminate in operation at full-power under test conditions inside the facility in summer 2018, before it is transported to MOD Shoeburyness for long-range outdoor trials later in the year. Data collected using the RHAT will inform the safety case for these and future trials, ensuring that the reflectivity of targets is fully understood and any risk mitigated.
Steve Wadey, QinetiQ CEO, said: "Dragonworks introduces a brand new sovereign capability, which will significantly enhance the UK's ability to operate and characterise high-energy lasers. It will help our customers to understand the opportunities and challenges associated with this disruptive technology, informing their critical strategic and tactical decisions. We are investing in this asset as part of our strategy to modernise the UK's test and evaluation services, which will ensure our customers can keep pace with rapid technological advances and maintain their competitive edge."
Source: QinetiQ