The Illuminating Engineering Society disagrees with AMA policy statement on spectral content of LED outdoor lighting
IES says that the correlated color temperature of an LED lamp is not an infallible indicator of its possible effects on sleep.
Aug 2nd, 2017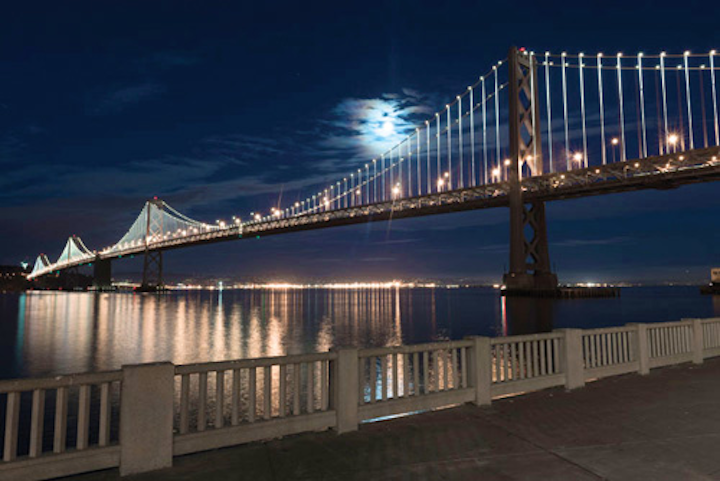 White LEDs on the San Francisco Oakland Bay Bridge are tunable to emit different shades of white. (Courtesy of Philips Color Kinetics)
The Illuminating Engineering Society (IES), a nonprofit organization that ties together lighting engineers, professional organizations, and the public, has issued a position statement that disagrees with some aspects of a policy statement issued last year by the American Medical Association (AMA) on outdoor lighting.
The policy that the IES is in partial disagreement to is the AMA's Policy H-135.927, which, as the policy states, "encourages minimizing and controlling blue-rich environmental lighting by using the lowest emission of blue light possible to reduce glare" and "encourages the use of 3000 K or lower lighting for outdoor installations such as roadways."
Correlated color temperature (CCT)
The correlated color temperature (CCT) of a white-hued light source is the temperature of a blackbody that produces the equivalent hue; a CCT of 3000 K is about equivalent to the somewhat warm white hue of a halogen lamp. Many LED outdoor lamps operate at higher CCTs of 4000 K (neutral white) or 5000 K (cool white) or even higher.
Over the past few years, there has been some controversy over whether and how much high-CCT (bluish-hued) white LEDs can cause loss of sleep in people due to changes in the body's melatonin production triggered by blue light. A number of studies have shown a positive correlation between exposure to blue-containing light sources in the evening and loss of sleep at night.
As a result, the AMA encourages the uses of warm-hued LED lamps for outdoor illumination rather than the neutral or cool white LEDs already in wide use on streets and other outdoor spaces.
However, the IES Position Statement PS-09-17 takes a more cautionary approach, pointing out, among other things, that CCT "is inadequate for the purpose of evaluating possible health outcomes" and that the AMA recommendations "target only one component of light exposure (spectral composition) of what are well known and established multivariable inputs to light dosing that affect sleep disruption, including the quantity of light at the retina of the eye and the duration of exposure to that light."
Melanopic content
The concept of "melanopic content" is an attempt to quantify the sensitivity of human melanopsin photoreceptors to a particular light source's output spectrum. In relation to this, the IES statement says that increased melanopic content is "a more widely accepted input to the circadian system associated with higher risk for sleep disruption and associated health concerns," and that "LED light sources can vary widely in their melanopic content for any given CCT."
So this means, for example, that two LED lamps that have the same CCT could have different effects on someone's sleep.
Source: DOE