NSF grant to Baker College fosters photonics education in Michigan
Baker College was awarded nearly $512,000 to advance photonics and laser education at the school and in Michigan.
Aug 21st, 2017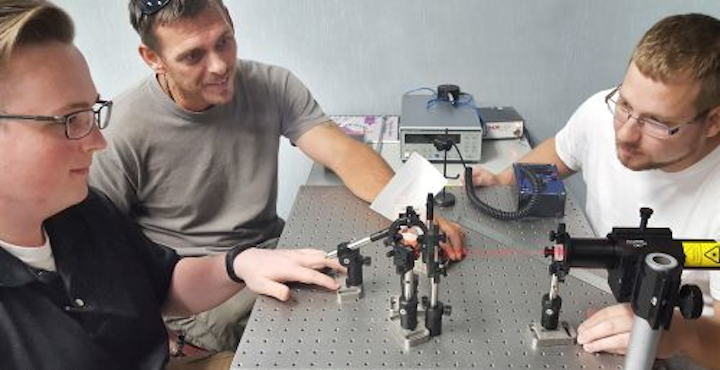 Image. Baker College students Riley Ragsdale, of Clio, Richard Rogers, of Hartland, and Brian Heilner, of Fenton, perform an experiment on the diffraction of monochromatic light in the college's optics and photonics lab. (Courtesy Mi-Light)
Baker College (Flint, MI) has been awarded a National Science Foundation (NSF) grant of nearly $512,000 to advance photonics and laser education at the school and in Michigan through June 2020. According the Anca Sala, Baker College dean of the College of Engineering, the goal is to educate more students to become qualified photonics, laser, and fiber optics technicians to meet industry need in southeast Michigan and nationally.
The NSF grant supports development of curricula for educational institutions, expands Baker College's photonics laboratory at the Flint Township campus, establishes laboratories at Baker College campuses in Auburn Hills and Jackson, and enables multiple information sharing events that involve educators, manufacturers and employers. New course modules will focus on photonics applications in emerging areas such as autonomous driving, integrated photonics, and high-power lasers in manufacturing.
Photonics curriculum will be shared with other higher education institutions and K-12 educators as well as NSF Advanced Technological Education Centers located throughout the country. Important goals of the grant are to introduce photonics as a field of study in Michigan Career and Technical Education programs, develop pathways from high school to two- and four-year degree programs, and showcase available career opportunities.
Annual photonics symposiums are on tap, beginning early 2018, as well as workshops to introduce photonics to K-12 teachers and faculty at higher education institutions. To introduce middle and high school students, teachers and parents to photonics and lasers, Sala will be holding 'Photonics Phriday' events at Baker College's Flint Township campus throughout the academic year. They will include a lab tour, age-appropriate demonstrations, simple experiments and fun, hands-on activities that illustrate the magic of photonics.
Related: Laser and fiber optics technician education for the next generation by Chrys Panaytiotou, director of LASER-TEC
Related: How to get a photonics education: 10 resources on where to go and why by Conard Holton, Editor in Chief, LFW
Baker College received a previous NSF grant of approximately $200,000 in 2013 to help establish the photonics and laser technology associate program at the Flint Township campus. The program was the first in the state and one of a handful in the country. All graduates of the program have found rewarding employment with photonics companies in the state, and the companies are looking for more graduates to hire.
Sala encourages anyone interested in the associate degree program or about upcoming photonics and laser events to contact her, at 810.766.4111 or anca.sala at baker.edu, or Kevin Pnacek in the admissions office, at 810.766.4000 or kevin.pnacek at baker.edu. Information about the program is as www.baker.edu.