Ultrafast lasers and scanners to create bioinspired surfaces in LAMpAS project
The goal is to to bring the functionalization of laser surfaces to the mass-manufacturing level.

Apr 28th, 2019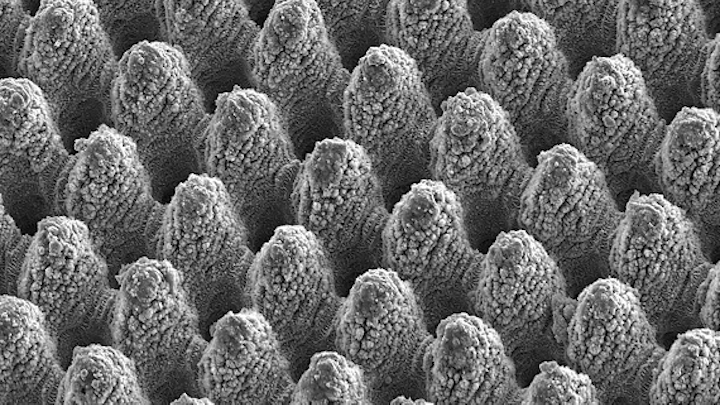 IMAGE: Shown is a laser-machined metal surface with self-cleaning properties. The peak-to-peak distance between the individual structural elements is approximately 10 microns. (Image credit: LAMpAS project)
Technology developments related to high-power ultrashort-pulsed lasers, advanced scanning techniques for new beam delivery concepts, together with interference patterning optics and real-time monitoring system have led to the collaboration of two technology giants to create a new system able to bring the functionalization of surfaces to the mass-manufacturing level. This collaboration is taking place in the framework of the European flagship project LAMpAS (research funding about 5.1 million euro), launched at the first of 2019, with the goal to develop a new laser machine able to produce bioinspired, large-area, and cost-effective micro- and nanostructures on various surfaces.
The idea is not new: lasers have been used for years to demonstrate the feasibility of the method; however, it has until now been too time consuming and slow to make large-scale surfaces possible in a cost-effective way. See https://www.popsci.com/high-intensity-laser-blasts-create-metals-are-super-water-repellant and https://www.laserfocusworld.com/articles/2012/04/mit-researchers-create-nanostructured-surface-for-glass-that-is-antireflection-hydrophobic-and-antifogging.html.
"The results envisioned in LAMpAS will make possible the production of a new generation of electrical appliance as well as food packaging systems, by adding new functionalities to the surfaces of daily used devices. We are very pleased to bring together the main industrial players for developing this new laser based system, for large-volume production. We are sure that the results will be groundbreaking for various industries," said coordinator professor Andrés Lasagni.
Antibacterial and self-cleaning properties, friction reduction, optical security functions and/or decorative effects on all kind of surfaces are inspired by nature and biology of the micro/nanostructures of lotus leaves and butterfly wings. In this sense, technologies for modifying surfaces instead of composites or for coating surfaces can offer new industrial opportunities (e.g. long-term stable surfaces and more environmentally friendly processes).
The international research team includes scientists and engineers from TU Dresden, Bosch, Trumpf, BSH Hausgeräte, New Scan Technology, New Infrared Technologies (NIT), Lasea and European Photonics Industry Consortium (EPIC).
Further information and current developments can be found on the homepage of the research association: www.lampas.net.
The project is an initiative of the Photonics Public Private Partnership. www.photonics21.org (Grant Nr: 825132).
SOURCE: EPIC; https://www.epic-assoc.com