Mynaric funding and G&H ORIONAS project to advance satellite laser communications
Two recent news stories point to advances in laser communication modems used for satellite applications.
Mar 19th, 2019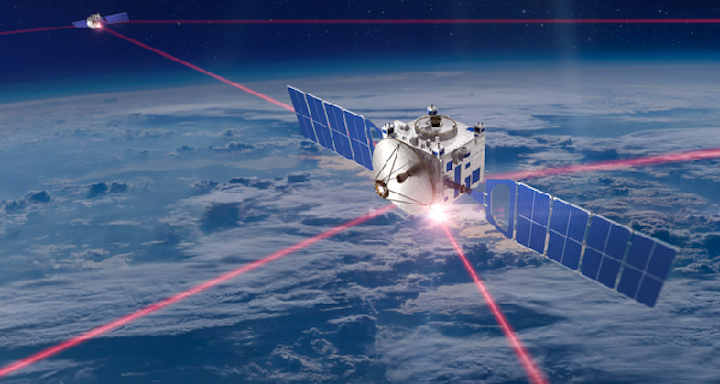 IMAGE: A sketch shows how lasers are used to communicate between satellites and between ground stations. (Image credit: Mynaric)
Two recent news stories point to advances in laser communication modems used for satellite applications. First, Mynaric (Munich, Germany) received post-IPO funding from a satellite constellation builder for its laser communications modems, and second, Gooch & Housego is partnering with several other companies and groups to launch the ORIONAS project that aims to miniaturize communication modems.
Mynaric
Mynaric will receive post-IPO funding of $12.5 million dollars (11 million euro) from the lead investor of a satellite constellation it is working with. In October 2018, Mynaric announced an MoU with the builder of a satellite constellation that is expected to require upwards of 1000 of Mynaric's laser communication terminals, after an initial demonstration mission, and this funding comes from the lead investor of that satellite constellation.
The funds will be used to accelerate serial production and continued development of Mynaric's product portfolio. The company started serial production of optical ground stations in H2 2018 and expects to do the same with its product for airborne applications in H2 2019. Currently, Mynaric says it is the only supplier with a full product portfolio supporting laser communication applications on the ground, in the air, and in space.
The commitment of the investor comes just days after renowned SpaceX veteran Bulent Altan joined Mynaric's management board.
Mynaric is a manufacturer of laser communication technologies used to establish dynamic communication networks in air and space. Its wireless laser data transmission products include ground stations and flight terminals, which allow very large quantities of data to be sent wirelessly over long distances between aircraft, autonomous drones, high altitude platforms, satellites, and the ground at high data rates.
Gooch & Housego
Gooch & Housego (G&H; Ilminster, England) is a partner on the European project ORIONAS (Lasercom-on-chip for next generation, high-speed satellite constellation interconnectivity). The Horizon 2020 initiative with a three-year duration was launched in November 2018 and aims to disrupt the way lasercom modems are designed, built, and qualified in order to enable satellite constellation lasercom links. ORIONAS will squeeze the current lasercom modems using integrated photonic components and new ultracompact fiber-optic modules to enable next generation low SWaP-C (size, weight, power and cost) lasercom terminals.
G&H will design and manufacture compact and efficient fiber amplifier arrays for pre-amplified lasercom receivers, enabling high-speed bidirectional laser links. This will be realized through the development of a compact, rad-hard-by-design fiber pre-amplifier array module, based on its patented intellectual property. The operation of the pre-amplifier module will be validated under ionizing radiation.
G&H is also responsible for the design of the system platform and, following the design and development phase, will perform the system integration of the complete laser transceiver through functional integration of the components developed within the project. Successful delivery of the project will mean using this expertise to meet the demanding system price target required in satellite constellation applications.
SOURCES: Mynaric; https://mynaric.com/news/mynaric-raises-eur-11m-in-post-ipo-financing-from-satellite-constellation-lead-investor-at-eur-55-per-share/ and Gooch & Housego; https://goochandhousego.com/gh-partners-on-new-european-project-on-miniature-lasercom-transceivers/