ALPhANOV and Muquans develop efficient laser frequency doubling module
The jointly developed frequency doubling laser module generates difficult-to-reach wavelengths.
Feb 12th, 2016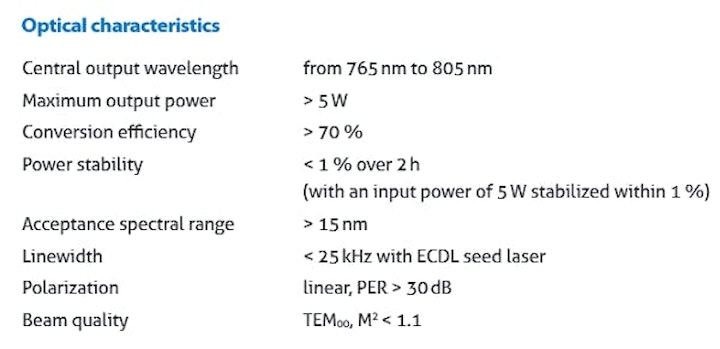 IMAGE: The frequency doubling module is highly efficient and allows users to access difficult-to-reach visible spectra. (Image credit: ALPhANOV)
ALPhANOV and Muquans (both in Talence, France) have jointly developed a new frequency doubling laser module that can generate, with high efficiency, several watts of power in regions of the visible spectrum previously difficult to reach. This compact module allows energy-efficient generation of several Watts of optical power, with both remarkable output beam quality and high optical stability. It thus paves the way for the use of high-performance laser emission of several Watts for on-site or on-board applications.
RELATED ARTICLE: Nanowire inside a nanocavity efficiently frequency doubles light
The module achieves more than 5 W of optical power in the 765 nm and 805 nm range with more than 70% conversion efficiency (other wavelengths are also available). It is dedicated to quantum technology set-ups, remote sensing lidar, and biophotonics applications.
Muquans and ALPhANOV worked out an original and patented technology in order to achieve such conversion efficiency whatever the input power level, with excellent optical quality. Fast tunability of few hundreds of megahertz is available, and a robust and active stabilization scheme provides excellent stability.
Although this frequency doubling module is available by Muquans as a standalone device, Muquans can also provide an entire laser system in a fully integrated rack, including a high-performance seed laser and an amplification stage, the frequency doubling unit, and dedicated ultralow-noise electronics for a turnkey solution. ALPhANOV can also offer the development of custom laser modules.
SOURCE: ALPhANOV; http://www.alphanov.com/208-news-alphanov-and-muquans-developed-together-an-innovative-frequency-doubling-module.html