Exalos testing finds their GaN superluminescent LEDs have 5000-hr lifetime
Exalos has completed testing of long-life GaN SLEDs that deliver an estimated lifetime of more than 5000 hrs.
Feb 15th, 2016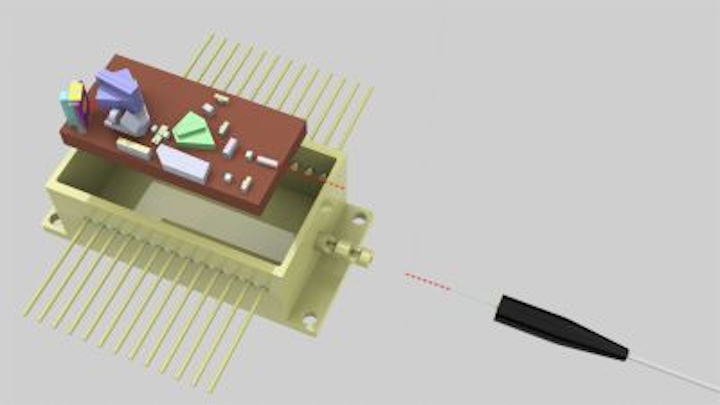 Advanced semiconductor light source solutions developer and maker Exalos (Schlieren, Switzerland) has completed testing of long-life gallium nitride (GaN) superluminescent light-emitting diodes (SLEDs) that deliver, under specific test conditions, an estimated lifetime of more than 5000 hrs. The results demonstrate that SLEDs can deliver much more reliable light sources for devices, suggesting that, for example, markets such as direct retina display, 3D printing, or picoprojectors might benefit from reliable, long-life semiconductors that generate extreme brightness. The company will present these findings at SPIE Photonics West 2016, taking place February 15-18 in San Francisco, CA, and will demonstrate its SLED products at booth 430 during the exhibition.

The company tested the reliability of GaN-based SLEDs emitting at 405 nm, demonstrating that optimized doping levels provide decreased operating voltage on single-mode devices from >6 to <5 V for an injection current of 100 mA. The tests showed that magnesium (Mg) doping levels in the p-type layers have an impact on both the device electro-optical characteristics and their reliability. SLED modules with standard and optimized p-type layers were tested in lifetime output.
A 3D rendering of Exalos' superluminescent light-emitting diode (SLED) product.
Modules with standard and optimized p-type layers were finally tested in terms of lifetime, at a constant output power of 10 mW, in continuous-wave (CW) operation and at a case temperature of 25°C. The modules with nonoptimized p-type doping showed a fast and remarkable increase in the drive current during the first hundreds of hours, together with an increase of the device series resistance. No degradation of the electrical characteristics was observed after 2000 hours on devices with optimized p-type layers. Under the specific test conditions, the estimated lifetime for those devices was higher than 5000 hours. Furthermore, maximum output powers as high as 350 mW (for an injection current of 500 mA) have been achieved in CW operation at room temperature.

Dr. Christian Velez, Exalos' CEO, explains that the company has seen improvements in the performance and reliability of GaN-based laser diodes in the 405 nm wavelength, which have been commercialized in the medical, industrial, laser projection, and automotive head lamp design markets. The tests now show that the GaN-based SLEDs can deliver high output power with ideal directional beams and higher power levels for applications such as direct retina projection and picoprojection, Velez says.
Christian Velez, CEO of Exalos
Full results appear in a paper authored by Velez, Antonino Castiglia, Marco Rossetti, Nicolai Matuschek, Raffaele Rezzonico, Marcus Duelk, Jean-François Carlin, and Nicolas Grandjean.

For more information, please visit www.exalos.com.