Innovation Award Laser Technology goes to Philips Photonics for VCSEL arrays
Philips Photonics won the 10,000-euro award for its industrial VCSEL array technology for digital heat treatment.
May 6th, 2016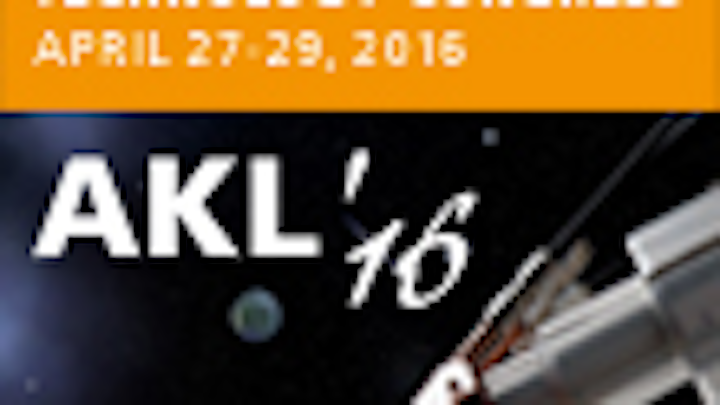 Image. A VCSEL-array chip assembled on a board forms an illumination module (a-c). These modules can be assembled next to each other for higher powers (d). A 400 W emitter consists of 56 chips arranged in four rows of 14 chips (e). A 9.6 kW module has an emitting area of 40 x 200 mm2 (f). (Courtesy of Philips Photonics in 2014 LFW article)
Philips GMBH Photonics Aachen won the 10,000-euro Innovation Award Laser Technology presented during AKL'16, in Aachen, Germany, April 27. Armand Pruijmboom and his team from Philips GmbH Photonics Aachen developed an innovative vertical-cavity surface-emitting laser (VCSEL) array technology for digital heat treatment. The 10-member international jury selected 3 finalists from 15 applications.
Approximately 320 guests attended the award ceremony in the historic coronation hall of the Aachen Town hall. Paul Hilton, spokesman for the international jury emphasized the outstanding innovations of the three top-ranked project teams in the field of laser technology. As Philips team leader, Armand Pruijmboom was appointed AKL Fellow and European Laser Institute Fellow.
Related article: High-power VCSEL arrays make ideal industrial heating systems, by Armand Pruijmboom, in Laser Focus World, December 2014
Second place went to a team from Audi, which developed laser remote welding of aluminum for automotive lightweighting. And third place went to a team from Coherent for developing UVblade, a method for mass production of flexible displays
Source and for details on the finalists: www.innovation-award-laser.org