Trumpf Venture funds optical microphone technology startup Xarion Laser Acoustics
Austrian startup Xarion Laser Acoustics announced the completion of its latest financing round, with the new Trumpf Venture contributing to the 7-digit investment.
Dec 22nd, 2016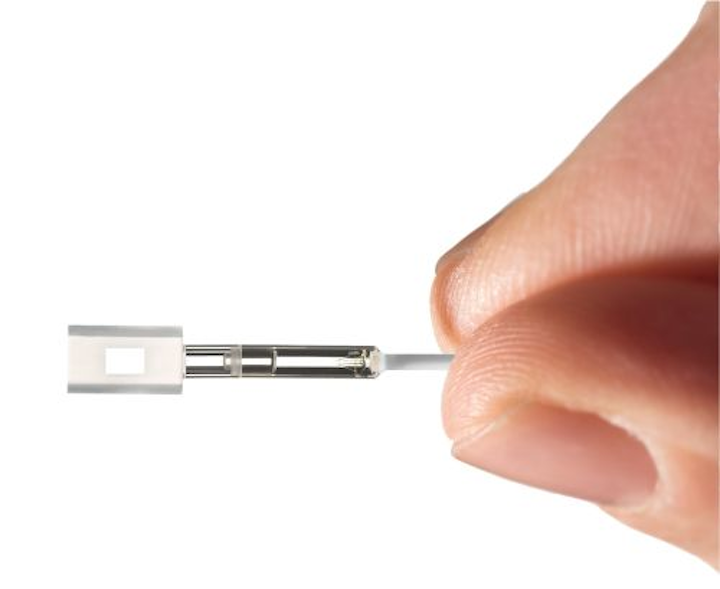 (Image. Xarion offers a laser-based optical microphone technology that might have interesting applications in industrial process monitoring. Photo courtesy of Xarion.)
On December 19, Austrian startup Xarion Laser Acoustics (Vienna) announced the completion of its latest financing round, with the new Trumpf Venture (Ditzingen, Germany) contributing to the 7-digit investment. It is the first investment by the new venture capital firm created by laser tool maker Trumpf last summer with the goal of building an investment portfolio over the next five years of approximately €40 million.

Xarion Laser Acoustics was founded in 2012 as a spinoff from Vienna University of Technology, and has developed a new family of acoustic sensors in which the acoustic pressure wave is detected optically by a miniature Fabry–Pérot etalon (FPE). The change of refractive index in the FPE is measured via modulation of a 1-mW diode beam at 1550 nm.
The effect is instantaneous and needs no moving mass--hence it delivers a resonance-free response from about 5 Hz up to 1 MHz. If water or another liquid is used inside the FPE then the transducer may work up to 50 MHz. Details of the technology were described in a recent paper in Nature Photonics.
For ultrasound diagnostics and process monitoring
Clearly, the new technology may have interesting applications in hi-fi sound recording. But much more interesting are industrial applications. For example, the technology is particularly interesting for ultrasound applications such as non-destructive testing. With its resonance-free response it may outperform conventional piezo-transducers in terms of spatial resolution and penetration depth and offer a much reduced dead zone in single-sided setups.
But Trumpf might be attracted by another application: During laser welding, high ultrasound frequencies are emitted. This signal is directly connected to the penetration depth of the laser weld. The optical microphone could "listen" through the plasma plume and weld and give a direct feedback of the current welding progress.
This acoustic emission monitoring is also applicable to machining and chipping processes. Monitoring high tones on the order of several 100 kHz may lead to statistically more robust feedback on the process because at this high frequency range, there is usually no background noise.
"With these unprecedented opportunities in process monitoring, Xarion is a key contributor to further quality increases and new applications in the Industry 4.0 environment," said Christof Siebert, Head of Technology Management at Trumpf, describing the background of the investment.
Other applications may arise from the fact that the whole sensor is all optical and immune to strong electromagnetic interference. First tests in a power plant 30 cm from a 380,000 V cable were successfully completed.
Next steps
Currently, the company is working on two product lines. A fiber-coupled version for applications in wet or harsh environments has successfully launched to market. Application fields range from oil exploration to medical imaging procedures.
Another platform targets a sensor head with a size of 4 x 4 x 11 mm with an all-integrated setup, including optical and electronics components. Manufacturing will use latest wafer processing technology. This device is intended for mass markets and will need several additional years of development.
The company founder and primary inventor is Balthasar Fischer. He is physicist and a certified sound engineer. He has received several prizes for his invention: recently he was presented with the first prize of the Berthold Leibinger Innovationspreis. Endowed with €30,000, this prize is named after the long-term president of the Trumpf group and father of the current president and chairwoman of the Trumpf Group, Nicola Leibinger-Kammüller.
Reference: Balthasar Fischer, "Optical microphone hears ultrasound", Nature Photonics 10, 356–358 (2016), doi:10.1038/nphoton.2016.95, published online 31 May 2016