Laser scan systems maker Scanlab reorganizes for growth
Scanlab is simplifying its legal structure and the corporate headquaters construction nears completion.
Sep 28th, 2016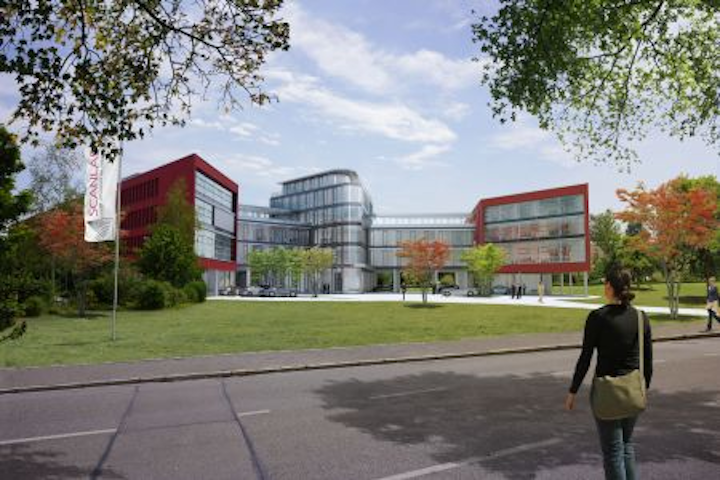 (Image. Drawing of the new Scanlab headquarters, which is nearing completion in Pucheim, Germany. Courtesy Scanlab)
Scanlab (Puchheim, Munich), a manufacturer of laser scanning systems, is simplifying its legal structure and moving responsibilities to a new corporate form. Scanlab AG (a stock corporation) has transferred all its core business operations to Scanlab GmbH (a limited liability company). This GmbH then constitutes a subsidiary, along with affiliated companies Blackbird Robotersysteme GmbH and Next Scan Technology BVBA, which will enhance their roles as strategic partners. Simulaneously, the corporate headquaters has undergone a substantial enlargement that the company believes positions it for growth.
The reorganization makes Scanlab AG a pure financial holding corporation, functioning as the Group's parent. In this new structure, Scanlab GmbH (high-precision scan solutions), Blackbird Robotersysteme GmbH (remote laser welding), and Next Scan Technology BVBA (polygon scanners) are all independent legal entities connected by a strategic partnership. The management teams of all corporate units remain unchanged.
"These changed formalities have no effect on our trust-based customer and business relationships, and certainly present no disadvantages to our strong global team. Scanlab's growth strategy also remains unchanged–-but now our management teams' decision-making can be even more effective and swifter," says Scanlab GmbH CEO Georg Hofner about the Group's restructuring.
Source: Scanlab