Dual-wavelength picosecond Nd:YAG laser safely removes multicolor tattoos
The study is the first to demonstrate the safety and effectiveness of treating tattoos with a new 1064 nm/532 nm laser.
Oct 11th, 2015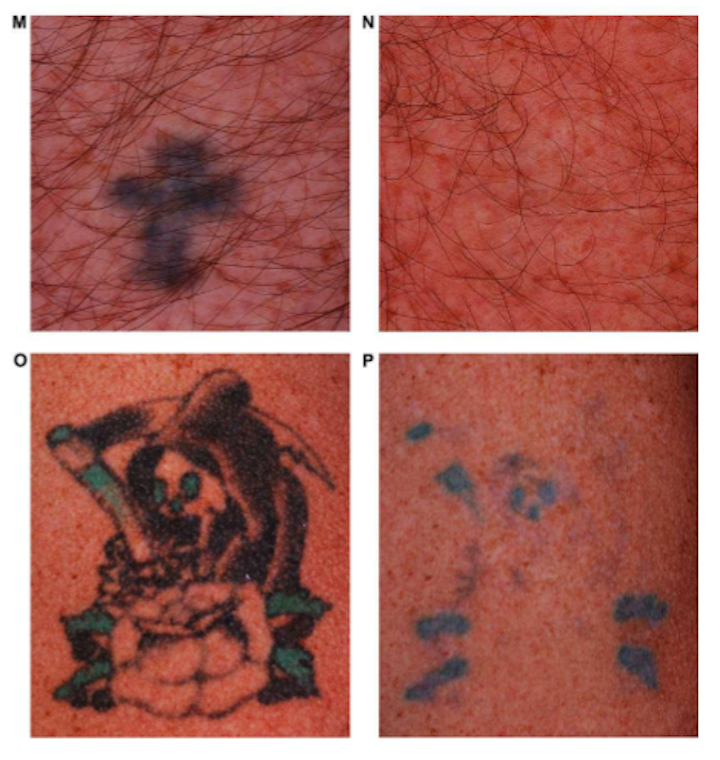 IMAGE: Multicolor tattoos are shown before (M, O) and after (N, P) treatment with a dual-wavelength Nd:YAG laser. Black inks are removed extremely well, but some blue and green inks remain. (Image credit: Syneron-Candela)
Research conducted by Eric F. Bernstein MD et al. largely by Syneron-Candela (Wayland, MA) was selected as Editor's Choice in the September 2015 issue of Lasers in Surgery and Medicine, the official journal of the American Society for Laser Medicine and Surgery (ASLMS; Wausau, WI).
RELATED ARTICLE: Aesthetic photonics: Looking good with lasers
Entitled, "A Novel Dual-Wavelength, Nd:YAG, Picosecond-domain Laser Safely and Effectively Removes Multicolor Tattoos," the studydescribed 21 tattooed subjects between the ages of 19-55 that had a total of 31 tattoos treated using a commercial picosecond-domain laser to determine the effectiveness verses the standard Q-switched laser.
"The state-of-the-art for Q-switched lasers hasn't changed in decades until the recent development of commercial picosecond-domain lasers." The study is the first to demonstrate the safety and effectiveness of treating tattoos with a new 1064 nm/532 nm laser.
The prototype picosecond-domain, frequency-doubled Nd:YAG laser system called PicoWay from Syneron-Candela was used for laser treatments and delivered up to 400 mJ pulses at 1064 nm with a pulse-duration of 450 ps, and pulses of up to 200 mJ of energy at 532 nm with a pulse-duration of 350 ps. Laser beam diameters were available from 2 to 10 mm which allows maximal fluences of up to 11 J/cm2 for 1064 nm and 5.5 J/cm2 for 532 nm. In the current study, beam diameters of 3-5 mm were used. The laser repetition rate was also adjustable from 1 to 10 Hz.
Blind evaluation of digital images by three investigators, blind as to the treatment conditions, revealed on a 10-point scale from 0 (least clearance) to 10 (complete clearance) a score of 7.94 ± 0.09 corresponding to 79% removal on average after an average of 6.5 treatments.
The ASLMS says it is the largest multi-disciplinary professional organization, dedicated to the development and application of lasers and related technology for health care applications. It promotes excellence in patient care by advancing biomedical application of lasers and other related technologies worldwide. Currently, ASLMS has more than 4,000 members, including physicians and surgeons representing more than 51 specialties, physicists involved in product development, biomedical engineers, biologists, nurses, industry representatives, and manufacturers.
SOURCE: ASLMS; http://onlinelibrary.wiley.com/journal/10.1002/%28ISSN%291096-9101/homepage/editor_s_choice.htm