Femtosecond laser produces volumetric images in air that can be touched and felt
The images are safe to touch, say the researchers.
Dec 2nd, 2015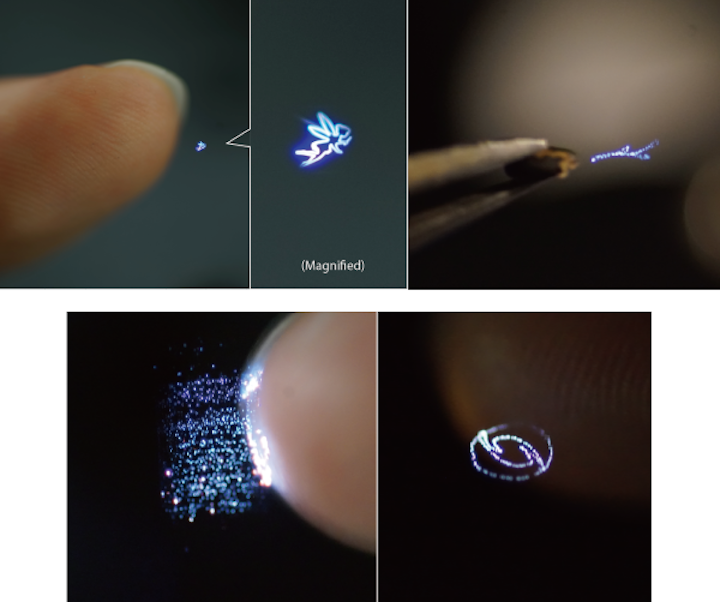 A femtosecond-laser-created 3D volumetric image of a fairy hovers next to a finger (top left, and magnified, top center). A 3D "sprout" is written in the air next to a stem (top right). A 3D voxel cloud interacts with a finger (bottom left). The SIGGRAPH logo is written in the air (bottom right). (Images: Digital Nature Group at the University of Tsukuba)

Researchers from the University of Tsukuba, Utsunomiya University, Nagoya Institute of Technology, and the University of Tokyo have come up with a way to render volumetric images in air consisting of points of plasma produced by a focused laser beam.1 Although this has been done many times before, the femtosecond-laser-based approach developed by the Japanese group allows people to actually touch the images, feeling them while remaining safe (no burned fingers).

The images created by the prototypes can fill a space of up to a cubic centimeter; future versions will create larger images. One of many potential applications, say the researchers, is "aerial check boxes" that exist in free space and can be checked off with the touch of a finger.

The researchers have worked on two ways of producing these aerial images: 1) creating interference-based images using spatial light modulation technology, and scanning of a laser beam by a galvanometer mirror.

Source: http://digitalnature.slis.tsukuba.ac.jp/2015/06/fairy-lights-in-femtoseconds/

REFERENCE:

1. Yoichi Ochiai et al., arXiv:1506.06668.