Ultrathin organic DFB membrane lasers enable bendable security tags
Newly created membrane lasers of nominal 200 nm thickness can easily lase when illuminated with another laser source.
Jul 1st, 2018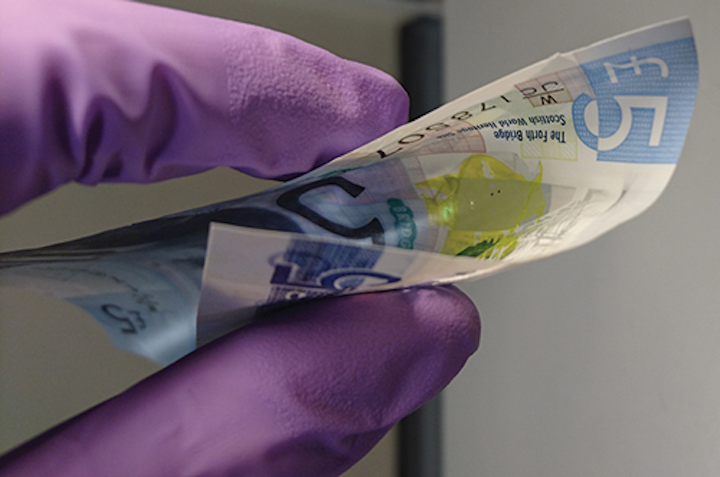 To date, most organic semiconductor lasers still require rigid substrates and are relatively thick (>100 µm). But researchers at the University of St. Andrews (Fife, Scotland) have created all-solution-processed polymer distributed-feedback (DFB) membrane lasers of nominal 200 nm thickness that easily lase when illuminated with another laser source, producing well-defined wavelengths that can be tuned via the deposition recipe.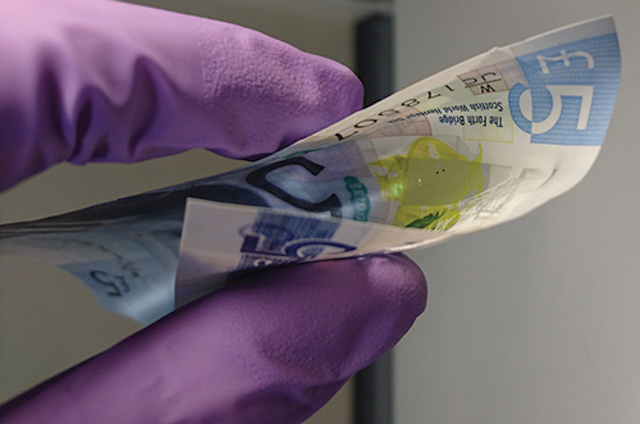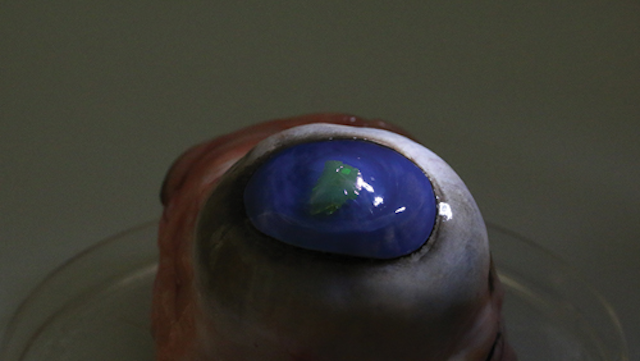 Beginning with a rigid glass substrate, solution-based deposition of a sacrificial water-soluble polymer layer is followed by an ultraviolet (UV)-cured imprint resist that defines the DFB resonator and an organic semiconductor polymer gain material. This laser structure then lifts off in a water-bath immersion process, producing a flexible polymer membrane laser with improved light confinement because of replacing the typical glass substrate with air. For one laser, illumination with a 450 nm laser with 5 ns pulse duration produced membrane lasing at 540 nm and 133 pm linewidth full-width half-maximum (FWHM) with a beam divergence of around 2.6°. The laser output was intense enough to be clearly visible by the naked eye on a screen a meter away. The flexible membrane lasers were applied to bank notes and bovine eyes (simulating the human eye) and studied for several months. They exhibited sufficient stability (without encapsulation) for use as rugged, flexible security codes. Reference: M. Karl et al., Nat. Commun., 9, 1525 (2018).