DISPLAY WEEK 2008: OLED displays and 'green photonics' dominate SID
No matter where you went, whether it was the exhibit floor, the technical symposium, or even the special events and keynote speaker presentations, Display Week 2008 was clearly dominated by an emphasis on energy-saving, environmentally sustainable displays and photonic technologies—especially highlighting the growing appeal of organic-light-emitting-diode (OLED) displays.
Aug 1st, 2008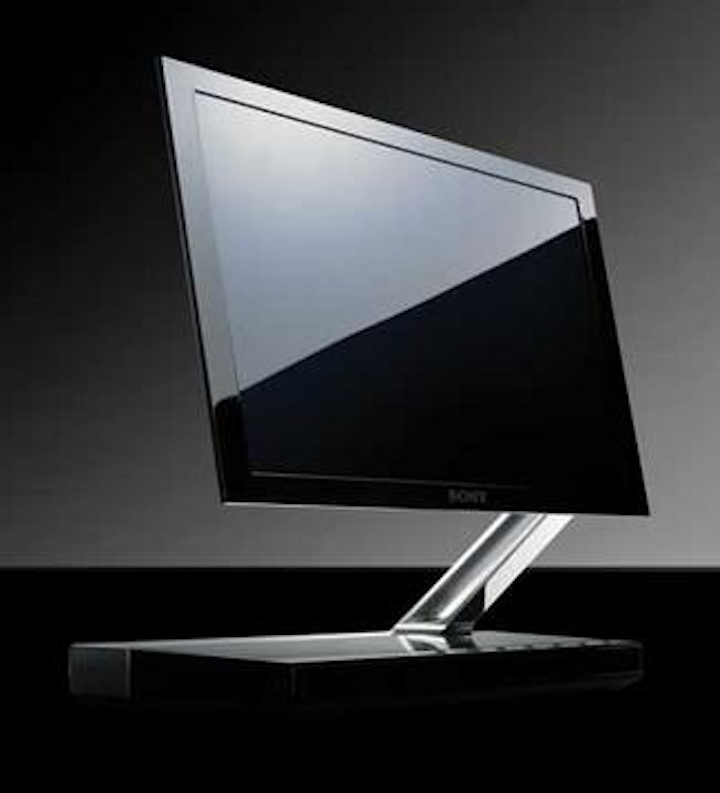 No matter where you went, whether it was the exhibit floor, the technical symposium, or even the special events and keynote speaker presentations, Display Week 2008 was clearly dominated by an emphasis on energy-saving, environmentally sustainable displays and photonic technologies—especially highlighting the growing appeal of organic-light-emitting-diode (OLED) displays.
"Display Week" is the common name for the Society for Information Display's (SID; San Jose, CA; www.sid.org) International Symposium, Seminar & Exhibition, held May 18–23 at the Los Angeles convention center. At SID 2008, the emphasis was on making displays "green." Not in the sense of color, of course, but in the desire for display manufacturers to jump on the environmentally correct bandwagon.
In the Tuesday morning plenary, which included a brief SID business meeting, keynote speaker Paul Peng Sr., vice president and general manager of the Information Technology Display Business Group at AU Optronics (AUO; Hsinchu, Taiwan), presented "The Evolution of Green Products; a production of TFT-LCD Industry." Peng emphasized the strides his company has made in responsibly manufacturing thin-film-transistor liquid-crystal-display (TFT-LCD) technologies. Peng walked the audience through AUO's goals to reduce greenhouse gas emissions and water usage by 70% per glass area, reduce display power consumption from 100 W to less than 40 W for a 32 in. display, adopt 100% usage of LEDs as backlighting and save more than 120,000 mg of mercury, and recycle all glass scrap for use as pottery and water-permeable brick, all by 2010 (using 2004 data as a starting point). The "green" statistics from AUO showed that the goals were already 60% accomplished by early 2008.
The "green" message at SID 2008 continued in the final keynote presentation by Yoshito Shiraishi, general manager in the TV Business Group at Sony (Tokyo, Japan), who described the challenges of being the first OLED TV manufacturer. Sony's XEL-1 OLED TV—the recipient of SID's 2008 Gold Award for display device of the year—is only 3 mm thick, but is still a small display (11 in. diagonal; see figure). Shiraishi compared the OLED to traditional LCD TVs, highlighting its thinness, low power consumption, emissive brightness (no backlight), high contrast, truer black appearance, and wider color gamut.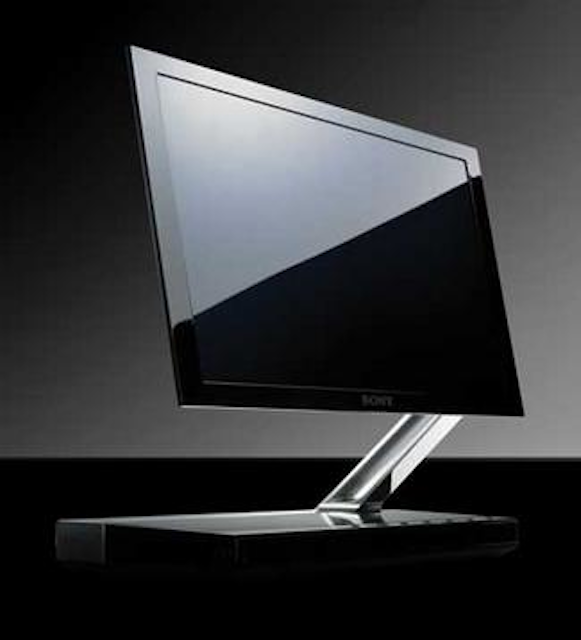 Sony's 3-mm-thick XEL-1 organic-light-emitting-diode (OLED) TV received SID's 2008 Gold Award for Display Device of the Year. While the XEL-1 may be expensive at $2500 (considering it is only 11 inches on the diagonal), OLED technology is here to stay, as it promises better picture quality, lower power consumption, and hopefully, lower prices as numerous companies enter the market and improve manufacturing capabilities.
Click here to enlarge image
null
A green exhibit
While LCDs still surpass OLED displays in volume, the word "OLED" seemed to appear throughout the SID exhibits, in terms of actual OLED displays, as well as in companies that are developing manufacturing processes to support OLED manufacture; OLED device companies and research organizations exhibiting at SID included Samsung, B&W Tek, DuPont, Eastman Kodak, ELDIM, eMagin, Epson, Fraunhofer IPMS and IOF, IGNIS, Jaco, Novaled, TDK, Toshiba, and Universal Display. "All of the LCD guys are preparing to go OLED," said Gildas Sorin, CEO of OLED maker Novaled (Dresden, Germany), who explained during a brief meeting how the better quality and lower power consumption of OLED displays, as well as the overriding fact that 70% of the LCD process applies to OLED manufacturing, will accelerate adoption of OLED technology. Sorin said that OLEDs will ultimately be cheaper to produce than LCDs, with the crossover point for smaller mobile displays being only one year out. He did note that for larger displays, however, the crossover point is hard to predict, citing Sony's OLED TV that targeted picture quality rather than low power consumption, in his opinion.
In addition to OLEDs, a host of other "green" technologies included 3M's Vikuiti brightness-enhancement optical films that lower LCD energy consumption by 30% or more, AUO's latest 46 in. eco-friendly LCD TV panel that enables power consumption savings of up to 50%, CI Lumen Industries' and Dolby's LED-backlit LCD displays with lower power consumption, Corning's "greener" version of its Gorilla Glass—a strong protective cover for displays that offers high impact and scratch resistance, Fujifilm Dimatix's inkjet technology to fabricate highly efficient solar-energy cells, and Qualcomm's mirasol displays that extend the life of batteries by mimicking the natural process that creates color in butterfly wings.
Current display trends
According to SID president Paul Drzaic, who spoke at the press breakfast, displays are a $100 billion per year business (see www.laserfocusworld.com/articles/294191), with tens of trillions of terawatt hours attributed to TV watchers alone, not to mention the use of displays on computers and cell phones—hence the desire for "green" technologies to cut display power consumption. Analyst Bob O'Donnell from IDC (Framingham, MA) added that in 2009, notebook PC displays will probably displace desktop displays, and that at the end of 2008, demand is expected to outstrip the display supply, meaning a sure rise in display prices.
O'Donnell noted several trends in the display industry, including a move from 16:10 to 16:9 format wide screens, the move to LED backlighting, higher color depths (10-bit or 12-bit), non-square LCD formats (circular, oval, curved), and an increase in touch formats for mobile devices, as well as increased demand for low-power displays due to energy concerns. The "green" energy-consumption message was echoed in a keynote presentation by Mary Lou Jepsen, founder of Pixel Qi, but better recognized as the technologist behind the "One Laptop Per Child" (OLPC; laptop.org) project. Jepsen detailed how OLPC would not have reached its November 2007 goal of mass production for its first-generation laptop (one million have shipped), had it not been for the tremendous codevelopment effort with Chi Mei to produce (in a short six-month development cycle), a display that would meet the cost and power consumption requirements of OLPC. "The future of portable computing is all about the screen" is in fact the tagline for Jepsen's new company Pixel Qi, which builds on the display success of OLPC.
As sponsor of the Wednesday morning press breakfast, Corning (Corning, NY) presented its vision for the future of glass related to the display industry. Corning sees a continued trend in increasing sizes for flat-panel-display glass manufacture; it is currently manufacturing generation-10 (Gen 10) glass that covers 100 sq ft (70% larger than Gen 8). In 2008, Corning expects LCD displays to overtake CRT, and believes that the glass will need to continually improve in terms of durability, reduced weight, scratch resistance, and improved optical qualities, as the display industry progresses. In response to these trends, Corning is continually developing new glass products, including the previously mentioned Gorilla Glass, its Jade glass with high thermal stability to handle low-temperature polysilicon (LTPS) processing, its VITA product which is a combination of Jade glass and a frit process that offers a hermetic-sealing solution for OLED manufacturers, and—furthest out on the roadmap—its single-crystal silicon on glass (SiOG), which is apparently approaching silicon-on-insulator (SOI) performance.
SID 2009 will be held from May 31 to June 5 in San Antonio, TX.
Gail Overton