Raydiance takes a new approach to ultrafast lasers
The advantages of ultrafast lasers for imaging, manipulating, and ablating tissue and other materials have been well documented.
Oct 1st, 2007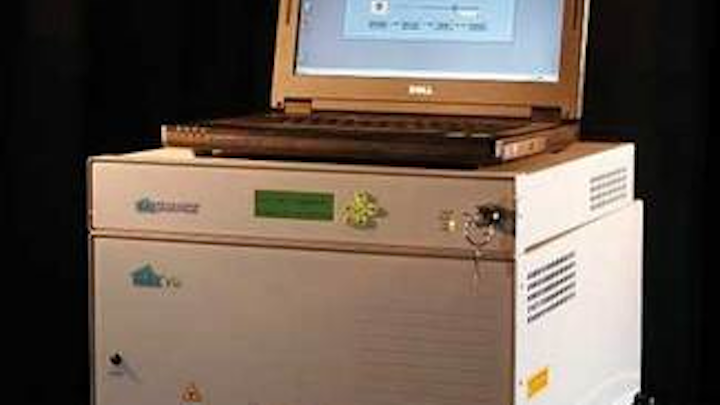 null
Kathy Kincade, Senior Editor
The advantages of ultrafast lasers for imaging, manipulating, and ablating tissue and other materials have been well documented. For nearly two decades the materials processing and biomedical research communities have been studying the use of this tunable technology for a multitude of applications, from diagnostic and therapeutic applications in ophthalmology, dentistry, cardiology, and microsurgery, to micromachining all kinds of materials in the industrial sector.
But for the most part, migrating these R&D projects from the benchtop to the bedside or shop floor has been difficult at best, given the costs involved with most ultrafast laser systems and the inherent challenges this often persnickety technology can pose for users. In fact, while femtosecond, picosecond, and nanosecond lasers offer new and exciting ways to ablate tissue or drill microscopic holes in any material with little collateral thermal damage, it is unclear how long it will be before the bulk of these applications are able to be utilized on an everyday basis.
While there are several commercial providers of ultrafast laser products-including Newport, Coherent, IMRA, Clark-MXR, Time-Bandwidth, and Lumera-a new player in this market, Raydiance (Petaluma, CA), is generating a fair amount of press and industry discussion with a unique mindset and strategy.1, 2 The company believes that its approach will enable more users to experiment with ultrafast lasers and, in the process, dramatically grow the market for this technology.
"We wanted to develop a tool that could bring a new kind of physical interaction to medical, industrial, and defense applications," said Scott Davison, president of Raydiance. "We knew we needed to drive down the costs, ensure the IT assist, and drive a lot of applications, so that is what we set out to do. We see this as a market opportunity and a way to bring disruptive technology and an enabling platform to a number of applications and industries."
Raydiance was established in 2004 by Davison and Barry Schuler, former CEO of AOL (Davison came from AOL as well); another key member of the management team is COO Michael Cumbo, former CEO of BinOptics (Ithaca, NY) and, prior to that, executive vice president and general manager of the optical components group of Coherent (Santa Clara, CA). After licensing ultrafast laser technology originally developed for the military at CREOL (Orlando, FL), Raydiance launched its first product 18 months later-a developer's toolkit called the 1552 platform, so named because the source is a 1552 nm erbium-doped fiber laser with average output power of 2.5 W, pulse energy of 5 µJ, and rep rates ranging from 1 Hz to500 kHz. The system is desktop size and built, according to Davison, more like a computer than a typical "black box" laser (see figure).
The first ultrafast-laser product from Raydiance is a desktop-size developer's toolkit called the 1552 platform, which uses a 1552 nm erbium-doped fiber laser as the source. According to the company, the system was purposely designed more like a personal computer than a conventional laser system.
Click here to enlarge image
"We architected this as a computer first and an optical device second," he said. "The big challenge was to deeply integrate the computing technology into the box to ensure that the laser runs effectively and continuously, 12 hours a day, with 24/7 tech support. So this is an Internet-protocol device with continuous online feedback from the product to tech support. There are built-in sensors that tell us exactly what is going on in every part of the device. And we made it versatile, with simple controls for controlling all aspects of the laser. As a computing guy, it seems strange that being able to control rep rate and peak energy on the fly is a revolutionary idea-although when you get down to building one of these things, I now see why. We didn't fully realize how hard and expensive it can be to build this technology."
According to Greg Spooner, the company's principal applications engineer, several things set their technology platform apart from other ultrafast laser systems. One of the key differences is the use of a fiber laser instead of the conventional Ti:sapphire laser used in most ultrafast systems. Raydiance makes its own laser modules, but buys some subsystems, such as erbium-doped amplifiers. In fact, according to Spooner, part of the their strategy is to leverage the telecom infrastructure and capacity and all the hard work done in the 1990s and 2000s in optical telecom, because a system architecture that depends on an existing technology set allows expansion into much higher-volume directions.
"There are growing numbers of fiber-laser-based systems for ultrashort-pulse applications, although they are not fully turnkey or are in the oscillator class," Spooner said. "With Ti:sapphire systems, you have to buy a crystal, then a mount, then a mirror, and so on, and there is no scalability there. An all-fiber, telecom architecture was built upon the idea of trying to scale up. We have a completely integrated system that is capable of large energies and able to do things like micromachining. We buy custom and off-the-shelf subsystems from the telecom world that are either a starter laser or are parts of the amplifier chain and then string them together with our own laser design and custom solution. That is part of our 'secret sauce.'"
Subscribers versus buyers
What also makes Raydiance's approach unique is that the company does not sell the laser in the conventional manner; rather, taking lessons learned from their days at AOL, Davison and Schuler decided to offer customers a subscription service to the technology, at a cost of about $20,000 per month (plus an initial subscription fee). For this, users get not only a laser but 24/7 service and support, shipping, installation, training, and free upgrades. The idea, says Davison, is to encourage people who wouldn't normally buy or use an ultrafast laser to experiment with the technology.
"We are trying to change the thinking about what it costs to play in this market and reach people who have not been part of the ultrafast market-not just physicists, but engineers, biologists, and so forth," he said.
Raydiance claims to have around 15 systems installed and is partnering with several research labs, universities, and medical facilities, including Johns Hopkins, where researchers are studying applications in ophthalmology, dentistry, light therapy, and gene transfection. The company has also entered into a two-year cooperative research and development agreement with the FDA whereby the agency will study ultrashort-pulse lasers for tissue interactions in medical applications. In the meantime, Raydiance is working to create "smaller, better, faster, cheaper" ultrafast laser systems, according to Spooner, designed to meet what the company anticipates will be an emerging market demand.
"We feel optics and photonics is due to become a major player and to be one of the five or six enabling technologies over the next few years," Davison said. "IT and photonics are merging, and true platforms that are going to drive innovation in the next few years are going to come from these integrated products."
REFERENCES
1. "Is This Really The Next Big Thing?" Business Week, June 4, 2007.
2. D. Dumas, "Raydiance Labs: The Long Story of a Short Pulse," Wired, June 22, 2007.
Editor's note: Scott Davison will be a featured speaker at the Laser and Photonics Marketplace Seminar in January 2008 at Photonics West. For more information, visit www.marketplaceseminar.com.
Tell us what you think about this article. Send an e-mail to LFWFeedback@pennwell.com.