Diode lasers open doors in new markets
Mar 1st, 2002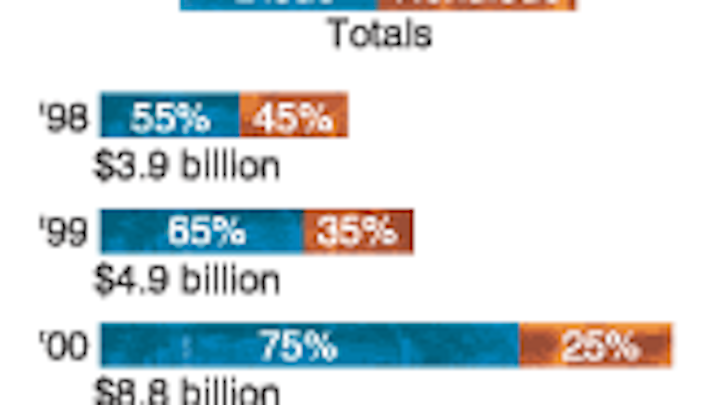 by Kathy Kincade, Contributing Editor
Robert V. Steele
While economists wait for the recession to end, the laser industry is already preparing for the next wave of applications.
Editors note: This feature is adapted from the two-part Laser Focus World Annual Review and Forecast of the Laser Marketplace, originally published in January and February 2002. The original articles include substantial quantitative information about the markets discussed here, as well as a more extensive review of 2001.
Even during the best of times, economic growth forecasts should be viewed with a healthy dose of skepticism. So, given that we are entering 2002 with several of the world's major economies in recession, any signs that a more upbeat state of affairs might be on the horizon should probably be treated much like a mirage. But signs there are.
The Organization of Economic Cooperation and Development (OECD), for example, stated in November 2001 that, after slowing to a virtual standstill in 2001, the global economy would recover strongly late in 2002. And other analysts are predicting that this recession could be one of the shortest and mildest in history.
Not surprisingly, the OECD sees U.S. industry and government policy as critical to helping the rest of the world emerge from its economic doldrums. And as the shock of the September 11 terrorist attacks gradually wears off, there is a growing sense that the U.S. is merely in the downside of a typical business/technology cycle that will allow many firms to regroup and better prepare for the next surge in demand.
Other observers suggest that we are about to crest a new wave of technological innovation that will pull us out of the current economic slump more quickly and leave us better positioned to meet the next growth spurt in the technology sector. Convinced that we cannot depend solely on conventional market stimulators (such as low interest rates) to turn things around, they say we must also invent our way out of it.
Click here to enlarge image
This trend bodes well for the laser and optoelectronics industry and the multiple markets it serves. Although much depends upon the telecommunications and semiconductor market sectors, which are expected to remain weak for at least another 12 to 18 months, the laser and optoelectronics markets should not flounder during this slump, and several bright spots do exist. Foremost among them are the traditional scientific, printing, and defense markets, and the emerging micromachining and biomedical markets. In addition, several mature laser markets, including industrial and medical, are expected to experience a rebound in 2002. Overall, we expect the global market for lasers to increase slightly in 2002, reaching $6.2 billion, an increase of 11% over 2001 (see Fig. 1).
Diversity aids industrial market
At the end of November 2001, the U.S. government finally acknowledged what the machine-tool industry had known for a year: the country is in recession, officially as of March 2001. Order cancellations, project delays, and a lethargic buying attitude came as a surprise to some; but many others had been expecting a decline in sales for the past two years. After nine years of prosperity, a slowing of capital equipment spending was bound to happen.
The only bright spot through the third quarter of 2001 was Europe, and here too sales began a downward drift as the year ended. Even so, worldwide industrial-laser sales finished the year in better shape than expected, with unit sales and revenues about the same as 2000.
For 2002, system suppliers are projecting a 5% gain in sales, mainly in the second half of the year. Sales should remain stable in aerospace, power and energy (such as land-based turbines), and the manufacture of medical and dental instruments. In addition, with the increasing competition for customers, the coming year should see a buyers' market for metal processing equipment. New sealed-CO2 laser wavelengths (9.3 μm rather than 10.6 μm) make possible the processing of some nonmetal materials that previously could not be processed with a laser and this is expected to open up new opportunities in this sector (see Fig. 2).
FIGURE 2. New sealed CO2 laser wavelengths are expected to open new markets in metals materials processing.
Click here to enlarge image
In fact, nonmetals micromachining is moving out of the process-development phase and emerging as a strong growth market. In addition to the new CO2 laser wavelengths, the increasing viability of certain ultraviolet lasers is making it possible to machine parts with feature sizes in the 10- to 100-μm range with micron or submicron accuracy: these items include ink-jet printer heads, fuel injectors, circuit boards, and disk-drive microwells.
World events spur defense
The defense industry is likely to prove healthier in the coming year than it has for some time. The attacks on the World Trade Center and the Pentagon have prompted many governments to shift their position on military spending and commit more resources to defense, with particular emphasis on optoelectronics. Rather than developing primarily defensive weapons, the military is now looking to utilize and deploy advanced software and electronics technologies as part of a more targeted seek-and-destroy approach to warfare (see Fig. 3). The U.S. Congress passed a $360 billion defense budget for fiscal 2002, a 16% increase over the 2001 budget, and some analysts predict that the defense budget will reach $500 billion by 2005.
FIGURE 3. An emphasis on defense following the terrorist attacks of September 11, 2001, is expected to generate a surge in spending in the military sector.
Click here to enlarge image
The expected surge in spending will differ in many ways from traditional military build-ups and boost employment for software and electronic engineers and other high-tech workers, with more resources going toward the development of weapons systems that use sensors, low-power lasers, optical scanners, and thermal imagers. While the general consensus is that primarily small companies in the laser and optoelectronics industry will benefit the most from this shift, major players such as TRW, Boeing, and Lockheed Martin are also expected to see a positive impact on their bottom lines. Most firms, however, are currently reluctant to discuss the specifics of their defense-related business.
What about telecom?
For telecom diode lasers, there are a few bright spots in the market. According to market research firm KMI (Providence, RI), carriers have continued to add capacity to their existing fiberoptic networks by adding OC-48 (2.5 Gbit/s) and OC-192 (10 Gbit/s) line cards to previously installed DWDM terminals.
When new DWDM systems are installed, the terminals at the end of each point-to-point fiber link are typically not fully populated with all the line cards that the terminals would utilize at full capacity (each line card provides one wavelength in a DWDM system). Line cards are added later to increase capacity as demand grows.
This "after market" for line cards has been a positive development for long-haul transmission diode lasers. Its effect has helped sustain demand for the diode lasers used in short-reach links that connect DWDM terminals to other systems such as SONET equipment, and switching and routing equipment.
Overall, the market for telecom diode lasers, including both transmission lasers and pump lasers for optical amplifiers, decreased 40% in 2001, from $4.17 billion in 2000 to $2.52 billion. The decrease was not as severe for transmission lasers as for pump lasers, however, because the market decline for transmission lasers was moderated by the continued growth in DWDM line card installation. The resulting year-to-year change in transmission laser sales was -26%.
The outlook for 2002 is cautiously optimistic, with a modest revenue growth of 16% to $2.91 billion forecast for all telecom diode lasers. This reflects continuing growth in the DWDM line card market for transmission lasers, but a mixed bag for pump lasers, with 980- and 1480-nm lasers increasing significantly in unit terms, although average prices are falling for 980-nm lasers as some undersea system builds are completed.
Another growth trend is the use of diode lasers in transceiver modules for high-speed data communications networks, particularly Gigabit Ethernet and Fibre Channel applications. The two types of diode lasers involved are 850-nm vertical-cavity surface-emitting lasers (VCSELs) and conventional 1300-nm edge-emitting lasers. The VCSEL-based transceivers are used with multimode fiber for shorter distance (less than 300 m) requirements. The 1300-nm lasers are used with both multimode and single-mode fiber for longer distances, from 300 m up to 10 km.
Another positive note is the use of 850-nm VCSEL arrays in parallel optical interconnects, which showed sharp gains in 2001. These devices are used primarily in short-reach interconnects between telecommunications equipment and in optical backplanes for large switches and routers. The Optical Internetworking Forum (OIF) has now approved standards for very short-reach (VSR) interconnection of communications equipment at 10 Gbit/s, which is helping to spur the market for VSR parallel interconnects (large-scale growth is not expected until later this year). Similarly, most of the parallel interconnects shipped to date for backplanes have been for development programs, but these programs began to use substantial quantities of interconnects in 2001. Many of the switch and router products in which these interconnects will be used will begin commercial rollout in 2002, and a major expansion of the parallel interconnect market is expected then.
Diode lasers fuel medical growth
Diode lasers are changing the landscape of the medical-laser market, in terms of product development, new market opportunities, and industry consolidation. While the overall medical-laser systems market has matured to single-digit revenue growth and, in some cases, declines, sales of diode-laser systems for surgery, hair removal, and ophthalmology all increased in 2001. In hair removal, revenues grew from $90 million in 2000 to $99 million in 2001, while sales of diode-laser systems for ophthalmic applications rose from $48 million in 2000 to $52 million in 2001. This trend is expected to continue into 2002, with sales of diode lasers for hair removal growing to $113 million and sales for ophthalmology increasing to $56 million.
The diode laser is also having a positive impact on the photodynamic therapy (PDT) market, increasing the modality's use considerably by giving more physicians access to lower cost, more compact lasers that can be used for office-based procedures, not just in the surgical suite. Diode lasers also are helping the dental market embrace laser technology with renewed vigor, and many analysts see dentistry as the next big consumer market, especially as patients begin to buy into the notion of truly painless dentistry. Dental and other office-based procedures helped push sales of diode-laser systems for surgical applications (which includes dentistry) to $21 million in 2001, up from $17 million in 2000, and should continue at the same pace into 2002.
Looking ahead, laser-based devices—many of them utilizing diode and diode-pumped lasers—for the diagnosis and treatment of age-related macular degeneration, glaucoma, cancer, chronic skin conditions, dentistry, and other large-scale consumer applications hold the strongest near-term promise. Thanks to these emerging applications and the anticipated economic recovery, we expect the medical-laser market to bounce back in 2002, with revenues topping $2.2 billion, up from $2.0 billion in 2001.
FIGURE 4. The increasing use of blue- and green-output solid-state lasers is one of the bright spots expected in the laser market in 2002.
Click here to enlarge image
Other bright spots
Other markets where we expect to see some positive returns over the next 12 to 18 months include:
Image recording, which saw a huge downturn in 2000 and early 2001. Now most of the major systems players in the market are re-engineering and retooling their print heads in favor of lasers, particular high-power infrared or low-power violet-output diode lasers. Computer-to-plate (CTP) is starting to take over from conventional platemaking, which means more CTP systems in print shops and fewer color separation systems in specialist trade shops. Market penetration is still fairly low, but growing rapidly. Increasingly digital workflows and the cost of plate materials are key factors in the market growth.
Biomedical instrumentation. While the instrumentation market overall is experiencing a downturn, biomedical instrumentation saw an 82% jump in unit sales in 2001, four times the 24% growth we had forecast. We expect this trend to continue into 2002, although at a more modest pace. As has been the case in recent years, companies offering laser-based instrumentation are turning to the life-sciences market, according to Philip Greenfield, managing editor of Instrumenta (formerly Analytical Instrument Industry Report) and Genomika (Surrey, England). This trend is, in turn, creating new growth opportunities for bioanalytical instrumentation, such as the increasing use of blue- (488 nm) and green-output solid-state lasers instead of low-power ion lasers and an increase in the use of diode-pumped and ultrafast lasers (see Fig. 4).
Basic research. While the more glamorous telecom and semiconductor market sectors have hit hard times, basic research has proven to be surprisingly robust over the last 12 months. Our restated 2001 numbers show a 21% increase in sales compared to 2000 and several laser companies report that their scientific business has actually helped them stay afloat during the high-tech downturn. Most of the increase for 2001 comes from product-mix changes involving solid-state and ion lasers, with a resulting increase in average sales price. Diode and diode-pumped lasers continue to make significant inroads in this market, and although revenue growth of diode-pumped systems is not up significantly over 2000, key laser types such as ultrafast systems show a healthy 15% increase into 2002.
New technologies play new role
Technology continues to play a significant role in creating new market opportunities as well, particularly in the diode-laser field. The shift away from lamp pumping of solid-state lasers toward diode pumping, for example, continues to gain momentum, increasing its impact on markets ranging from basic research to materials processing. Many laser suppliers believe this will be a growth opportunity for several years to come, especially with the increasing output power and reliability and falling cost of diode lasers and diode-laser production. These dynamics also are having a growing impact on the market for nondiode lasers. New wavelengths, more power, and lower cost mean diode lasers can address markets previously inaccessible to them.
ROBERT V. STEELE is director of optoelectronics at Strategies Unlimited, 201 San Antonio Circle, Suite 205, Mountain View, CA 94040; e-mail: rsteele@strategies-u.com.