LED output doesn't dwindle
Light-emitting diodes (LEDs) intended for general illumination have a lot going for them—they are rugged, they produce high-quality white light, and they last.
Sep 1st, 2002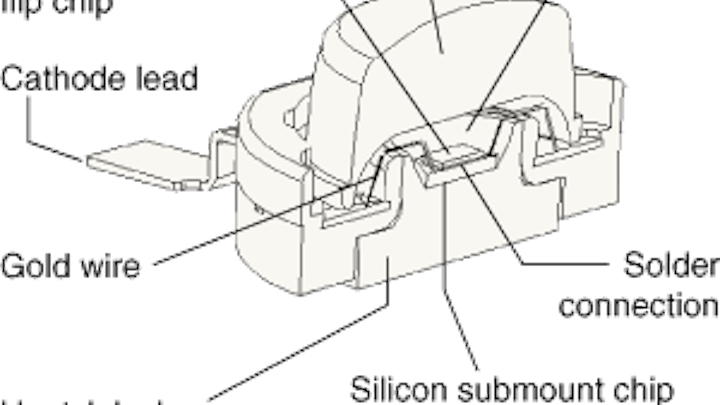 Light-emitting diodes (LEDs) intended for general illumination have a lot going for them—they are rugged, they produce high-quality white light, and they last. But to the everyday people who may one day light their houses with LEDs, the lifetime of a light source means more than just the number of hours it shines before it winks out for good. Although today's white-light-emitting LEDs are quite reliable, lasting for many thousands of hours, they are also just as reliably fade in output over time.
Engineers at Lumileds (San Jose, CA) have developed LEDs that fade less over time (a characteristic known in the industry as high "lumen maintenance"). They have improved their devices so that they now produce 90% of their original output after 9000 h—in contrast to 40% after 9000 h for conventional LEDs. The new emitters are projected to maintain 70% of their original output after 50,000 h.
New package
Back when visible LEDs were used as indicator lights and little else, they were molded into bullet-shaped epoxy packages. Even now, after the advent of high-brightness gallium nitride-based blue- and white-emitting LEDs, the epoxy bullet still exists in the form of the standard 5-mm package. But, in these devices, the epoxy encapsulant is affected by the ultraviolet or blue output of the LED chip, with the result that the epoxy yellows over time, according to Doug Silkwood of Lumileds. Replacing the plastic bullet with a design that encapsulates the chip in nonyellowing silicone gel eliminates this problem (see figure). This change, along with improvements in the semiconductor chip itself, is what produced the higher performance of the Lumileds devices.
A long-life light-emitting diode (LED) contains an LED chip encapsulated in nonyellowing silicone gel (top). The LED is mounted in a star-shaped package containing solder pads (inset). White-light-emitting LEDs such as these are beginning to find use in specialty applications such as museum lighting (bottom).
Click here to enlarge image
Another shortcoming of the standard 5-mm package is its variation in emitted color as a function of angle. In one common design, a blue-emitting LED chip is combined with a yellow-emitting phosphor to create an approximation of white light. The LED package is fabricated by mixing the phosphor powder into the epoxy encapsulant before it solidifies. As a result of variations in powder concentration and in path length vs. angle, some angles produce yellower light than others. Although the Lumileds design also combines a blue-emitting chip with a yellow phosphor, the phosphor is applied directly to the chip as a coating "almost like electroplating," says Silkwood. The result is uniform color over a large angular range.
Click here to enlarge image
The push in white-light LED development is toward better lumen maintenance, more light output, and higher efficiency. A typical incandescent lamp has an efficiency of 15 lumens/W; Lumileds white-light LEDs now operate at 20 to 25 lumens/W. "We're looking to make white-light LEDs two to three times more efficient than incandescent lamps in three to five years," says Silkwood.
Click here to enlarge image
Flashlights are the first mainstream use of the Lumileds device; specialty architectural lighting will follow. Eight Lumileds white-light LEDs were assembled to make an emitter with an output close to that of an automobile headlamp; optimization of optics and the addition of another LED or two would create a fully performing solid-state headlamp, says Silkwood. Automobile makers are already looking into the technology.