CONFERENCE PREVIEW: OPTOmism to emphasize 'green' growth
The organizers of the inaugural OPTOmism conference (www.optomism.com) weren't kidding when they developed its tagline: "Powering the green revolution through photonics."
Apr 1st, 2009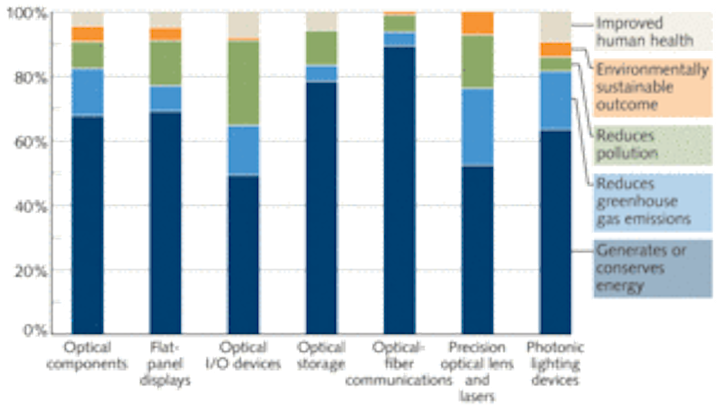 The organizers of the inaugural OPTOmism conference (www.optomism.com) weren't kidding when they developed its tagline: "Powering the green revolution through photonics." We all know that photonics is playing an important role in driving the energy-efficient and environmentally responsible technologies of tomorrow, but few are probably aware that Green Photonics–a term trademarked by the Optoelectronics Industry Development Association (OIDA; Washington, D.C.)–is estimated to represent approximately 53% of the total global market for optoelectronic components in the year 2020, or $261 billion of the global $493 billion forecast.1
"Our calculations estimate that the Green Photonics market comprised about 8.1% of the $356 billion dollar global market for optoelectronic components in 2008, or $28.9 billion dollars," said Michael Lebby , OIDA president and CEO. "But even more incredibly, the Green Photonics market segment will grow at a 19.6% compound annual growth rate (CAGR) while the overall optoelectronic component market is estimated to grow at only 3.1% CAGR between 2009 and 2020."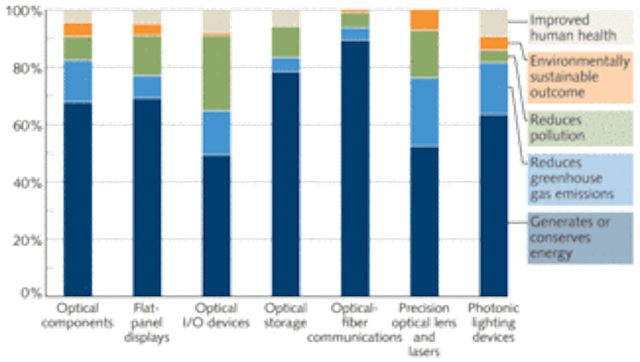 FIGURE 1. Major optoelectronic-component categories can be further subdivided on the basis of five metrics that define what constitutes Green Photonics technology. (Courtesy of the Optoelectronics Industry Development Association)
Click here to enlarge image
Lebby emphasizes that an important role for OIDA has been to define the metrics for what constitutes a green technology (see Fig. 1). "In defining our forecasts, green optoelectronic components had to (1) generate or conserve electricity, (2) reduce greenhouse gases, (3) reduce pollution, (4) have a sustainable outcome, or (5) improve human health." Lebby says that many will debate this model and the forecasts, but few will disagree that as our economy struggles and certain photonics sectors experience negative growth, the Green Photonics segment will be a bright spot in a generally barren landscape.
More than a "topical" conference
The OPTOmism conference, presented by OIDA, begins on May 18 in Santa Clara, CA, with an Executive and Investor Forum, and continues May 19 through 20 with a comprehensive Technical Conference. Laser Focus World is the exclusive media sponsor for the event. Unlike "topical" conferences that may spend a day or two on a combination of serial business- and technology-oriented presentations, OPTOmism spends an entire day on the business and financial aspects of the Green Photonics market, and then spends two full days on a series of parallel conference tracks that cover not only solar energy and solid-state lighting, but also process control, oil-field services, display technologies, environmental monitoring, communications and information technology, and other lesser-known and emerging Green Photonics.
"OIDA is getting attention from the European Commission and the Japanese trade association OITDA in light of the high-level government, industrial, and venture-capital speakers we've gathered for OPTOmism," said Lebby. The conference brings together 30 speakers in the Executive and Investor Forum and 70 speakers in the Technical Conference, including keynotes from industry heavyweights Arno Penzias, Nobel Laureate and partner at New Enterprise Associates (NEA; Menlo Park, CA); Greg Kats, managing director for renewable-energy investment firm Good Energies (New York, NY); Rick Duke, director of the Center for Market Innovation at the National Resources Defense Council (NRDC; New York, NY); and schedule permitting, Steven Chu, Nobel Laureate and newly named U.S. Energy Secretary. Regarding whether Chu will speak at OPTOmism, "We are in dialog with Chu's administrative office and as of now, he has not declined," said Lebby.
Solar, lighting, and much more
"While my 'greenness' is dominated by solar, I was impressed with the diligence of the conference organizers in gathering together subcommittees in each of the technical tracks to plan the OPTOmism presentations," said Finlay Colville, director of marketing-solar at Coherent (Santa-Clara, CA). "As an organizing committee member helping to determine topics for the Solar track, the quality and quantity of paper submissions was so good that we essentially were able to conduct a 'peer-reviewed' lineup of presentations." There are two solar sessions at OPTOmism featuring eight presentations. The first session focuses mainly on lasers in solar and includes presentations from leading suppliers of laser-based equipment, with a special emphasis on new developments in components, subsystems, and tooling processes. The second session deals with metrology and analytical components used in production lines for assessing optical features and quality of cells and panels.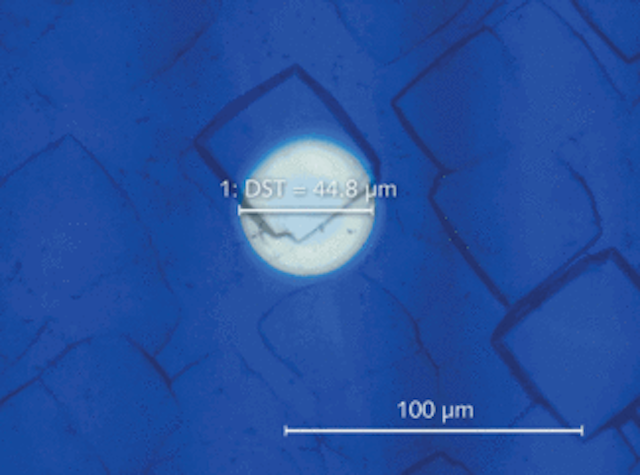 FIGURE 2. Picosecond lasers are now being used for selective removal of thin-film layers on crystalline silicon solar cells. This laser-ablation spot is shown against a solar-cell structure. (Courtesy of Coherent)
Click here to enlarge image
"Although there is a lot of material being covered in a short time, the discrete tracks of the conference essentially run in parallel," said Colville, who will talk about the use of lasers in silicon and thin-film solar-cell processing (see Fig. 2). "The economy is putting a pause on the tremendous growth of solar-panel manufacturing capacity worldwide," said Colville. "Excess supply of silicon cells going into 2009 will reduce historical 40% to 60% annual growths to the tune of 10%–an oversupply situation that is already resulting in a drop in panel prices that will also weed out manufacturers who cannot tolerate a margin upset." Although this effect will ripple down the supply chain, resulting in a decline in sales of capital equipment for solar-cell fabrication (including lasers), Colville sees the next 12 to 18 months as a critical time for companies involved in the solar-cell market because this is the period in which resources will be devoted to R&D and new technology development.
Beyond solar photovoltaics, OPTOmism will venture into solid-state lighting, as well as spectroscopy, sensing, and information-technology applications. "An important development in Green Photonics is the 'solid-state-ification' of light sources and free-space optical systems into energy-efficient integrated photonic devices, such as LEDs for illumination; integrated optical circuits for datacom, sensing, and telecom applications; and novel sources such as integrated RGB lasers for miniaturized pico-projector applications in cell-phones," says Willem Hoving, CEO of integrated photonics company XiO Photonics (Enschede, The Netherlands). "The availability of a generic industrial platform for photonic integration, similar to and compatible with electronic integrated circuits, is a much-needed asset."
"In 2004 the European Network of Excellence on Photonic Integrated Components and Circuits, ePIXnet, started an R&D program with a healthy mix of academic and industrial partners that defined a limited set of photonic-integration platforms: an indium-phosphide-based integration technology offering the highest degree of functionality; silicon-photonics technology offering much of the functionality but compatible with the existing CMOS foundry infrastructure; and a CMOS-compatible dielectric-waveguide technology with hybrid integration of active components–cheaper to develop and suitable for wavelengths from ultraviolet through infrared," says Hoving. "At OPTOmism, such platform approaches will be discussed and debated, hopefully taking us down a 'green road' that makes photonic subsystems and integrated photonic-electronic devices cheap and ubiquitous."

–Gail Overton
REFERENCE
Forecast data source: Optoelectronics Development Industry Association (OIDA).