Integrated organic LEDs make multicolor display
One key to flat, flexible, full-color displays may be sturdy organic light-emitting diodes (OLEDs). Current technology prevents different-colored LEDs from being easily integrated?when the colors are laid down sequentially, the processing required to fabricate one color of the LED degrades the performance of those constructed earlier. Researchers at Princeton University (Princeton, NJ) and the University of Southern California (USC; Los Angeles, CA) have overcome this problem, and the Princeton
Feb 1st, 1997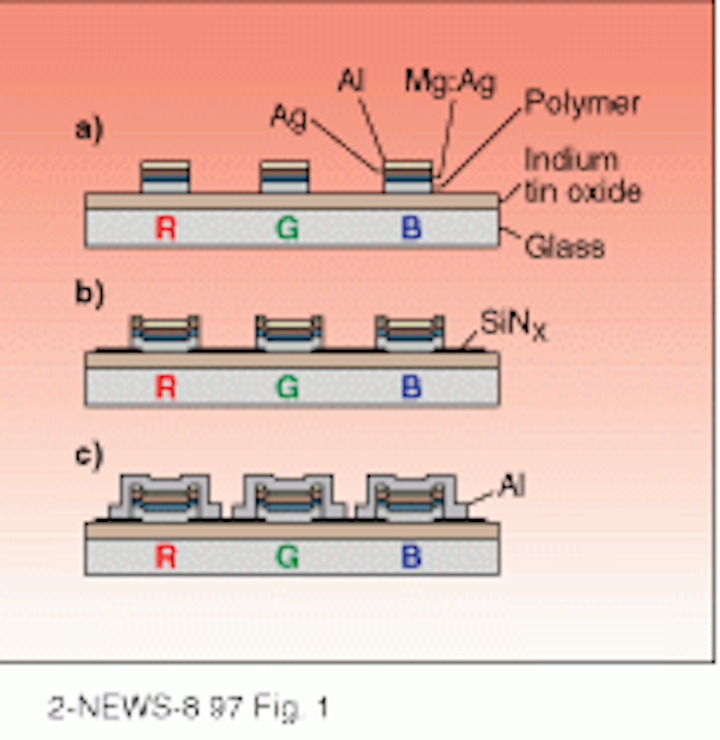 Integrated organic LEDs make multicolor display
Sunny Bains
One key to flat, flexible, full-color displays may be sturdy organic light-emitting diodes (OLEDs). Current technology prevents different-colored LEDs from being easily integrated?when the colors are laid down sequentially, the processing required to fabricate one color of the LED degrades the performance of those constructed earlier. Researchers at Princeton University (Princeton, NJ) and the University of Southern California (USC; Los Angeles, CA) have overcome this problem, and the Princeton grou¥also has demonstrated that top-emitting LEDs can work on entirely flexible surfaces?such as a thin metal foil. Continued success in these areas could make it possible to commercialize this type of emissive display.
Both conventional and organic LED technologies have moved forward significantly in the past few years, but large arrays of red-green-blue (RGB) emitters have not been forthcoming for low-power applications. According to researchers, integration of different colors was the problem for OLEDs. Possible but difficult options to address this problem included mounting RGB filters on an array of white-emitting LEDs, using upconversion phosphors on an array of blue-emitting LEDs, or adjusting the emission bands of LEDs with microcavities in another uniform array. The simplest method of producing RGB-emitting arrays?fabricating devices optimized for each different color on a single substrate?did not work because finished devices of one color were being eaten away by the chemistry needed to fabricate the next color.
Doped polymers in OLEDs were unprotected so that any solvent used could get at the material through its edge. The Princeton grou¥came u¥with two approaches to address this problem. First they used a patterned insulating layer on to¥of the transparent electrode to mask off the extremities of the device from the electric field. This produced a buffer area so that, even if the edges degraded, the active area would be unaffected. Introduction of the insulating layer, however, allowed a further design improvement. A protective layer of aluminum could now be deposited over the entire device without any risk of a short circuit, thus making it immune to further processing and less sensitive to environmental conditions (see Fig. 1).
Researchers have tested OfreshO devices against LEDs that have experienced further processing, and the aluminum overcoat has apparently protected them.1 Also, the orange, green, and blue emissions are more or less equal in electroluminescent intensity, and the current density and brightness vary similarly, as a function of voltage, for each color (see Fig. 2).
Organic LEDs on foil
Another innovation reported by the Princeton team is the fabrication of organic LEDs driven by amorphous-silicon thin-film transistors (a-Si TFTs) on foil. The LEDs are directly deposited on one of the TFT contacts, with a semi-transparent silver film as the to¥electrode. This top-emission structure is not yet very efficient. Device quantum efficiency is about 0.01% as compared to 1% for conventional bottom emitters. The efficiency is lower because a much thicker polymer layer is needed to compensate for the roughness of the metal surface than would normally be required for glass. In practical terms, this means the devices require relatively large switching voltages. Nevertheless, initial displays have been shown to be unbreakable?no change in performance after a 30-ft dro¥onto concrete?and a new generation of optimized devices is expected to be considerably more energy-efficient.
SUNNY BAINS is a technical journalist based in Edinburgh, Scotland.
REFERENCE
1. C. C. Wu et al., Appl. Phys. Lett. 69(21), 3117 (18 Nov. 1996).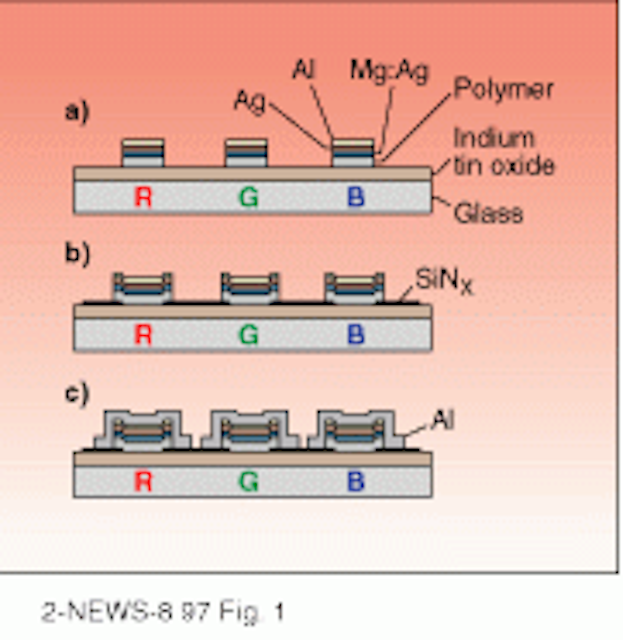 Click here to enlarge image
FIGURE 1. Multiple-color LED arrays can be fabricated sequentially as uniform arrays on the same substrate. Device edges that are left unprotected, however, can degrade performance (a) but an inactive buffer (b) or a metal overcoat (c) eliminates this problem.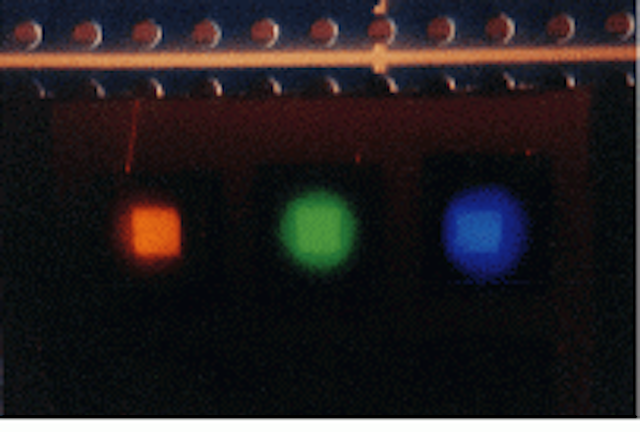 Click here to enlarge image
FIGURE 2. Orange-, green-, and blue-emitting LEDs with a 2 2-mm active area exhibit brightnesses of approximately 100, 100, and
60 cd/m2, respectively.