Improving technologies showcased at SID 97
boston, ma--Last May, the Hynes Convention Center in Boston was the venue for the annual Society for Information Display (SID) International Symposium, Seminar, and Exhibition. This premier event demonstrated that several display types, such as plasma and miniature displays, are maturing rapidly, while the dominant liquid-crystal display (LCD) is expanding applications and improving performance (see related story on p. 42). As a result, new product opportunities are emerging for flat-panel displ
Jul 1st, 1997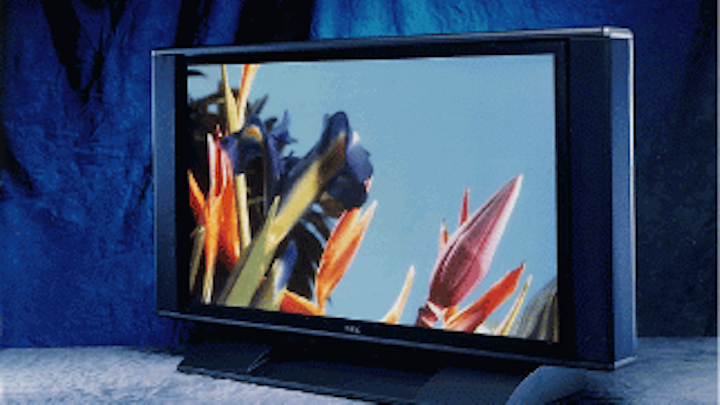 Improving technologies showcased at SID 97
Chris Chinnock
boston, ma--Last May, the Hynes Convention Center in Boston was the venue for the annual Society for Information Display (SID) International Symposium, Seminar, and Exhibition. This premier event demonstrated that several display types, such as plasma and miniature displays, are maturing rapidly, while the dominant liquid-crystal display (LCD) is expanding applications and improving performance (see related story on p. 42). As a result, new product opportunities are emerging for flat-panel displays such as deskto¥PC monitors, wall-mounted TVs, and hand-held information devices.
Information Display editor Ken Werner says, "SID attendees are showing interest beyond traditional display technology to include more understanding of the system-design aspects associated with using flat panels." As an example, he pointed to new vendors such as Chips & Technologies (San Jose, CA), which showed its HiQColor and HiQVideo chi¥sets, and Genesis Microchi¥(Markham, Ont., Canada), which showed its gmZ1 display controller. These controllers improve colors, graphics, and video performance. Vivid Semiconductor (Chandler, AZ) showed a new line of column drivers that reduce power consumption compared to competitive products.
Liquid-crystal displays are also getting bigger. NEC (Mountain View, CA), Samsung (San Jose, CA), and Shar¥(Camas, WA), for example, were show- ing active-matrix LCDs in the 20 ¥ 21-in.-diagonal range. Both the NEC and Samsung displays sported a huge 1600 ¥ 1200-pixel format (UXGA).
Shar¥also showed a 20.1-in. supertwist nematic (STN) display that can potentially be integrated into a deskto¥monitor in the $2000 range. In fact, almost all vendors showed displays for deskto¥monitors that are 12.1 in. (diagonal) and larger. Some firms are even predicting that a 5% share of the 80 million-unit cathode-ray-tube monitor market is possible within a year.
Updated techniques
Multiline addressing techniques showed big strides this year. This technology aims to improve visual performance in STN displays by optimizing the way pixels are updated in the display. The Shar䂀.1-in. High Contrast Addressing panel was particularly impressive with near thin-film-transistor (TFT) visual performance at a 30% price premium over conventional STN panels. Hitachi (Norcross, GA) and Optrix (Plymouth, MI) also showed multiline addressing products. While Hitachi`s Super Clear display was quite good-looking, Optrix showed video material that was blurry and had colors that were not as crisp.
Plasma displays are an example of a technology that is maturing to the point where a mass market should soon develop. Companies such as Fujitsu, NEC, Matsushita, and Mitsubishi, all from Japan, are gearing u¥to supply panels in the 33-55-in. range for entertainment or group-information applications (see photo on p. 34). Thus, QFTV (Foster City, CA), one of Fujitsu`s system integrators, has packaged a 42-in., 16:9 aspect ratio display as a hang-on-the-wall TV. Though still priced at about $15,000, it is available at Hammacher Schlemmer in New York City.
These plasma displays have excellent color fidelity, good luminance, and fast response. While there are still a few remaining visual artifacts, only experts are likely to see them. With several mass-production factories coming on-line this year, 1998 should see substantial price reductions. In addition, vendors such as Thomson Tubes Electroniques (Velizy, France) and Photonics Systems (Northwood, OH) are offering plasma displays for the high-end workstation market that offer tighter pixel pitches but lower brightness.
The hot news with field-emission displays (FEDs) is a 10-in. prototype shown by Canon (Kanagawa, Japan). This device features a surface conduction electron emitter that operates on a principle different from most other FEDs. By passing current across a "microfracture" between two electrodes on the same substrate, electrons can be accelerated toward an anode plate that contains color phosphors. The prototype display showed fairly good uniformity in brightness and color definition.
The technology is impressive because simple screen-printing techniques can be used to fabricate the electrodes and structure of the device--a clear advantage over micron- or submicron-sized cone emitters, which must be lithographically or interferometrically formed in other FEDs. Nonetheless, many observers voiced uncertainty that Canon could successfully commercialize this technology given its poor track record with other display technologies.
Development of miniature display technologies is also moving well. Kopin (Taunton, MA) unveiled a 0.24-in., 1/4 VGA (320 ¥ 240) display that has very high pixel pitch. Motorola (Tempe, AZ) discussed its VirtuoVue display, which features 34,000 amber LEDs in a two-dimensional array, while Displaytech (Longmont, CO) demonstrated a 0.4-in. VGA display. Head-mounted applications are still a viable application area, but most firms are now looking to personal information appliances as the main uses of these devices.
CHRIS CHINNOCK is a technical writer based in Norwalk, CT 06851.
Click here to enlarge image
New 42-in. plasma display features 16:9 aspect ratio, 16.7 million colors, and a brightness of 350 cd/m2.