DIODE-PUMPED SOLID-STATE LASERS: Laser dazzlers are deployed
Nonlethal laser weapons are going big time. After testing green laser "dazzlers" at checkpoints in Afghanistan and Iraq, the US Army in November 2011 ordered thousands more "Green Laser Interdiction Systems" for deployment, with plans to buy more in the next two years.
Mar 1st, 2012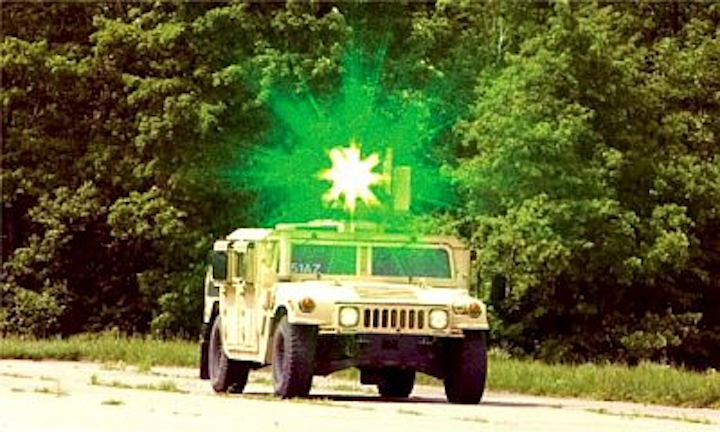 Nonlethal laser weapons are going big time. After testing green laser "dazzlers" at checkpoints in Afghanistan and Iraq, the US Army in November 2011 ordered thousands more "Green Laser Interdiction Systems" for deployment, with plans to buy more in the next two years. The technology is likely to gain users in law enforcement, after the Food and Drug Administration (FDA) in August 2011 issued a waiver allowing sale of a civilian laser dazzler with a sophisticated safety system. Similar green solid-state CW lasers, emitting up to 1 W, are offered openly on the Internet, although some vendors claim to limit sales to law-enforcement agencies.

Emitting at green wavelengths where the eye is most sensitive, dazzlers are intended for a range of military and law-enforcement uses, from nonverbal warnings to people approaching checkpoints to emitting blindingly intense glare to stop hostile forces from seeing the target they want to attack (see figure). Typical operating ranges are 300–500 m during the day, and up to a few kilometers at night. Class IIIB lasers are needed to reach those distances, but the power is limited to around 200 mW to limit the chance of permanent eye damage. (Deployment of lasers designed specifically to blind is banned by the Protocol on Blinding Laser Weapons, adopted by the United Nations in 1995.)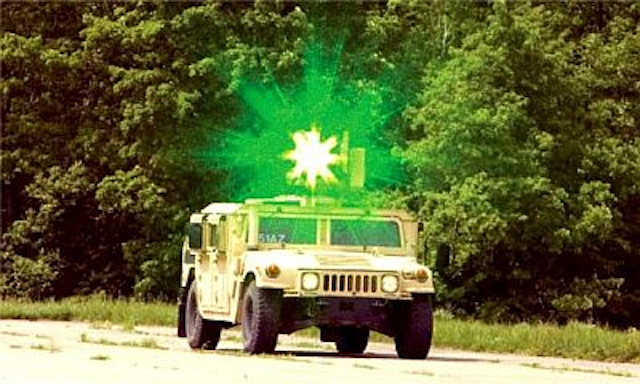 A laser dazzler is used from a Humvee. (Courtesy of the Joint Non-Lethal Weapons Program)
The Joint Non-Lethal Weapons Directorate (JNLWD; Quantico, VA) leads the Pentagon's development of laser dazzlers. "Optical distracters, like many nonlethal weapons, are part of an escalation-of-force option for warfighters, assisting in minimizing civilian casualties and limiting collateral damage," explains JNLWD spokeswoman Kelley Hughes. So far, several types of dazzlers have been used at checkpoints, during urban patrols, on convoys, and for perimeter security. Field reports indicate the dazzlers have been extremely effective in engaging unauthorized people at safe standoff distances, according to JNLWD director Col. Tracy Tafolla. This both protects soldiers from would-be attackers and keeps noncombatants out of harm's way.

That experience convinced the Army to buy 12,542 Glare Mout Plus lasers from B. E. Meyers Electro-Optics (Redmond, WA). That system is rated to emit 200 mW at 532 nm, either pulsed at a few hertz or continuous, with operating range of 20–500 m. Closeup operation is limited by the ocular hazard distance of 20 m; the beam diverges so it covers a person's head and shoulders at 100 m and an entire vehicle at 500 m. The laser module weighs just 10 oz and can be mounted on a gun or held separately. The system was kept small and simple so soldiers will use it, says Jeff Bradbury of B. E. Meyers. The company expects additional orders this year and next.

Long-range ocular interrupter
In December 2011, the US Navy requested proposals to develop a "long-range ocular interrupter" that could switch between warning and visual suppression modes and provide warnings up to 3 km from a ship, even in hazy conditions. The Navy's big concern is preventing small-boat attacks. Private shipping companies are considering dazzlers for nonlethal defense against pirate attacks. "If you can't look at something, you can't attack it," says Paul Kerr of Photonic Security Systems (Dunoon, Scotland), which has developed a green dazzler that is being tested by maritime security firms. Lasersec Systems (Jorvis, Finland) offers a 10 W dazzler that may be the most powerful nonlethal maritime laser.

The US Army relies on soldier training to assure safe use of dazzlers, as it does for guns, but the FDA requires a safety system on dazzlers for civilian use. In August, the FDA granted its first waiver for nonlethal lasers to B. E. Meyers for a law-enforcement system called Glare Enforcer that it introduced in January at the SHOT Show in Las Vegas. It fires a 200 mW, 532 nm green laser in one of four modes: Continuous, slow pulses at 4 Hz; fast pulses at 8 Hz; or random pulses at 4–12 Hz. Potential users include the Coast Guard and border patrol.

Glare Enforcer's safety system is based on an eye-safe laser ranger that checks for objects in or near the nominal eye-hazard zone, where intensity is high enough to cause eye damage. If a person is near or in the eye-hazard zone, the system reduces laser power to levels safe at that distance. Monitoring the surrounding area extends protection to people who might move into the hazard zone, or who might be hit when the laser is moved. The system also looks for reflective objects near the beam field to protect the laser operator from dangerous reflections. That makes Glare Enforcer more complex and—at 21 oz—heavier and larger than the military system. It is effective to 500 m during the day and beyond 1 km at night.

Such safety features are not standard in green lasers emitting 200 mW to 1 W available on the Internet, a few of which are described as pointers. A company called "GreenLaserPointer.org" offers 500 mW lasers claimed to be "FDA-compliant"—some of which are called pointers—for $500 to $600.