Erbium lasers vie for spot in medical mainstream
Improvements in fibers and delivery systems enable clinical use of 2.94-µm energy from erbium lasers in dermatology, dentistry, and ophthalmology.
Aug 1st, 1996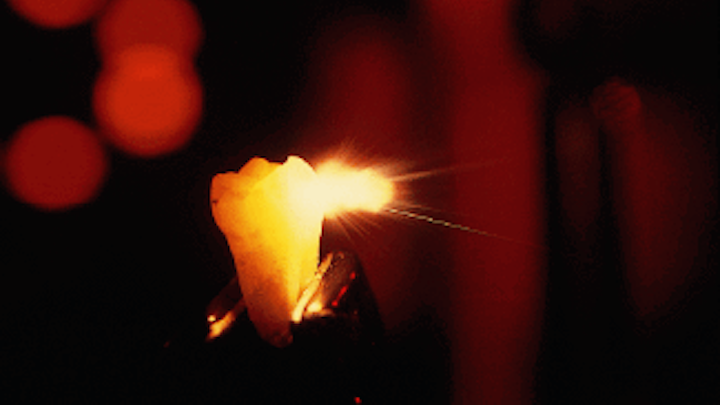 Erbium lasers vie for spot in medical mainstream
Improvements in fibers and delivery systems enable clinical use of 2.94-µm energy from erbium lasers in dermatology, dentistry, and ophthalmology.
Kathy Kincade, Contributing Editor
Ten years after its introduction to the scientific community, the erbium laser is on the verge of moving into the mainstream of laser medicine and surgery. Growing numbers of medical researchers and clinicians believe the Er:YAG laser (emitting at
2.94 µm) could become the laser of choice for certain procedures in dermatology, dentistry, and ophthalmology (see Fig. 1). In addition, several companies are developing fiberless erbium-laser products as alternatives to needles and lancets for drawing blood (see p. 34).
For many clinical applications, the high water-absorption peak found at 2.94 µm is particularly attractive because it results in extremely precise cutting and ablating of soft tissue. In addition, the water surrounding collagen strongly absorbs 2.94-µm energy, as does the organic substance and inorganic hydroxyapatite found in more-solid biological material, making the erbium laser appropriate for fine procedures on the skin and for cutting and ablating hard tissues such as tooth enamel and bone. Other advantages include minimal collateral mechanical and thermal damage and minimal patient pain.
In the past two years, the development of more-robust, nontoxic optical fibers and improvements in fiber-delivery mechanisms have contributed greatly to the medical community`s interest in the erbium laser (see Medical Laser Report, April 1996). Fiber manufacturers continue to improve fiber reliability, increasing the number of times a fiber can be used and thus reducing per-use fiber costs. Type IV nonfluoride fibers manufactured by Infrared Fiber Systems (Silver Spring, MD) and sapphire fibers from Saphikon (Milford, NH) are sturdier and longer-lived than zirconium fluoride fibers and are reasonably priced (although more expensive than quartz fibers). Infrared fibers that can better withstand the rigors of a clinical environment, such as those manufactured by Future Light (Tustin, CA), are also available.
Improvements in laser design also have spurred the advancement of certain erbium-laser applications. Clinical Er:YAG laser products introduced around 1993 typically had a maximum pulse rate of 10 Hz; current products can be operated at pulse rates of up to 30 Hz, significantly improving their utility for cutting and other small-treatment-spot applications. In addition, the use of Er,Cr:YSGG (2.79 µm) rather than Er:YAG has resulted in more efficient and compact erbium lasers. However, Er:YSGG lasers are currently limited by the US Food and Drug Administration (FDA) to applications requiring relatively low pulse energies and average powers (less than 1 J and 5 W).
Skin resurfacing
In the past year, attention has been focused on the potential of erbium lasers in dermatology, particularly skin resurfacing. Although few comparative clinical studies have been undertaken, a number of companies are considering the erbium laser as an alternative to the CO2 laser for wrinkle removal. Advantages of the erbium laser for this application reportedly include less thermal damage (and thus less erythema, or reddening of the skin), need for less anesthesia, and shorter recovery times.
In one of the few comparative studies currently taking place, researchers from Continuum Biomedical (Livermore, CA) and the Massachusetts General Hospital Wellman Laboratories of Photomedicine (Boston, MA) are comparing erbium and CO2 lasers for skin resurfacing. Among other things, the study is designed to determine whether one wavelength is superior for removing wrinkles and whether the thermal damage and collagen shrinkage caused by the CO2 laser are necessary to achieve the desired results. Patients underwent facial resurfacing with a CO2 laser on one side and an Er:YAG laser on the other. Among the results at 2.5 months (each patient is followed for six months), the researchers have found that although there is more bleeding with the erbium laser, less anesthesia is needed; recovery times are shorter for the erbium-laser-treated tissue; and the erbium laser causes less pain and swelling than the CO2 laser. In terms of actual wrinkle removal, however, the erbium laser appears to be slightly less effective, although the first patients to be treated received only three to four passes of the erbium laser, while subsequent patients underwent more passes.
Despite the dominance of its CO2 laser in the resurfacing market, Coherent Medical (Palo Alto, CA) is also investigating the erbium laser for wrinkle removal. Dr. Richard Fitzpatrick (San Diego, CA), one of the pioneers of laser skin resurfacing, has done some initial studies of an erbium-laser prototype developed by Coherent for this application and has found that, among other things, hemostasis can be achieved with the erbium system. In particular, he says, it is possible to change the laser`s repetition rate and other factors to get a zone of thermal necrosis of 40-50 µm.
Last February, Schwartz Electro-Optics (SEO, Orlando, FL) became the first company to receive FDA clearance for dermatological applications of the erbium laser. However, rather than immediately marketing the system through its SEO Medical division, the company is conducting further studies to determine optimum treatment parameters for resurfacing and related applications. The company hopes to show that the 1-J, 5-Hz, 5-W system currently available in the USA can be used for resurfacing. SEO claims that clinical work to date has shown that these energy and fluence levels are adequate for resurfacing.
In addition, SEO says the erbium laser is not necessarily slower than the CO2 laser for resurfacing; it depends on fluence, spot size, and repetition rate. Thus, if an erbium laser has a repetition rate of 4-5 Hz, it has enough energy to remove the epidermis in one to two passes (see Fig. 2).
Premier Laser Systems (Irvine, CA) has been conducting dermatological studies of its FDA-approved erbium laser for about a year. Although the company`s clinical work has shown that there is less pain and faster healing with the erbium than with the CO2 laser for resurfacing, Premier is delaying marketing its system until the FDA position on this application becomes clearer. Even so, last December Premier formed an alliance with Mattan Corporation
(Calgary, Alberta, Canada), which owns and operates several cosmetic-surgery centers in the USA.
Other companies interested in the resurfacing market include ESC Medical Systems (Needham, MA), Cell Robotics (Albuquerque, NM), and Fotona (Ljubljana, Slovenia). ESC recently acquired Laser Beam Technologies, an Israeli company that already has an Er:YAG laser system for resurfacing; ESC plans to introduce it to the US market after gaining FDA 510(k) clearance. Earlier this year, Cell Robotics acquired a variety of Russian solid-state laser technologies, including erbium, that the company plans to use to enter the dermatology market. And Fotona reportedly is considering introducing a version of its dental Er:YAG laser system to the US dermatology market. The company plans to begin US clinical trials of a 1-J, 15-W system within the next few months. Photomedix (Glasgow, Scotland), the first company to introduce a commercial erbium-laser product for skin resurfacing, continues to sell its system in Europe but has no immediate plans to try the US market.
Several companies already have FDA clearance for soft-tissue dental applications, and at least one--Premier--could gain hard-tissue clearance before year`s end. In addition to improvements in fibers and handpieces, clinical studies showing the erbium laser`s efficacy for various dental applications (particularly when used with water for cooling--see Fig. 3) are aiding the laser`s acceptance within the dental community. Advantages include minimal anesthesia, no drilling, preservation of tooth structure, and sterilization of the cavity site.
Although much of the erbium-laser hard-tissue research has taken place in Japan and Europe, clinical studies are also under way in the USA. Earlier this year, researchers at the University of California, San Francisco (UCSF) reported on the caries-inhibition potential of Er:YAG and Er:YSGG lasers (see Fig. 4). Their work showed that, by irradiating tooth enamel with an erbium laser, the mineral content of the tooth can be changed, thereby enhancing the prevision of cavities. Research of this application is not new but previously was confined to the CO2 laser. The UCSF group has demonstrated that, similar to the CO2 laser, erbium-laser energy significantly inhibits the acid dissolution of tooth enamel without overheating the tooth or causing any observable melting of the tooth`s surface.
Commercial erbium-laser products for hard-tissue procedures are also progressing. Premier submitted clinical results from 1200 patients treated with an erbium laser at a repetition rate of
30 Hz for caries removal and other hard-tissue procedures to the FDA more than a year ago; the company is still awaiting the agency`s decision. Premier is also investigating the potential of an erbium laser to slow the occurrence or prevent the recurrence of caries and expects to begin human clinical trials sometime this year.
Another company hoping to obtain FDA clearance for erbium-laser hard-tissue dental applications is BioLase (San Clemente, CA). According to BioLase, its erbium-laser and proprietary water-cooling system rapidly vaporize and transform atomized water droplets into smaller, high-speed abrasive particles, resulting in bloodless, sterile surgery that often requires little or no anesthesia. The company is also conducting clinical trials of an Er,Cr:YSGG laser for soft- and hard-tissue applications.
Other companies with an erbium-laser system for dentistry include Fotona, which has been selling a dual-wavelength (Er:YAG and Nd:YAG) laser system for dentistry in Europe for the past few years. Continuum Biomedical has found similar success in the Pacific Rim with its erbium laser, which the company has been selling in Japan for about a year. Although its system has FDA clearance for soft-tissue applications, the company feels the US dental market is too difficult to penetrate at this time. SEO also has FDA clearance for dental applications but is delaying entering this market as well.
Ophthalmic applications
In ophthalmology, Coherent Medical is active in erbium-laser research and product development. The company has been conducting preclinical and human trials for vitreoretinal surgery at Massachusetts Eye and Ear Infirmary (Boston, MA) and Stanford University (Palo Alto, CA) and at facilities in Mexico, Greece, and England.
Coherent was initially interested in improving vitreoretinal surgery for very dense membranes close to the retina that are difficult to cut. Early studies were done using a 30-Hz erbium laser, which produced good results but was found to be slow and not a good primary coagulator. Thus, Coherent began reworking the laser to increase the repetition rate and has now developed a 200-Hz system. According to the company, the 200-Hz laser enables the use of very low energy levels (0.6-3 mJ) to achieve more subtle tissue interaction at a repetition rate that allows the procedure to move more quickly with almost no collateral damage.
Part of what makes the system unique is that it combines absorption and cavitation to optimize energy delivery for more precise cutting and separation of dense fibrotic tissue. Coherent is now selling the system internationally for ophthalmology and expects to submit clinical data to the FDA this year. The company is also studying the erbium laser for vitreous cutting, subretinal surgery, lensectomies, and glaucoma.
Premier recently began marketing an Er:YAG laser system for intraocular procedures including anterior capsulotomies (opening the capsule of the eye prior to removing cataracts) and certain cosmetic procedures. The company is investigating the erbium laser`s potential for glaucoma treatment and corneal sculpting and is conducting clinical trials for lens emulsification (removal of cataracts).
Through a Small Business Innovation Research grant, researchers from the New England Eye Center (Cambridge, MA) are working with Saphikon to develop an erbium-laser and sapphire-fiber approach to laser trabecular ablation and laser sclerectomy--both treatments for glaucoma. The goal of this project is to relieve intraocular pressure by eliminating the resistance to outflow between the trabecular meshwork and Schlemm`s Canal and allowing the fluid to drain. The researchers have found that, with the erbium laser, the excess tissue can be removed with very little collateral damage.
Some manufacturers of excimer-laser systems for photorefractive keratectomy (PRK) are also investigating the erbium laser. In some cases, Er:YAG lasers have been used to ablate corneal tissue using a fixed-beam, high-pulse-energy method. Much of this research is taking place in Europe (particularly Germany) and the Pacific Rim. Preliminary results indicate that clinical outcomes are very similar to those of the excimer laser, and it appears that the erbium laser may become a second-generation PRK laser that is lower priced, more compact, and avoids the problem of toxic gases.
Erbium-laser PRK using a low-pulse-energy scanning beam is also under development. For example, Photon Data (Orlando, FL) reportedly has a scanning, kilohertz-pulse-rate, 3-µm optical parametric oscillator for PRK. And researchers at Bascom Palmer Eye
Institute (Miami, FL) are studying a scanning beam Er:YAG laser system for PRK and phototherapeutic keratectomy to correct myopia and astigmatism.
Clinical research of the erbium laser has progressed quickly in the last few years due to the development of more-reliable fiber and handpieces. However, further advancements in fiber and fiber delivery are still needed if the erbium laser is to gain widespread acceptance in the medical community. o
Click here to enlarge image
FIGURE 1. The
ultrashort-pulse
Er:YAG laser has
been shown to
be optimum for
hard-tissue work
in dentistry. Beam
coming from right
is 350 mJ at 250 µs.
Click here to enlarge image
FIGURE 2. Research has shown that a single pulse from a 2.94-µm erbium laser can remove the epidermis with little to no collateral thermal damage. The pink section in the center is the dermis that remains following
irradiation from a single pulse of an Er:YAG laser; the darker blue sections on the periphery are areas of the epidermis that were not treated.
Click here to enlarge image
FIGURE 3. Ablation with an Er:YAG laser (left, with water; right, without water) creates holes in dental composite restorative material. Note the char created when water is not used for cooling.
FIGURE 4. Irradiation of tooth surface with energy from a CO2 laser melts the surface enamel (top), while an Er:YAG laser explosively removes material without melting (bottom). (Magnification is 250X in these scanning-electron-microscope images.)