SEMICONDUCTOR LASERS
Active efforts in developing aluminum-free diode lasers emitting in the 780- 980 nm region are propelled by the hopes that these devices will have longer lifetimes and better performance than conventional semiconductor lasers containing aluminum gallium arsenide (AlGaAs). The pumping of neodymium-based solid-state lasers at 808 nm and of erbium-doped fiber amplifiers at 980 nm for telecommunications are two important applications for such lasers. Researchers at the Reed Center for Photonics at t
Apr 1st, 1996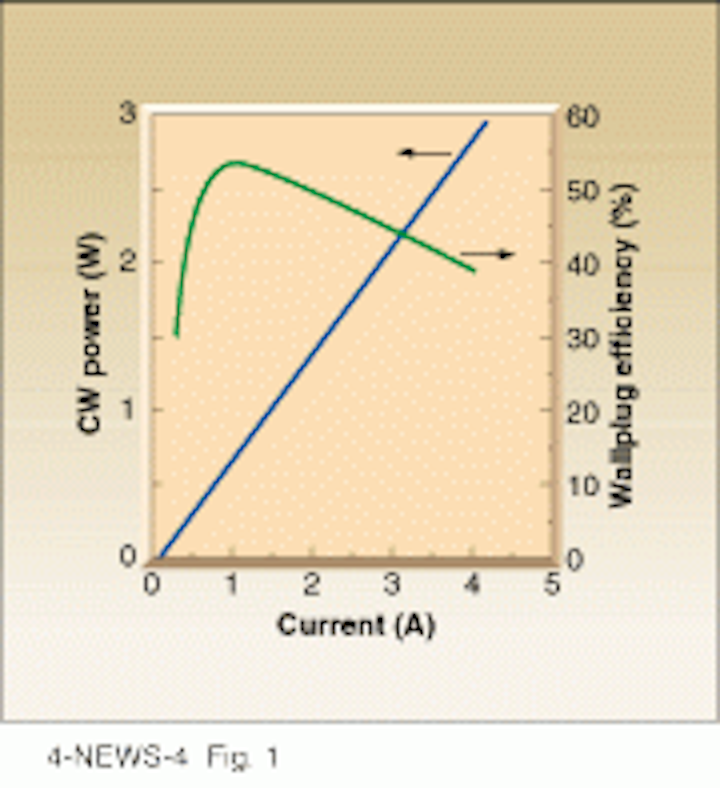 SEMICONDUCTOR LASERS
Aluminum-free diode laser performance rises
Heather W. Messenger
Active efforts in developing aluminum-free diode lasers emitting in the 780- 980 nm region are propelled by the hopes that these devices will have longer lifetimes and better performance than conventional semiconductor lasers containing aluminum gallium arsenide (AlGaAs). The pumping of neodymium-based solid-state lasers at 808 nm and of erbium-doped fiber amplifiers at 980 nm for telecommunications are two important applications for such lasers. Researchers at the Reed Center for Photonics at the University of Wisconsin-Madison, in cooperation with scientists from the University of Moldova (Chisinau, Moldova), recently achieved 54% wallplug efficiency and 3 W of CW output at 950 nm from aluminum-free laser structures (see Fig. 1). According to center director Dan Botez, this performance "meets and even surpasses that of their aluminum-containing counterparts."
Claiming "world-record output-power performance," Botez cites as key the increased mirror-damage threshold of the novel laser structure. Optimized for low temperature sensitivity of both threshold current and slope efficiency, the InGaAs/InGaP/GaAs laser structure has zinc selenide (ZnSe) films deposited on the laser mirror facets. Specifically, a separate confinement heterostructure is grown on top of a GaAs substrate: two 70-Å-thick quantum wells of InGaAs are surrounded by 1000-Å barriers of InGaAsP and 1.5-µm-thick InGaP cladding layers. Metal contact is made through a window stripe in silicon dioxide to a GaAs contact layer.
A laser-assisted technique developed at the Polius Institute (Moscow, Russia) is used for in situ growth of the ZnSe films. The researchers believe that the close lattice match between ZnSe and GaAs makes the grown interface basically "defect free." The larger bandgap of ZnSe (relative to the In0.2Ga0.8As active region) permits the film to act as a transparent window for the emitted radiation. This configuration significantly reduces current- and light-induced diode-facet degradation, says Botez, and with better passivation of the facets before window growth, they should realize even greater output powers.
For typical 100 ¥ 500-µm-wide-stripe devices, the maximum CW power of 3 W matches the highest value reported from aluminum-containing devices, which, however, is limited by thermal rollover. In contrast, the aluminum-free lasers show no evidence of thermal rollover, due in part to the relative temperature insensitivity of their electro-optical characteristics and also to a relatively low resistance (0.12 ) compared to the resistance (0.3-0.5 ) of aluminum-containing lasers of the same geometry.
Botez says this low series resistance also contributes to the "remarkably high wallplug efficiency values" observed. He adds, " The maximum value of 54% is the highest achieved to date, not only for any type of aluminum-free laser, but, for that matter, for any type of diode laser emitting at wavelengths longer than 870 nm." He will present and discuss these results at CLEO `96 in June (Anaheim, CA).
High-power coherent devices
Further work is underway at the Reed Center for Photonics to use aluminum-free structures for fabricating high-power, wide-aperture coherent-output devices. One type is the triple-core antiresonant reflecting optical waveguide (ARROW; see Fig. 2). This device can be thought of as a miniature anti guided array in which the region of resonance is relatively large due to the small number of active elements (three in this case).
Best results so far are 0.4 W of CW output in a diffraction-limited beam from a 20-µm-wide aperture.1 In conventional aluminum-containing lasers, the maximum coherent CW power, limited by reliability and beam stability, is 0.2 W from 3- to 4-µm-wide apertures. Botez believes their preliminary result is very encouraging. "It is consistent with the eventual potential of three-core ARROW devices for delivering 1 W coherent power reliably," he says.
Reference
1. A. Bhattacharya et al., Electron. Lett. 32, (March 29, 1996).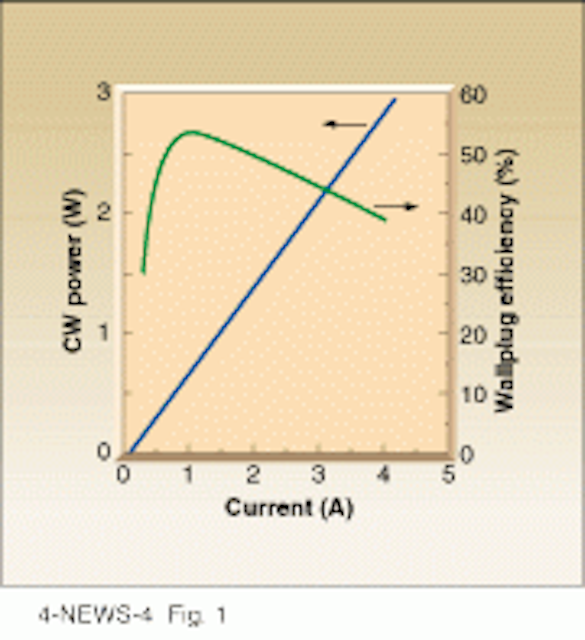 Click here to enlarge image
FIGURE 1. Emitting at 950 nm, novel aluminum-free diode laser developed at Reed Center for Photonics (Madison, WI) produces 3 W of CW output power and has a maximum wallplug efficiency of 54%.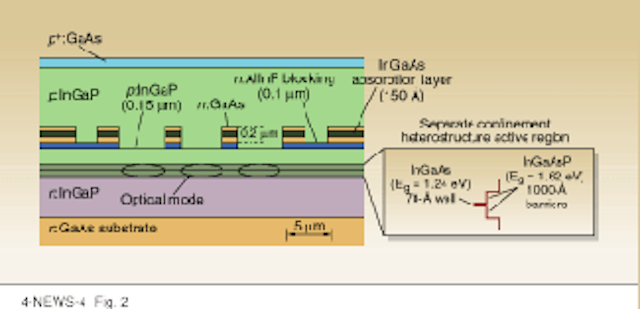 Click here to enlarge image
FIGURE 2. In a three-core ARROW device, resonantly coupled elements in conjunction with interelement loss ensure emission in a diffraction-limited beam.