Veterinarians use compact lasers to improve standard of care
The development of compact, affordable carbon dioxide and diode-laser systems is creating new opportunities for manufacturers and end users in a previously untapped market-veterinary medicine. Lasers are not new to the animal kingdom; but just three years ago, their application was still confined primarily to the academic arena for research and treatment of larger animals. Thanks to the efforts of a handful of physicians and vendors, however, lasers are now being used by a growing number of smal
Sep 1st, 1999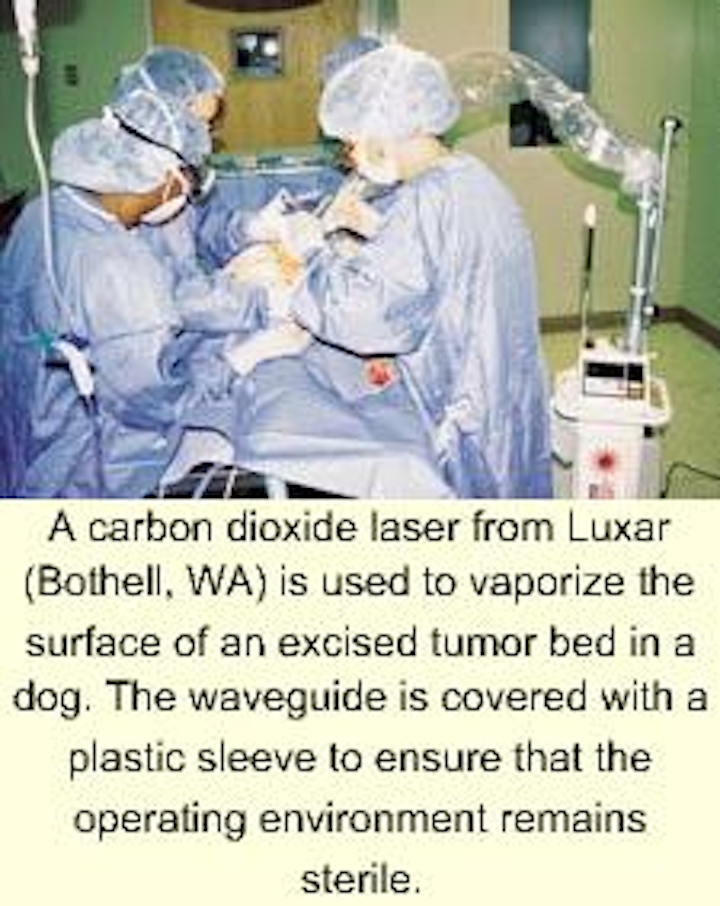 The development of compact, affordable carbon dioxide and diode-laser systems is creating new opportunities for manufacturers and end users in a previously untapped market-veterinary medicine. Lasers are not new to the animal kingdom; but just three years ago, their application was still confined primarily to the academic arena for research and treatment of larger animals. Thanks to the efforts of a handful of physicians and vendors, however, lasers are now being used by a growing number of small-animal veterinarians for a variety of surgical procedures.
"Five years ago, the laser was a tool in search of applications in veterinary medicine," says Dr. Ken Bartels, McCasland Professor of Laser Surgery at Oklahoma State University (Stillwater, OK). "[But] there are some things you can do with the laser that you can't do with a scalpel or electro-cautery or radio-frequency devices. With the laser, you can be much more precise, especially in terms of collateral damage."
Educating animal doctors-and, in turn, pet owners-on this point has been a driving force behind the slow but steady entry of lasers into the small-animal market. Motivated by a potential customer base of 42,000 small-animal physicians and 1500 equine and other specialty practitioners in the USA alone, two companies-ESC (Yokneam, Israel) and Ceramoptec (East Longmeadow, MA)-have put much time and effort into developing this market. In fact, ESC-whose Luxar division is generally credited with first bringing lasers to the attention of small-animal veterinarians-has invested heavily in training and education, sponsoring more than 35 one-day courses annually, plus ad vanced followup courses.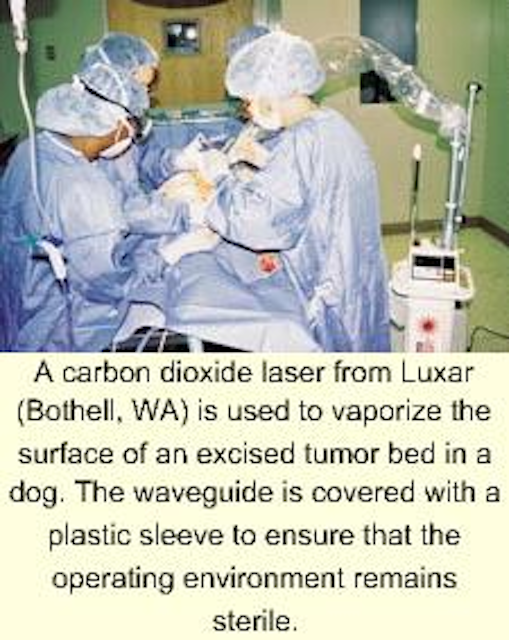 A carbon dioxide laser from Luxar (Bothell, WA) is used to vaporize the surface of an excised tumor bed in a dog. The waveguide is covered with a plastic sleeve to ensure that the operating environment remains sterile.
Click here to enlarge image
This commitment appears to be on the verge of paying off. ESC-which sells compact CO2 lasers from its Luxar and Sharplan divisions and diode lasers from its AOC division primarily to small-animal veterinarians-currently claims 466 US customers. Ceramoptec, which sells only 980-nm diode-laser systems into this market and is focused more on the large-animal segment, claims 150 to 200 installed systems worldwide. And while ESC says it is not yet turning a profit in this market, Ceramoptec claims it is.
In fact, despite the cost of the laser itself-which can range from $25,000 to $44,000, although leasing arrangements are available-and the fact that this is passed along in part to the pet owners (markups range from $25 to $250, depending on treatment and practice location), both companies see the market continuing to expand. And some analysts believe the 10%-20% market penetration is entirely possible.
"We are seeing growth in this market, and, while it is not profitable yet, we see that changing over the next two to three years," says Daniel Fields, director of the veterinary group at ESC. "It is an educational thing, not a marketing thing. But we have been quite surprised-80% of our sales so far are to small-animal practitioners."
Multiple advantages
The advantages of laser procedures over many traditional veterinary procedures are self-evident, according to Bartels and other laser-savvy practitioners. As in humans, lasers can be used for a wide variety of surgical applications in animals, with less bleeding and postoperative inflammation and better pain management. This translates into better care for both large and small animals and often less hospitalization, which reduces the cost to the animal owner.
"Lasers greatly reduce the trauma to pets and make major surgery minor," Fields says. "With many procedures, the animal can go home the same day. But no one ever thought there was a market there because no one thought vets would pay for this technology."
Among large animals, an indirect advantage of the lasers is the ability to maintain the economic viability of those animals. This is particularly important with horses, cows, and other animals kept and bred primarily for business.
"Lasers can be good for treating diseases with economic repercussions in large animals that perhaps did not have a treatment before, such as certain kinds of cutaneous lesions on horses or cattle, including penile hematomas and papillomas and strictures of the urethra," Bartels says. "The goal is to keep the animal as healthy as possible for breeding and food and resale purposes."
The most common lasers in veterinary medicine today are the carbon dioxide and the diode. Among small-animal vets, lasers are used for everything from neutering and spading to ocular and dental procedures (such as gingivectomies and pulpotomies) and treating "hot spots." One of the fastest-growing application areas for lasers is cat declawing, an often traumatic (and, some would say, inhumane) procedure that traditionally requires anesthesia, a guillotine or scalpel, extensive bandaging, and up to three days' recovery in the hospital.
"The laser has revolutionized doing declaws," says Dr. Peter Eeg, a veterinarian in Maryland who has been instrumental in creating the first veterinary surgical society (see "Veterinarians form laser society," p. 62). "No tourniquets are required, and we can send the cats home the same day." At the same time, however, Bartels cautions that there is a learning curve associated with laser feline declawing and differences in the way the procedure heals.
"People are excited about this, but it is important that doctors realize that, while they are sealing nerve endings and preventing hemorrhage, the healing actually takes a little longer, and the cats may not realize they should limit their activity," he says.
Diodes find niche
The diode laser is also used for numerous surgical applications in both small and large animals, and its ability to be used fiberoptically makes it particularly attractive for equine applications. According to Bartels, horses have such a long nose that the only way to reach the upper-respiratory system or to treat tumors on the epiglottis, larynx, or pharynx is to go through the back of the mouth with a fiber-delivered laser, which virtually eliminates using a CO2 laser for such applications.
This is one reason Ceramoptec considers itself the leader in the equine market with its 980-nm laser system. In addition, Kelly Moran, vice president of Ceramoptec, says the company's diode laser was designed specifically to meet the needs of large-animal vets who must go to their patients and small-animal vets who service multiple practices.
"We went after the veterinary market because we saw a place for a mobile laser," he says. "Our system is all electronic and weighs 14 lb, and we sell it with a battery pack. So, for example, an equine surgeon can take it into the field to treat a horse, clamp it to the car battery, and do the procedure right there."
The holmium laser has also been investigated for various animal applications, including orthopedics and bio stimulation. For example, Bartels and Dr. Mick Collier at Oklahoma State University were involved a few years ago in a biostimulation project that yielded some good results; diode lasers are also being used for biostimulation treatment of joint inflammation in race horses. Bartels also has used the holmium laser for simultaneous disk ablation in small dogs with recurring disk problems to help prevent further deterioration. But Bartels points out that the holmium laser is still used almost exclusively at the larger hospitals and teaching facilities, rather than by commercial veterinary practices.
"Vets are an independent lot, so the companies have had to convince them that the laser is worth the cost," he says. "Vets cannot easily spend $50,000 for a single system, but they can spend $25,000, and many are looking for ways to upgrade their practices."
Veterinarians form laser society
In response to the growing interest in the use of lasers for veterinary medicine and the ensuing desire by these doctors to have a forum through which to share their expertise and concerns, a group of veterinarians has formed the Veterinary Surgical Laser Society (VSLS). The organization plans to piggyback on the annual American Society for Lasers in Medicine and Surgery meeting next year, with a symposium dedicated to veterinary laser applications; eventually, the VSLS hopes to sponsor its own conference, publish a newsletter and peer-reviewed journal, and maintain a dedicated Web site.
"This technology is very new to the veterinary profession, and we realized there is no good avenue to meet and discuss various issues related to it," says Dr. Peter Eeg, a veterinarian in Poolesville, MD, who is serving as interim president.
The first users meeting, held in Orlando, FL, last May, resulted in the addition of a half-dozen charter members. In addition, an advisory board comprising representatives from large-animal academic sites, small-animal practices, and industry has been established.
Eeg and his colleagues are now working to expand membership. For more information or to obtain a membership kit, contact Mahren Williams, VSLS, 19621 Fisher Ave., Poolesville, MD 30837.