CW fiber laser tunes over nearly an octave from 1 to 2 µm
Researchers have developed a random distributed-feedback fiber laser that achieves continuous-wave tuning from 1 to 1.94 μm.
Mar 10th, 2017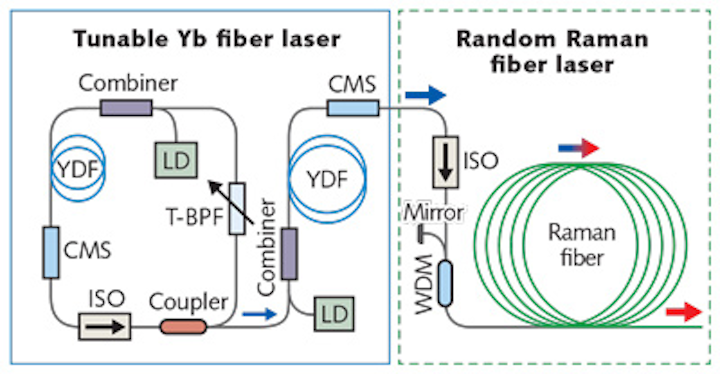 Researchers from the Shanghai Institute of Optics and Fine Mechanics (SIOM) at the Chinese Academy of Sciences (Shanghai, China) have developed a random distributed-feedback (DFB) fiber laser that achieves continuous-wave (CW) tuning from 1 to 1.94 μm, which is, to their knowledge, the widest tuning range ever reported for a CW fiber laser. Moreover, the tunable fiber laser was built using commercially off-the-shelf (COTS) optical-fiber components.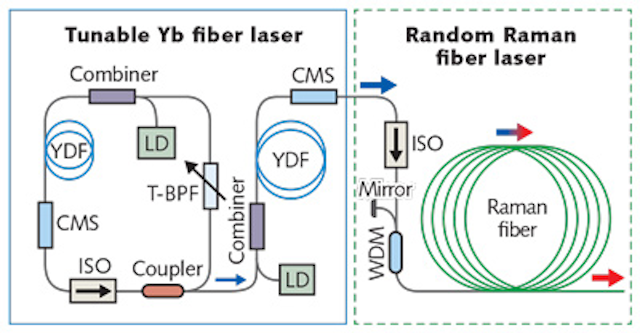 Wavelength tunability of conventional CW fiber lasers is limited to around 100 nm because of gain bandwidth and the tunability of the feedback mechanism. However, the SIOM researchers found that cascaded Raman scattering in conjunction with pump-laser wavelength tuning in a random DFB Raman fiber laser enables continuous wavelength tuning from 1000 to nearly 2000 nm. The random Raman fiber laser is formed with passive optical fiber of zero-dispersion wavelength >2 μm in a "half-open" configuration. The pump source is a ytterbium (Yb)-doped fiber laser tunable from 1020 to 1080 nm. The laser output increases up to 6 W at 1.8 μm with increasing Stokes order and wavelength because higher power is required to generate higher Stokes orders, and the 3 dB laser linewidth ranges from 2 to about 5 nm. Spectral purity is >80% up to the ninth-order Stokes light at 1.8 μm, which is a unique property compared to other cascaded Raman Stokes generation processes. A further Raman shift into the >2 μm regime is feasible with higher injected pump power. Reference: L. Zhang et al., Sci. Rep., 7, 42611 (2017); doi:10.1038/srep42611.