Business Forum: Strategies for positioning photonics in the emerging UAV market
The emerging UAV market presents real promise for optics, photonics, and imaging component manufacturers.
Jul 10th, 2017
The past few years have evidenced a growing interest in commercial applications for compact unmanned aerial vehicles (UAVs), or drones. The emerging UAV market presents real promise for optics, photonics, and imaging component manufacturers. Yet these companies also face challenges, including a great deal of unknowns in UAV adoption curve, UAV applications to invest in, requirements, and the regulatory environment.
Market analysts expect that commercial UAV sales will quadruple over the next five years. To date, there seems to be no middle ground between high-end defense and low-end toys. That reality is rapidly changing, and there appears to be a viable market opportunity in imaging. Though market growth looks promising, the question remains: Which applications are the best fit, and how soon until volume production and adoption?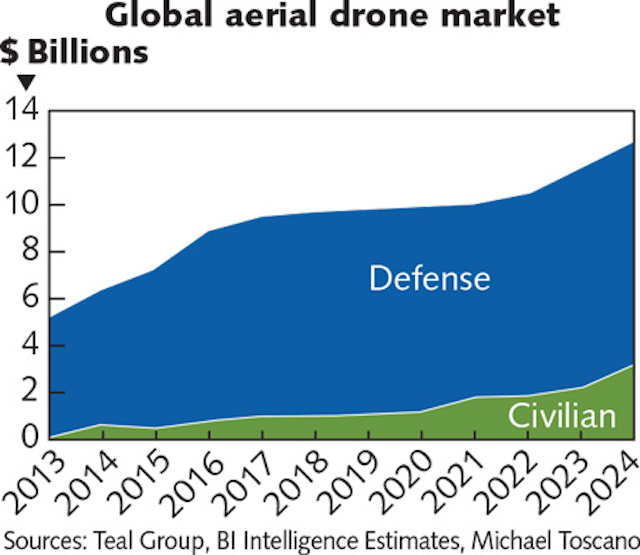 Randall Warnas, global distribution and sales manager (UAV) of FLIR Systems (Wilsonville, OR), gave a presentation at the 2017 SPIE Defense & Commercial Sensing conference exploring UAV applications for aerial thermal imaging, including:
Public safety
Remote firefighting. Imaging technology can allow first responders to identify a firefighting strategy and arrange for specialized equipment while limiting the danger to people on the ground.
Law enforcement. Isotherm cameras are being used for K9 training, spotting and identifying suspects, and documenting the situation.
Search and rescue. UAV aerial thermal imaging is especially useful in remote, rough terrain, and has saved 38 lives in the last 10 months.
Surveillance. Private security personnel can set a perimeter and deploy drones automatically when the perimeter is breached. The drone will send video ahead for safety.
Inspection
Train and infrastructure inspection. Thermal imaging has the potential to cut down on the $30 billion worth of goods stolen from trains in the U.S. each year.
Power. In utility inspection, aerial imaging reduces the risk involved in climbing poles. Workers can inspect each component with autonomous drones that work the grid and report anomalies. In solar energy applications, companies can increase power output by increasing the frequency of inspection.
Oil and gas. Thermal imaging can detect heat difference in miles and miles of pipeline in remote areas.
Agriculture
Water management. Drones can monitor the concentration of water in soil, allowing farmers to make an action plan for dense crops, preserving water and maximizing output.
Temperature tracking. Thermal imaging can be used to scan acres of crops, providing temperature data that can help determine how much water is needed.
Customer-focused marketing and research
With applications so widespread, how do you optimize your technology? Where do you focus your marketing efforts?
Emerging opportunities in UAVs highlight the importance of understanding and anticipating the needs of your target customers. In high-growth emerging markets, customers will be more open to collaboration in both design and production. They also will be anxious for credible data to justify the technology. Your marketing and sales strategy should support these needs. Here are a few tips:
1. Conduct pilot tests with key market leaders, and publish the findings.
2. Understand your customers' buying cycle to improve timing of sales follow-up and build credibility.
3. Focus on inbound marketing, promoting educational content that helps customers understand the technology and tradeoffs.
Customer research can also provide critical insight from a product development standpoint. Launch Team's technical writer, Damon Diehl, has worked in new product development for many optics systems. He suggests that optics companies take particular care to:
Trim down. Although demand for drone features increases, the size and weight requirements remain tight. Successful companies fine-tune their products to meet performance specifications and not performance limits. Unneeded capabilities are a waste. Instead of "How can we improve our product?" the correct question might be "How much can we cut?"
Get tough. A principle feature of drone technology is the ability to maneuver in environments and in ways that a manned craft cannot. Do you understand the end user's applications? Some requirements won't be obvious to you if you've only read the spec sheet. Acceleration, corrosion, and extreme temperatures are all examples of end-user concerns that might play into your production decisions.
Study up. International Traffic in Arms Regulations (ITAR) regulations are complex—for any product that might have a military application, the effects of ITAR restrictions can extend deep into that product's components. It might not be worthwhile for your business to develop unique technology for a product with a constricted market. Furthermore, even if you are only supplying stock components to an ITAR-restricted product, ITAR investigations might determine that your components have previously unrecognized military significance, which could end existing international partnerships.
These are just some examples of why it is important always to investigate the unique needs and drivers of your customer. Early customer-focused investigation enables your business to create product development and product launch plans that ensure a strong entry into the market.
MICHELE NICHOLS, who has been developing marketing programs for optics and technology companies for more than 15 years, is president of Launch Team, Rochester, NY; e-mail: michele@launchsolutions.com; www.launchsolutions.com.
---
Some related articles in Laser Focus World include:
Meeting the design challenges for imaging payloads on small UAVs
https://goo.gl/F2qYOg
Headwall Photonics spectral data processor works in UAV applications
https://goo.gl/Ij1wL5
FLIR Systems announces lightweight, low-cost thermal cameras for small unmanned aerial systems
https://goo.gl/kuTRRZ