Market Insights: TRUMPF is riding the tiger
Peter Leibinger, vice chairman, and Christian Schmitz, president of the laser division, of the TRUMPF Group shared their fascination and thoughts on the past, present, and future of laser technology.
Sep 13th, 2017
CONARD HOLTON AND ANDREAS THOSS
Peter Leibinger, vice chairman, and Christian Schmitz, president of the laser division, of the TRUMPF Group shared their fascination and thoughts on the past, present, and future of laser technology. It was a rare chance to talk to managers on a rather personal basis. Laser Focus World editors Conard Holton and Andreas Thoss had such a moment in Munich during LASER World of PHOTONICS 2017—it was a long and inspiring conversation with some surprising insights.
Laser Focus World: What laser innovations are fascinating you most?
Leibinger: EUV [extreme ultraviolet], of course! It has been one of these rare examples where one can observe a development from the first discussion of an idea through the experimental phase and prototype phase to where the final product is now taking off and making an impact around the world. The fascination is the sheer scientific challenge of generating 30, 35 kW of average power from a pulsed laser-heating that tin droplet, generating EUV light, and projecting an image on the wafer to generate features the size of a few atoms wide.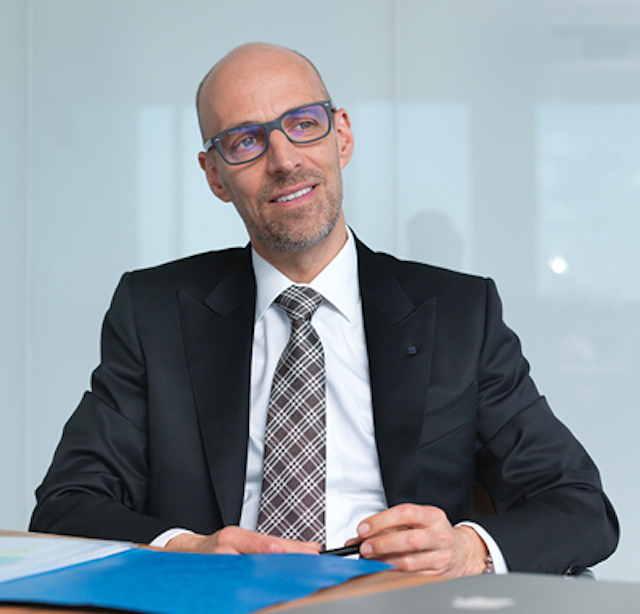 Peter Leibinger is a member of the TRUMPF Group management. On July 1, 2017, he shifted from operational responsibility for the divisions to responsibility for the company's growth areas. In addition to his responsibility for the Group's R&D, he will also assume responsibility for sales and service.
The sheer fascination of the technology and the scientific challenge is one thing. The other is the impact on the world. If we fail, Moore's law will discontinue. Of course, the world doesn't depend on TRUMPF—but without TRUMPF, the chip industry couldn't do it. The scope of the impact is not only the chip industry, it's also the smartphone industry and the whole electronic device industry that would have to change the way that it is operating.
To me, this project has also reinforced a fundamental belief that without partners, you can't do anything. We are in a unique industry—the laser industry—that is highly competitive on one hand, and highly collaborative on the other hand. This combination leads to this high growth and high innovation. The growth comes from the competition. The innovation comes from the collaboration. Without the collaboration, we wouldn't be able to do what we do here and with EUV, we learned that to the extreme.
Schmitz: A fascinating thing for me is the disk laser concept. As we started, we thought that maybe it was a concept for using laser diodes to pump lasers, and so getting more efficient solid-state lasers. But it was not in our mind that the range of application would be that large.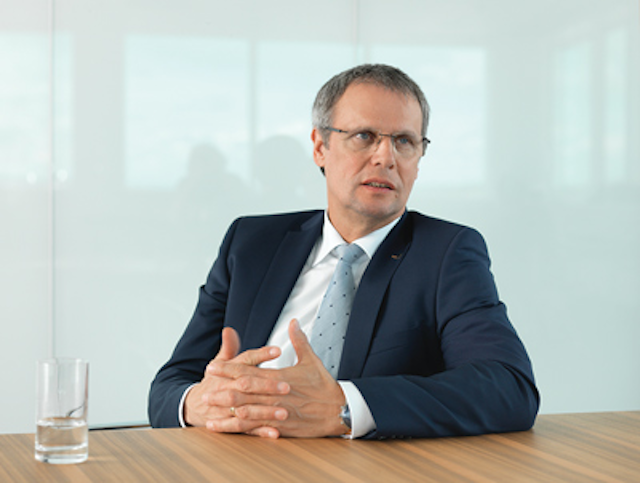 Christian Schmitz joined TRUMPF Group management by July 1, 2017. He took over management of the Laser Technology/Electronics division from Peter Leibinger.
LFW: Dr. Leibinger, it is a legend that your father traveled through the U.S. in the early 1970s and just stopped by a company and bought a CO2 laser, which was more expensive than a luxury car at that time.
Leibinger: It was called the Gravestone from Photon Sources [now part of Novanta], and was built on a slab of granite.
LFW: The question is, did you ever face a similar adventure? What was it?
Leibinger: There were two comparable experiences-the first one being the laser diode in 2000. At the time, I realized that this will be the cornerstone of the laser industry in the future, especially when considering high power.
I was in the U.S. at that time and experiencing the telecom and the dot-com boom. TRUMPF U.S. was close to SDL in Bloomfield, CT, which is only about a half an hour from Farmington, CT [TRUMPF's U.S. headquarters]. SDL was bought by JDS Uniphase for many billions.
I realized TRUMPF could end up in a strategic dilemma because we had to have access to this cornerstone technology, which was becoming inaccessible. Not only inaccessible because we would never be able to buy a company that makes laser diodes if we needed to vertically integrate, but even to the point where the companies that made laser diodes would no longer be interested in selling a few-thousand high-power devices to us if they could sell millions to the telecom industry.
That led me to convince my father when he visited TRUMPF America that we needed to start our own laser diode fab. I then went on a journey to find advisers who would help us start our own fab, and very quickly realized that the more important issue would be to own IP because more than 10,000 laser diode patents were out there at that time.
Then, we stumbled across Princeton Lightwave (PLI), which was a spinoff from the Sarnoff Research Institute in New Jersey. They had a very creative research scientist, Dmitri Garbuzov. He had filed the broad area waveguide patent. Everybody was using this technology—and that was our entry card into that market. The rest, as they say, is history. The market crashed and instead of being advised by PLI, we bought their patents and their assets. In 2002, we started our Princeton operation, and today we have about 250 people there and produce more than 30 MW of pump power per year.
LFW: What was the second one?
Leibinger: The second one was much simpler. We started EUV development because we were approached—EUV found us (see figure). Cymer was looking for someone who could make a CO2 laser that was capable of doing what they needed, and they ended up at TRUMPF. This was a special project I had to sign off.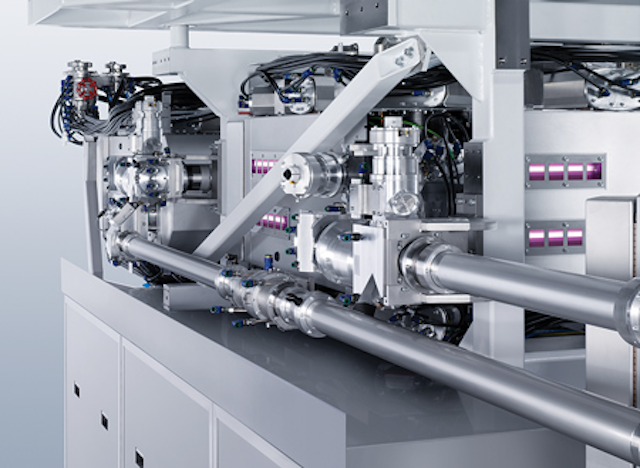 The TruFlow laser amplifier for extreme-ultraviolet (EUV) applications is an essential part of the next-generation EUV lithography systems using radiation at about 13 nm.
I gave it a 5% chance of being a commercial success. I said we have to do this not for commercial reasons, but for cultural reasons. At that time, our CO2 R&D team was focused on a single application for a single customer: our machine tool division and cutting lasers. Of course, they were therefore very security-minded in the way they did R&D.
To me, it seemed a unique chance to instill a fresh culture in that team through EUV because the chip industry's mindset is everything but security-minded R&D. About two, three years into the project, we had already 15 to 20 R&D people on this at least, and we still had no clue how realistic it was. Then, I met Bob Akins, the CEO and founder of Cymer. He is one of the people in laser industry I admire most.
He is really a visionary—honest and fair to the bones, and very intelligent. I met him and we talked for couple of hours. After that, I knew that we just have to do this and that these are the partners that we can do it with. It took one serious conversation with someone that I instantly trusted. What followed later was the establishment of our relationship with ASML that in the meantime had acquired Cymer. This partnership really deserves to be called special in the best sense of the word. It is based on mutual trust and a very strong will to succeed together.
LFW: Now, let's jump to another question: Your two biggest competitors are listed on the NASDAQ Stock Market with capitalization of several billions. They've got a lot of resources, and they do push the merger and acquisition process. Is it a disadvantage for you to be privately owned?
Schmitz: I definitely would not say a disadvantage. I still see the advantage. Peter has talked about EUV—would that have happened in such a publicly traded business? Never, because the controller would ask, "What is the return on investment?"
Leibinger: And the analysts would ask as well!
Schmitz: From this point of view, a story like EUV, or what we do in Munich [with scientific lasers], or the investment in laser diodes—you wouldn't make it. You can only do that if you have a privately owned company where the people really think months and years in the future.
Leibinger: First, if you look at the balance sheets and the PNLs of our competitors, you will notice that TRUMPF spends more on R&D than most of our competitors. One reason for this is that we don't have to answer to the demands by analysts in the context of short-term profitability.
Second, being cash-rich can be a burden for a public company because they have to start justifying why they are not doing anything with the cash on hand. TRUMPF is also rich in cash. However, this can serve as a means for M&A, but it can also serve as an insurance policy in a cyclical business.
We define our strategy ourselves—we don't have analysts defining our strategy. I consider that a huge advantage. When looking at the valuation of these companies right now, which is at 20–30X earnings—that's a period in time. It's not real.
LFW: With TRUMPF Scientific Lasers, you made considerable efforts to offer lasers for scientific applications. It's a small market compared to your core markets. What benefits do you expect from that engagement?
Schmitz: To be really honest, it was an experiment. We thought it could be interesting to take our industrialized components and find a small group that drives this technology to the limits in order to learn more. We learned a lot about our components, how they behave at the limits, and then transferred that back to our industrial use to drive our micro-lasers to higher levels. This is a benefit from our Munich operations.
Leibinger: It gives us access to applications that we would never even think about, such as coherent x-rays or tabletop synchrotrons—topics we are now talking about with our scientific customers. And it is reverse technology transfer—we benefit for our series products.
LFW: For mutual benefit?
Leibinger: Yes, both sides benefit. But TRUMPF Munich feels different than the rest of TRUMPF—it is like a research institute. It's a small group of 15 men and women doing very interesting things. In another life, that's what I'll do.
LFW: In which global region do you see the best opportunities for further growth and why?
Leibinger: That's the one question I struggled with most, but in the end, it is Asia. In this region, our strong markets today are in this sequence: South Korea, China, and Japan, and then with some distance, Taiwan. This region will stay strong, but I see a lot of potential in South East Asia as well.
LFW: Are you not concerned about some of the official Chinese plans for laser development in the future, like Made in China 2025?
Leibinger: Very, very concerned. If you look at the marking industry, it's a cautionary tale. Marking laser market numbers depend on who you listen to, but let's just take one number for the sake of our argument. Let's say the Chinese laser marking market is about 50,000–60,000 units. I would assume IPG Photonics and TRUMPF are a distant second to Chinese competitors in the marking laser market for standard 20 W fiber lasers. We ship around 10,000 marking lasers a year and most of them go to China, but nevertheless, Chinese competitors make a lot more.
We are seeing the same development happening for low-power continuous-wave (CW) lasers with 500–1000 W. It's a question of time until that happens with high-power CW. I'm also worried about that because we do not understand how the prices of these lasers are possible. If we do reverse engineering, we see that the components are from the same suppliers we are using. If we add up what we are paying and then we deduct from that discount for higher quantities, we still don't arrive at what they sell it for. I don't know how it works, but the lasers are sold at these low prices. That's the fact, and that's what we have to deal with.
LFW: And there is an official government policy to support it.
Leibinger: I'm very worried about that.
LFW: The government has also created the Great Firewall of China, a digital firewall to regulate the Internet. Is that interference for your plans for Industry 4.0?
Leibinger: Absolutely. The only way we can do Industry 4.0 in China is really through collaboration. It is the law that data generated in China must not leave the country. If we set up a cloud in China, we must sign over the passwords to the Chinese government for emergencies. That means we are completely transparent. Why go through the hassle of setting up your own cloud? You might as well do it with a Chinese partner.
But I think that's also an opportunity. We bring a lot to the table. When we are dealing with Chinese commercial businesses, yes, there might be government influence—but in the end, they follow the interest of business. This is what we have to work on.