LASER World of PHOTONICS Review: What was new at the LASER trade fair?
LASER World of PHOTONICS 2017 didn't disappoint, with a record-breaking crowd and plenty of evidence showing a thriving laser industry.
Aug 11th, 2017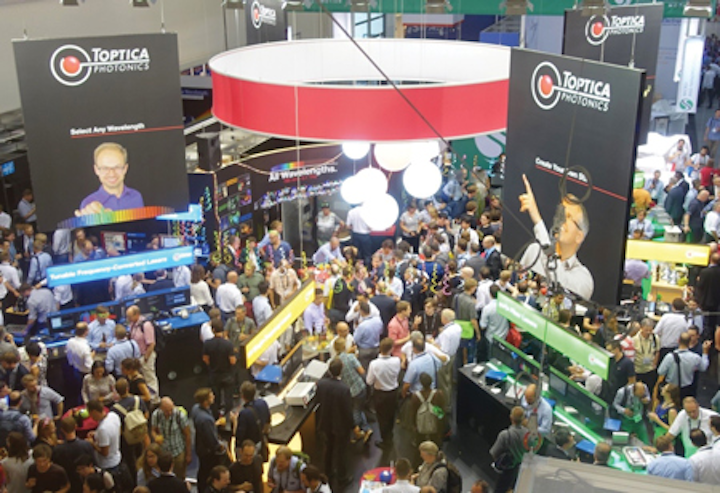 LASER World of PHOTONICS 2017 didn't disappoint, with a record-breaking crowd and plenty of evidence showing a thriving laser industry.
With almost 1300 exhibitors and more than 32,000 visitors, LASER World of PHOTONICS 2017 in Munich set new records. Hot topics ranged from new high-power fiber lasers to lidar for autonomous driving or the prospects of quantum technology. After all, the laser industry is prospering and so was the trade fair (see Fig. 1).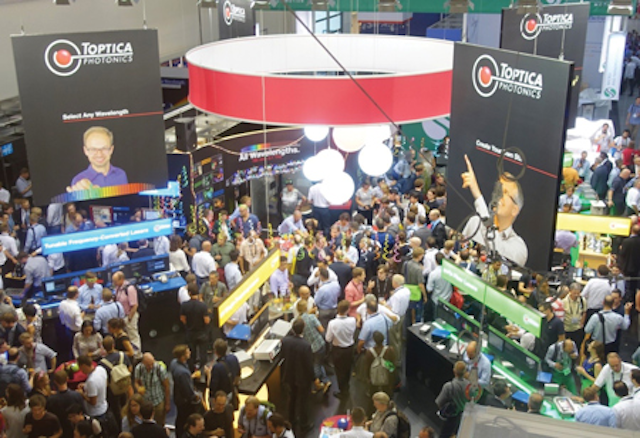 FIGURE 1. Not an insider tip anymore—the Toptica booth party is traditionally the best at the LASER fair.
Every other year, the German and global photonics community meets at LASER. This year, the business side was busy, as was the scientific community with large conferences from several organizations, including OSA and SPIE. I expected to see "the same procedure as every year," but the organizers did a careful job to reach out for new trends and ideas.
The opening plenary talk is the usual place to highlight certain hot topics. This year, it was quantum technologies. While the topic might be well known for its theoretical beauty, it was raised to another level of importance, as introduced by Peter Leibinger, vice chair of TRUMPF (Ditzingen, Germany).
Leibinger showed how the sustained European approach of substantial investments in R&D has led to a strong global position for European photonics companies (with production technology being the strongest). The European agenda of governmental and industrial photonics funding from the 1980s up to 2020 has led to many success stories, with quantum technology expected to become the next big thing. Substantial sales are expected not only from telecommunication and IT equipment, but also from quantum imaging and sensing applications.
Lidar experts looking forward
More mature than quantum technology is lidar, the light-based analog to radar technology. At the LASER fair, we found several new sensors ready for a variety of applications, from science to automotive or even to man-machine interaction. The Fraunhofer Institute for Laser Technology (Fraunhofer ILT; Aachen, Germany) showed a large-scale model of the Ariane rocket to highlight their lidar system that will be used in the European Space Agency's MERLIN mission to map the methane concentration in the atmosphere. A 2D MEMS Scanning lidar was shown by the Fraunhofer Institute for Silicon Technology (Fraunhofer ISIT; Itzehoe, Germany). With a 60 MHz voxel rate, it can acquire live 3D data with 1 Mpixel resolution.
But the most attractive system was running outside the halls. Luminar Technologies (Portola Valley, CA) was offering a demo of its lidar system for autonomous driving on nearby roads (see Fig. 2). Working at 1550 nm, it is eye-safe and sees objects even at 200 m distance and with a reflectivity as low as 10%, according to founder and CEO Austin Russell. "We wanted to build a completely different lidar platform from scratch," he said. Now, they have a running prototype that is under testing at several car manufacturers. Luminar is currently setting up production facilities in Orlando, FL, to start their production with a 10,000-device target later this year (see this article for more information). A video of our lidar demo is available at https://goo.gl/QDURks.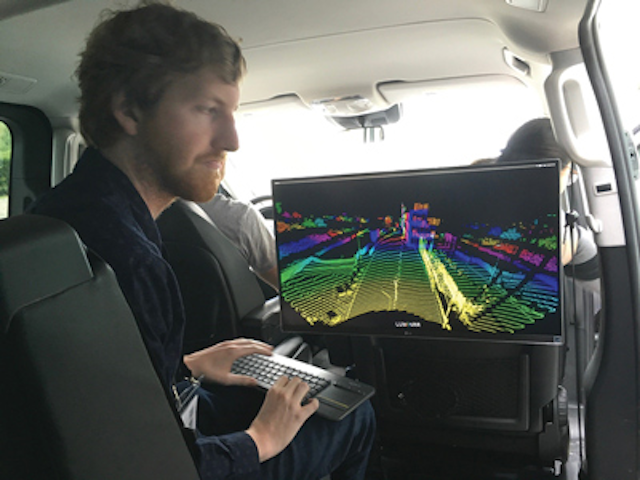 Drop files or pages from the Content Finder
FIGURE 2. Luminar Technologies founder Austin Russell brought some Silicon Valley spirit to the LASER fair with his lidar demonstration ride.
Market numbers up again
One reason to come to Munich is the chance to get detailed information on the state of photonics markets. The German VDMA presented at its annual press conference not only their own report, but also the 96-page report from Photonics21, a European photonics platform with 2500 members. According to these reports, the global photonics market went from 228 billion (2005) to 350 billion Euros (2011) and 447 billion Euros in 2015. Today, it is about half a trillion USD. The annual growth rate of about 7% is assumed to be continued.
Arnold Mayer, who substantially contributed to both reports with his company Optech Consulting, explained at the CEO breakfast of the European Photonics Industry Consortium (EPIC) the main challenge with these data: Growth numbers differ, depending on which currency the statistics are based on. While the CAGR in Euros might be 6 or 7%, it looks worse or even flat in USD. Nevertheless, the market for industrial laser applications is still growing faster than the general machine tooling industry. Leibinger even told journalists that he expects a double-digit growth for the TRUMPF group for the financial year now ending.
Still, all companies in the market for industrial laser applications face a tremendous price decay. In recent years, marking lasers or low-power cutting systems have become a commodity with dramatically falling prices, particularly in China. On the other hand, China still sees a strong growth, with up to 50% of all laser systems absorbed by smartphone production. And looking at the global markets, there is no saturation visible yet.
New kids on the block
Besides big companies worrying about lasers as a commodity, there were some new and fresh projects at LASER. With the first Make Light MAKETHON and a startup challenge, the organizers brought some startup flavor to the floor.
The new kids on the block do things that start with 'Open'—open-source, open-technology, open-access, and the like. And they did it at the trade fair. The German government is known to fund excellent basic research or laser engineering for solid applications. But it also supports a program for, yes, "open photonics." Open Photonics was the headline for a collective booth with about a dozen related projects.
And their results are remarkable. Mirco Imlau from the Osnabrück University builds optical components using toys. Not puppies, but Lego, Fischer Technik, and other stuff that a seven-year old child would easily recognize. He builds optical tables, mirror holders, motorized translation stages, and many more pieces for regular photonics labs.
In reality, the price is not always much lower than with professional equipment. But some customers have different needs, as Imlau discovered. Researchers from Uganda said: "After a sandstorm, we can forget about the professional optical tables. But the Lego stuff we clean in our water well and it's fine again." Or a startup founder who was happy to put an optical table and other equipment into his suitcases. He can easily setup the equipment at customer sites or his lab, as needed.
Lasers, VR goggles, and so much more
And of course, there were new laser technologies and a great range of photonics products. To name but a few: Coherent presented a 10 kW fiber laser, while TRUMPF showed a technology demonstrator, the TruDiode 4001.5, for direct-diode applications with 4 kW output power and a beam quality as good as 5 mm•mrad, which allows a fiber connection with 150 μm diameter.
Among all the activities of the six different conferences, Bernard Kress from Microsoft, one of the chairs of the newly started SPIE conference on Digital Optical Technologies, deserves a special mention. Together with his team, he gave visitors the rare opportunity to explore augmented-, virtual-, and mixed-reality systems. The latest devices from Microsoft (Hololens), Oculus (CV1), HTC (Vive), and Sony (Playstation VR) allowed for a direct impression of the potential of these devices.
"Being able to fully experience and compare the world's most advanced AR and VR headsets in a single location is remarkable," Kress said. "These systems will soon revolutionize the way people communicate, teach, learn and explore, shop, play and are entertained, and enable them to be more productive in their personal and professional lives."
Much, much more was to be discovered in the five halls and the Congress center during the four days of LASER World of PHOTONICS. The halls were crowded all the time and, hence, the sentiment among exhibitors and visitors was excellent. The next LASER fair will be held in Munich on June 24-27, 2019.